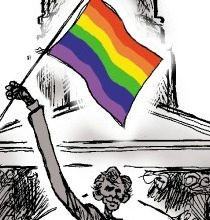 Generally, editorial cartoons arrive without explanation. Really, that's appropriate, because a good cartoon requires no explanation from the artist.
But Scott Stantis of the Chicago Tribune, whose political cartoons -- like the editorial section in which they appear -- generally lean to the conservative side, felt compelled to send a few words of context when he delivered today's cartoon to his syndicated clients.
Full disclosure here. Ten years ago I would not have drawn this cartoon. On the contrary, in my editorial cartoons and in my comic strip, Prickly City, I was adamently opposed to the notion of gay marriage.

Not that I hated my gay friends but that I was being protective of the sanctity of marriage. A cornerstone of western culture for thousands of years. To redefine it so radically took a lot of thinking. Over the decade I did just that. Growing to realize that it was, firstly, discriminatory to deny Americans the right to enter willingly into a civil union allowed to others. Finally, recognizing the moral obligation dictated by my Libertarian leanings that the individual has the right to define his or her relationships in whatever fashion they feel best suits them.

So hurrah for Illinois. Here's hoping the rest of the United States follows suit and we can confront, together, the daunting issues that challenge us.
Stantis is hardly alone in his change of attitude. Less than three years ago, on Dec. 1, 2010, the Illinois General Assembly passed a bill legalizing same-sex civil unions. The bill at the time was as controversial as Tuesday's gay marriage vote, and was seen by many as a stopgap to introduce the concept of legally recognized same-sex partnerships to a skeptical public.
The fast rise of support for the marriage bill that passed on Tuesday represents an amazingly rapid evolution for an issue that even five years ago was incomprehensible to much of the general public -- not to mention extremely sensitive politically.
Kudos to those who allowed human sensitivities to prevail over political sensitivities. And to those who, like Scott Stantis, recognize their own evolution on this issue. First and foremost, Tuesday's vote was about equal treatment of all under Illinois law. More than that, though, it was a historic step in a centuries-long struggle for justice and acceptance by members of society who deserve both.
Calling all HuffPost superfans!
Sign up for membership to become a founding member and help shape HuffPost's next chapter