Exactly how different would the lives of girls in developing areas look if they were tasked with carting around books instead of water? Netherlands-based cartoonist Jean Gouders has a pretty clear, and powerful, vision.
That means they're more susceptible to developing physical ailments such as spinal and neck issues. They're also more likely to miss out on work and educational opportunities.
When it comes to schooling, there's a direct correlation between increased access to clean water and higher enrollment rates.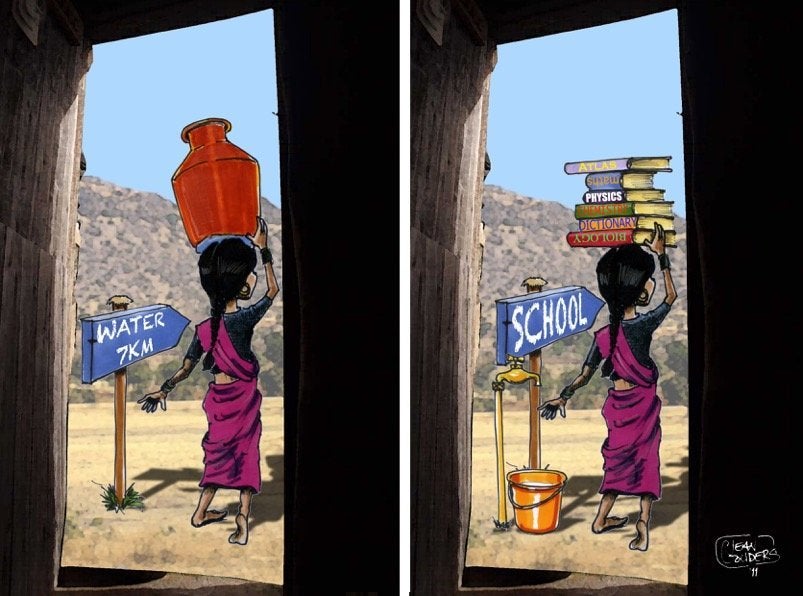 Girls' enrollment rates improve by more than 15 percent when they are provided with clean water and a toilet facility, according to UNICEF.
Gouders was prompted to use his skills to shed light on the issue when the Cartoon Movement, a platform that publishes political cartoons, sought out illustrations on the topic of education and water.
Gouders' cartoon depicts two images of the same girl side by side. In the first panel, the young woman balances a jug on her head as she prepares to trek 7 kilometers (4.3 miles) to fetch water. In the neighboring image, she holds a stack of books on her head and stands next to a sign pointing her in the direction of school.
The image was featured at the Women Deliver conference in Copenhagen this month, which focused on the health, well-being and rights of women and girls.
Gouders told The Huffington Post that he hopes his image conveys that such "simple things" as a water tap, for example, can have a rippling effect when it comes to improving girls' access to water and education. "It doesn't always have to be huge projects."
Learn more about Jean Gouders' work here.