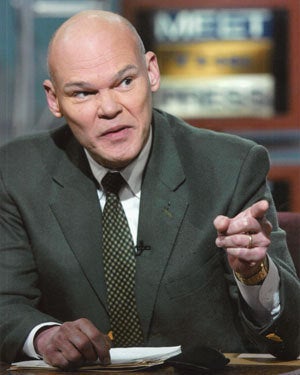 James Carville is now managing the campaign of Ashraf Ghani, a principal challenger to Afghan President Hamid Karzai in next month's election.
Yes, that James Carville, the real-life political consultant who taught an extra on "30 Rock" how to steal candy from a vending machine "Cajun-style." More importantly, the one who played a key role in Bill Clinton's election and has close ties to the former president and Hillary Clinton.
Ghani -- a Columbia-trained anthropologist, World Bank veteran and former Karzai finance minister who was up for the job of United Nations secretary-general in 2006 -- has cast himself as an agent of change for Afghan politics.
Karzai's support has dropped to 31 percent in May from 55 percent in 2004, according to a poll conducted by the International Republican Institute, and rivals see an opening.
"This is really the first time that they've had an election," Carville told the Huffington Post. "Remember, when Karzai won, it wasn't really a very contested election. This is the first time in the history of the country that they've really had a choice. I don't want to say that Karzai's election was not, that he didn't actually win, but the opposition was really, really weak."
The campaign will be uphill -- Ghani polled at 4 percent in May, and Karzai's closest competitor, Abdullah Abdullah, garnered only 7 percent -- but Carville's involvement also further complicates the already dense web of U.S. political involvement in Afghanistan. Though he stresses that he is acting as a private citizen, the strategist's long association with the Clintons can't help but color sympathies in the Afghan presidential race.
Carville said his consulting does not constitute an endorsement from the U.S. government. "This is what I do," he said, noting that though this is his first campaign in a country occupied by the United States, it is his twenty-first abroad.
Yet attempts to dissociate himself from the U.S. politics generally and the Clintons in particular isn't helped by his continued involvement with both. As recently as May 28, Carville solicited donations to the Democratic Congressional Campaign Committee to counter Newt Gingrich's fundraising efforts for the GOP. His letter was sent to the HillaryClinton.com e-mail list. The possible prize: a dinner with Barack Obama.
"President Obama and the Democratic Party are leading this country into the future," the letter read. "Let the has-beens and never-weres in the Republican Party fight among themselves. We want you to join us for a different kind of dinner. No Newts allowed."
For those who donated $35 or more but didn't win dinner with the president, the consolation prize is "a 'Proud Democrat' eco-friendly grocery tote."
Carville told the Huffington Post he was contacted by the DCCC for the fundraiser, which is not uncommon for him. "In the course of a certain event I probably send out seven or eight e-mails, fundraisers to people, and I would be stunned if the secretary knew or was aware of it," he said. He did want to help relieve Clinton's campaign debt, however. "She is, after all, a very good friend of mine," he said.
He declined to disclose how much he's being paid for his work for Ghani's campaign.
Carville's work in Afghanistan makes the job of now-Secretary of State Hillary Clinton, back on the world stage this week for the first time since breaking her elbow last month, more awkward. Officially, neither the State Department nor the White House has taken sides in the Afghan election, given that Karzai's dealmaking with regional warlords makes him the most likely winner. To that end, Karzai has promised political posts to more strongmen than are available to fill them, and recently chose the notorious Mohammed Fahim as his running mate, despite having dumped him from the ticket the last time around.
Though former Ambassador Richard Holbrooke has taken point on diplomacy in the Afghanistan-Pakistan region as a special representative, Clinton recently said mobilizing the U.S. Agency for International Development, a key element of stabilization efforts in Afghanistan, is one of her top priorities. She, Holbrooke and USAID will have to maneuver carefully around Carville's campaigning as the U.S. steps up pressure on another front, investigating brutal mass killings allegedly directed by a warlord with ties to U.S. military and intelligence.
Though he denies involvement in the deaths, which he said were accidental or the result of battle wounds, Dostum is alleged to have ordered the prisoners to be stuffed into closed metal shipping containers and given no food or water on their three-day journey to prison. If suffocation didn't take them, the captured Taliban died when guards shot into the containers. The story may sound incredible, but suffocation of enemy troops in sealed containers is not a new tactic among Afghan warlords.
Many of the bodies were uncovered in a mass grave in the Afghan desert in 2002, but the Bush administration was reportedly reluctant to take action because Dostum's influence in the Afghan North was a key element in the fledgling Karzai government. There was also incentive for the U.S. to keep as many bodies buried as possible, since Dostum's Northern Alliance forces had worked closely with U.S. Special Forces and the Central Intelligence Agency during the initial invasion. A dozen or so bodies were examined eventually, but autopsies were even more limited and no one has yet performed a full exhumation of the mass graves.
Until his reinstatement in Karzai's defense ministry last month, Dostum had kept a low profile since February 2008, when he was suspended from his post for allegedly sending more than 50 henchmen to kidnap and savagely beat a political rival, the rival's son and his two bodyguards. Friday's NYT expose prompted a fresh round of questions to U.S. officials, who made largely noncommittal noises until Sunday, when President Obama promised Anderson Cooper an official inquiry.
"I think that, you know, there are responsibilities that all nations have, even in war," Obama said. "And if it appears that our conduct in some way supported violations of laws of war, then I think that, you know, we have to know about that."
It is unlikely, however, that the full story will emerge before the Afghan presidential election Aug. 20. And whether or not Carville can eke out a victory, negotiating the diplomatic terrain in Afghanistan is only going to get tougher.
REAL LIFE. REAL NEWS. REAL VOICES.
Help us tell more of the stories that matter from voices that too often remain unheard.