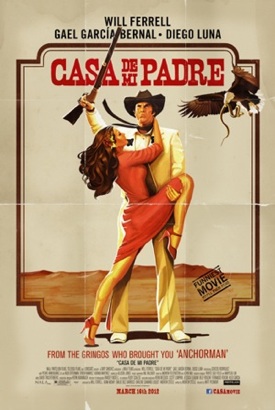 Matt Piedmont makes his feature directorial debut with the Will Ferrell, Diego Luna and Gael García Bernal-starrer 'Casa de mi Padre,' opening March 16th, 2012, in select theaters.
Piedmont's film 'Brick Novax's Diary' won the Jury Prize in Short Filmmaking at the 2011 Sundance Film Festival. The entertaining and visionary short film was created entirely with miniatures, including 12-inch dolls, and shot in widescreen. The opening shot is an obvious tribute to Francis Ford Coppola's 'Apocalypse Now' and the film's brief 18 minutes are filled to the brim with character details, plot details and visual cues all sourced from celebrated movies. Viewing both Piedmont's Sundance-winning short film and his feature debut 'Casa de mi Padre' makes one fact immaculately clear: Matt Piedmont is a guy who loves movies.
'Casa de mi Padre' is the story of cowardly "Armando Alvarez" (Will Ferréll), son of Mexican rancher, "Miguel Alvarez" (Armendáriz Jr.) and brother to the "more intelligent son," "Raul" (Luna). Armando falls in love with Raul's girlfriend, "Sonia" (Rodriguez), but quickly learns Raul has fallen into drug running and, as a result, the Alvarez family is the target of drug lord "Onza's" (Bernal) wrath. Ultimately, Armando rises from the dead in order to boldly reclaim the honor of the Alvarez family and win the hand of his true love, Sonia.
In the vein of 'Airplane!' 'Casa de mi Padre' calls for multiple viewings in order to fully grasp the myriad movie references, as well as avoid limiting one's opinion of the movie to only face value, especially for the non Spanish-speaking audience who will be required to "read" the subtitles of the film. Dare to take a closer look at 'Casa de mi Padre' and film geeks may be ecstatic at what they will find. Director Piedmont's goal was to serve up viewers a "real meal" of comedy, rather than what he calls a "junk food comedy diet," or, a movie that may perform well at the box-office, but won't warrant a second viewing.
It's not just a sketch...not just a telenovela sketch or a western sketch. We wanted it to be more frenetic and bizarre and keep the audience not knowing where it's going. The highest compliment for me is when I hear 'I didn't have any idea of where it was going to go.' That's a very satisfying compliment for me. That's the highest compliment. In commercial moviemaking, it gets so conventional. But this film keeps everyone guessing, and that's a very hard thing to do since everyone knows the classic structure of movies.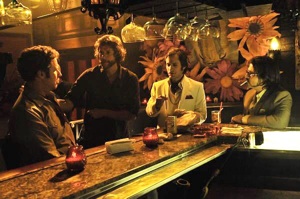 The film plays affectionately with the melodrama of the telenovela, but Piedmont mentions this was "only a stepping off point. Then we went to 60s and 70s Mexican cinema, Narco cinema, classic Hollywood cinema, spaghetti westerns, experimental films...We threw it all into the blender and hit 'Frappe.' It's a loving embrace...a nod back to the people that inspired us." Piedmont lists 'Pat Garrett and Billy the Kid' (Sam Peckinpah), 'The Holy Mountain' (Alejandro Jodorowsky), filmmaker Roger Corman, 'Raging Bull' (Martin Scorsese) and 'New York Stories,' among the many films that inspired details of his directorial vision. Piedmont reveals the film's opening narration ("If it sounds like Spanish, then that's what it is") is delivered by Kris Kristofferson. Piedmont continued to clarify the film's plentiful, multi-layered references, but left a mystery, they should be all the more fun for film fanatics to discover.
There's mean spirited comedy or there's social commentary comedy. Comedy can pierce to the heart of stereotypes.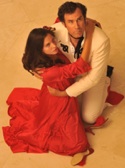 Piedmont discloses that he's most attracted to "polarizing" film projects; those that "don't get the general consensus of two thumbs up." In order to execute the satire, Piedmont directed the actors to play the entirety of the script "epically, as if they were in a film like 'Scarface' or 'The Godfather.'"
The results are a surprisingly complex performance from Luna, understated delivery from Bernal, spot-on sex appeal from young Rodriguez, and Ferrell's kooky, steadfast commitment to his character's Mexican roots, as he finally achieves his goal of starring in a Spanish-language telenovela. As Piedmont states:
This film is almost an anti-comedy. The comedy comes from the fact that we all commit wholeheartedly to something that is so silly and absurdist and everyone plays it straight. For me, the goal is to see things through a comedic lens and not take things too seriously. My brand of funny is to say, "This is all one big cosmic joke that we are living in life!" which, to me, is a celebration.
Emilio [Diez Barroso] (CEO of Nala Films) is from Mexico and I am Cuban-America...and we find it easy to laugh at ourselves and we think it's about time that we all laugh at ourselves...[including] Hispanics in the U.S...and that we can all have a great time laughing at ourselves.
Caamaño Loquet believes the film could potentially be the messenger of a much bigger statement, not only to the business of Hollywood, but to the entire nation:
[A]t the end of the day, the movie business is not a science...and you really have to go with what your gut tells you. [Every step of the way through the process of making and finishing this film], deep down in my gut I had this vibe... I felt here is this great opportunity...it's a game changer. To go to the theater [all over the world] and see Gael García Bernal, Diego Luna and Pedro Amendáriz Jr....a Mexican icon...and Will Ferrell in the same movie, speaking the same language, creating humor that not only works for Hispanic people but also for people who don't speak a lick of Spanish...that's the game changer.
Calling all HuffPost superfans!
Sign up for membership to become a founding member and help shape HuffPost's next chapter