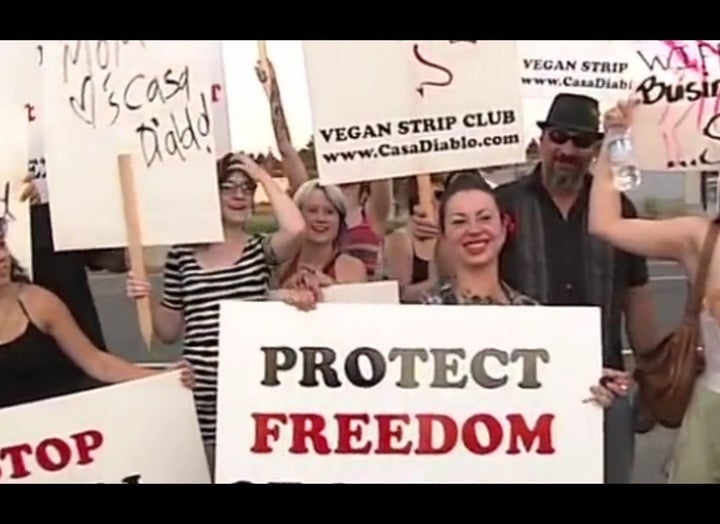 Casa Diablo gentleman's club is not the place to go if you want to see a piece of meat.
The world's first vegan strip club made history by eliminating meat from the menu -- but now neighbors have a bone to pick with the soy-serving strip joint.
Plans for a second Casa Diablo location in Portland, Ore. have nearby residents all riled up, The Oregonian reports.
Neighbors say the problem is the drunkenness, urination, public sex and theft allegedly caused by the rowdy clientele of nearby strip clubs, according to The Portland Mercury.
The owner of Casa Diablo, Johnny "Diablo" Zukle is trying to get a liquor license from state officials for his new joint, The Oregonian says.
Though their menus differ, the vegan strip club could seek an unholy dietary alliance with neighboring steak-serving gentlemen's club Acropolis. Residents and civic groups battling Casa Diablo also want to shut down Acropolis, The Portland Tribune says.
Two competing demonstrations hit the streets last Friday and got hearts racing as anti-strip club protestors said the city needs to crack down on the clubs. Zukle, meanwhile, staged a counter protest, TV station KATU reports. It featured his staff and customers who said freedom of speech protections guarantee his right to open a gentleman's club, which they claim will also help the local economy.
Casa Diablo is on the forefront of veggie-minded nudity -- but the Stumptown strip joint is not alone.
Earlier this month, the animal rights group PETA announced its plans to create a vegetarian porn website (WARNING: EXPLICIT PHOTOS).
Calling all HuffPost superfans!
Sign up for membership to become a founding member and help shape HuffPost's next chapter