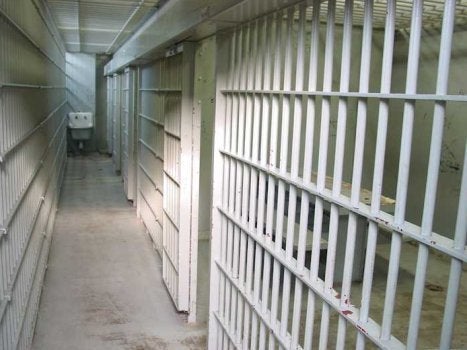 For the inaugural edition of the Denver Huffington Post, I thought I'd write about an issue that is close to my heart -- reforming our nation's immigration detention facilities, which hold tens of thousands of immigrants who were mostly picked up for trivial offenses like speeding or loitering and are now in detention at taxpayer expense for months or even years.
Imagine that one day you are home with your family, and the next day your kids return from school to find that you've been placed for an indefinite period in a detention facility with limited visitation rights.
The need for comprehensive immigration reform is felt by Americans in Colorado and across the nation, but few are aware of the high cost, deplorable conditions, and general failure that is our detention system. In this blog I hope to shine some light on what is becoming an increasingly costly embarrassment to our nation and an affront to our American values.
Just last week, I met with the National Day Laborers' Organizing Network (NDLON), their Colorado affiliate organization, Centro Humanitario para los Trabajadores, and the New Orleans Workers' Center for Racial Justice, who have been working on detention reform. During our meeting, we talked about abysmal conditions at the Basile detention facility in Louisiana, where dozens of immigrants were denied basic access to basic sanitation and medical assistance. Enduring humiliation and further abuse, hundreds of detainees participated in a series of hunger strikes demanding to be treated with dignity and afforded their basic human rights.
Sadly, the stories of abuse, malnutrition and lack of basic health care are altogether too common in detention facilities. The experience of New Orleans Workers' Center for Racial Justice resonated deeply with similar groups in Colorado, seeking to support those who are struggling to gain access to basic medical assistance or regular meals.
This summer, I toured a GEO detention facility in Aurora, where I met some of the thirty thousand immigrants throughout the country being held in detention facilities due to an immigration violation. They are children, pregnant women, asylum-seekers, victims of human trafficking, survivors of torture and other vulnerable individuals. Some are undocumented, but many were not and are simply "waiting" for a decision of an immigration court.
Currently there are 400 facilities being used to house immigrants in detention at an annual cost of more than $1.7 billion. Depending on the facility, the average cost of detaining an immigrant is $99 per day. Here in Colorado, it costs over $133 dollars a day to detain an immigrant at the GEO Detention Facility in Aurora. Given the absurd amount of money the government is spending on immigrant detention facilities, it is all the more ludicrous considering that most of the immigrants being held in detention pose no threat to our community. These individuals are not criminals and have no place in detention centers.
Even more disturbing is the alarming number of deaths in detention. Since 2003, Immigration and Customs Enforcement claims there have been at least 104 deaths in immigration detention. Many of these deaths have been caused by a lack of timely and thorough medical care and nearly one fifth of them have been suicides. Although the Department of Homeland Security (DHS) owns and operates select detention centers, the government also "buys" bed space from private facilities such as the GEO in Aurora and over 312 county and city prisons nationwide. These for-profit contractors are not directly supervised by DHS staff, creating a lack of communication and a gross lack of accountability. Consequently, individuals have routinely experienced egregious conditions of confinement, physical and sexual abuse, overcrowding and discrimination. For a hundred dollars per day, the amount of money taxpayers are spending on detention, we could afford to house immigrants at hotels across the country, but instead we place them under dangerous conditions where they are denied basic human rights.
Thankfully, effective alternatives to detention are readily available. Systems that include reporting and electronic monitoring have been found to yield an appearance rate before immigration courts of well over 90 percent. They are effective and significantly cheaper, with some programs costing as little as $12 per day compared to the $99 per day in the average detention center. Prisons should be for criminals, not honest, productive people caught up in the byzantine morass of our broken immigration system.
By the end of 2009 the U.S. government will have more than 440,000 people in immigration custody -- more than triple the number of people in detention just ten years ago. While it is not good policy to put immigrants with no criminal record and who pose no threat to our community behind bars, it is certainly not in our best interest to spend billions of taxpayer dollars on detaining a civilian population when alternatives have been proven to work.
This August, Secretary of Homeland Security Janet Napolitano announced the beginning of major detention reforms at Immigration and Customs Enforcement (ICE), shutting down the deadly and infamous T. Don Hutto Residential Center in Texas and increasing direct government oversight of privately-run detention centers and accountability within ICE for substandard detention facilities.
While I am thrilled that the Obama Administration is beginning to address these issues, it is merely the first step toward reforming our failed immigration detention system. As Congress begins consideration of comprehensive immigration reform next year, it is crucial to continue to shine a light on the need to re-haul our current immigration detention system, which has failed to make Americans safer while undermining our values and wasting taxpayer dollars. Regardless of what internal policies are implemented at the DHS, Congress must define humane enforcement and ensure that detention standards are enforced if ICE is not able to do so. Decisions about whether vulnerable populations should be held in detention, the conditions immigrant detainees are subject to, and how much of a role alternatives to detention should play a part of a truly humane civil detention system are too important to leave up to DHS to decide internally.
With President Obama committed to enacting comprehensive immigration reform and the Congress set to consider and debate reform early next year, it is crucial that we reform our immigration detention system immediately. By strengthening accountability and oversight to of detention facilities, investigating abuses in detention and expanding cost saving and more cost saving and humane "alternatives to detention" for law-abiding immigrants we can reform our detention policies to better reflect our American values and save taxpayer money.

For more news and commentary from Colorado, check out HuffPost's just-launched Denver section.
Calling all HuffPost superfans!
Sign up for membership to become a founding member and help shape HuffPost's next chapter