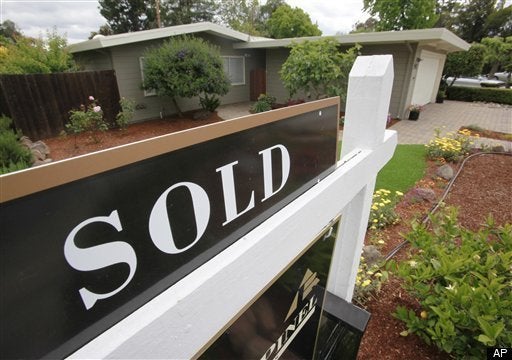 A good sign for the real estate market: The widely-watched Case-Shiller index shows that home prices rose for the first time in seven months, buoyed by expiring government tax credits for home buyers.
The Standard & Poor's/Case-Shiller 20-city home price index released Tuesday posted an 0.8 percent gain. It had fallen in each of the past six months.

Eighteen of 20 cities showed price increases month over month. Only Miami and New York recorded price declines.

The gains highlight the impact of the federal tax credits for homebuyers. Buyers rushed to purchase before the tax credits expired at the end of April.

Nationally, prices have risen 3.8 percent from their April 2009 bottom. But they remain 30 percent below their July 2006 peak.
Data through April 2010, released today by Standard & Poor's for its S&P/Case-Shiller1 Home Price Indices, the leading measure of U.S. home prices, show that annual growth rates of all 20 MSAs and the 10- and 20-City Composites improved in April compared to March 2010. The 10-City Composite is up 4.6% from where it was in April 2009, and the 20-City Composite is up 3.8% versus the same time last year. In addition, 18 of the 20 MSAs and both Composites saw improvement in prices as measured by April versus March monthly changes...

"Home price levels remain close to the April 2009 lows set by the S&P/Case Shiller 10- and 20-City Composite series. The April 2010 data for all 20 MSAs and the two Composites do show some improvement with higher annual increases than in March's report. However, many of the gains are modest and somewhat concentrated in California. Moreover, nine of the 20 cities reached new lows at some time since the beginning of this year. The month-over-month figures were driven by the end of the Federal first-time home buyer tax credit program on April 30th. Eighteen cities saw month-to-month gains in April compared to six in the previous month. Miami and New York were the two that fared the worst in April compared to March. New York is the only MSA to have posted a new relative index low with April's report." says David M. Blitzer, Chairman of the Index Committee at Standard & Poor's.
Popular in the Community