By Dr. Sophie Mengistu
Country Director, WWO Ethiopia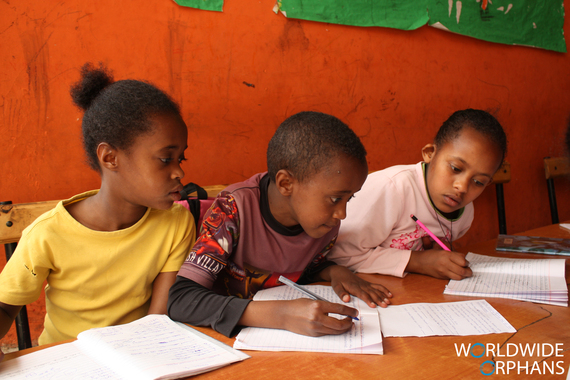 Worldwide Orphans (WWO) has been providing shelter, food, education, health care and other psycho-social services at Des's village for children, a place where children living with HIV learn the meaning of love and family. It is a place where kids can dream about their future and a place where they are prepared to be part of their communities. My desire to share the story of one of our children is to inspire everyone to embrace the plight of orphans and vulnerable children and be optimistic that marginalized children can meet their goals if they are nurtured in a safe environment. Furthermore, this story will help our donors to support our family reunification project. We want to eventually find a home for every child through reintegration to alternative community based care, family reunification, kinship care with potential families, extended families and forming group homes. To date, 10 children from Des's Village are now living in the community with provision of settlement funds and continuous supervision from WWO.


TD was admitted to one of the orphanages in Addis Ababa with his younger brother, when he was 12 years old. Both parents passed away and they were survived by their three children. When WWO took over the previous administration of the orphanage in 2009, TD was 13 and an 8th grade student. I had a chance to see him on various occasions in the past when he came for follow ups to the clinic for his chronic illness. He had always been shy with poor eye contact and over time he developed some behavioral issues related to his age and received counseling services repeatedly.
After being involved in the weekly youth club he showed dramatic changes and he became a soccer fan (now a member of WWO dream team) and showed interest in computers. His milestones in our residential camp program are remarkable. Through the years he participated as a camper, a leader in training, a counselor and as an activity leader. His academic performance improved progressively and he decided to pursue his carrier in IT. He celebrated the day we bought him his first computer, as he demonstrated how to use a computer one could see that the rest of the children were motivated to do well in their education. He graduated in 2015 in hardware and network servicing and was currently hired at WWO Academy as an assistant camp and youth club coordinator. Because of his IT background he also assists the IT department of the WWO Academy during the school year.

As part of our family reunification initiative, we started our journey by examining the documents that we have received from the previous orphanage where TD and his brother lived for 4 months. In the process, we found out that he has an aunt and a half sister who were involved when they were handed over. After several attempts we were able to find them and advised them to visit the boys regularly.
TD and his brother also started going home to spend time with their family during holidays. This paved the way for reunification, even though there was some resistance from their sister who lived in the house with her partner for quite some time. Our social worker also found out that the house that their sister lived in belonged to their parents and that the boys were entitled to move in anytime, which reduced our housing support cost significantly. On December 2014, TD and his brother moved to their birth place after months of relentless effort by WWO staff to compile the paperwork and receive the final permit from the Office of Women, Children and Youth affairs (OWCYA). TD is now enjoying his independent living in the community while helping to take care of his younger brother.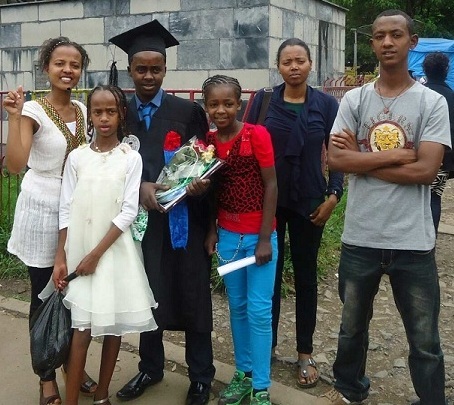 ________________________________
Post script
TD graduated from Vocational Training school with a degree in Information Technology on September 6, 2015. He received his diploma and wore a cap and gown and was feted by Dr. Sophie Mengistu, Ethiopia Country Director, and his fellow Des's Village family and staff of WWO. There was a tasty cake that was cut by Sophie and TD. His caretakers, who have been his family all these years, chipped in and bought him a silver necklace.
TD has been hired by Worldwide Orphans as Assistant Data Clerk and Assistant Camp and Youth Club Coordinator. He has a future to become totally independent, to have his own home and to raise his own family. All the other children were inspired by his example. He is currently living with his sister and brother and he walks to Des's Village to work.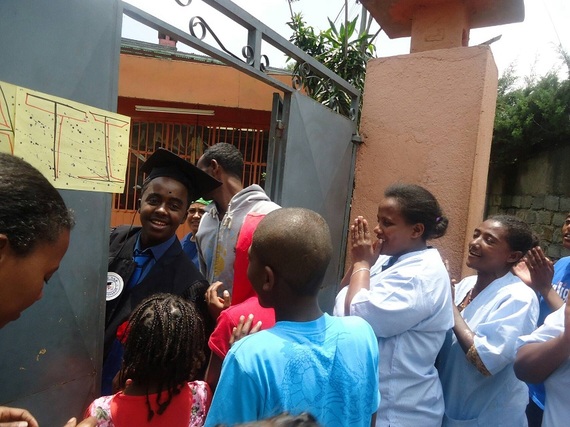 Calling all HuffPost superfans!
Sign up for membership to become a founding member and help shape HuffPost's next chapter