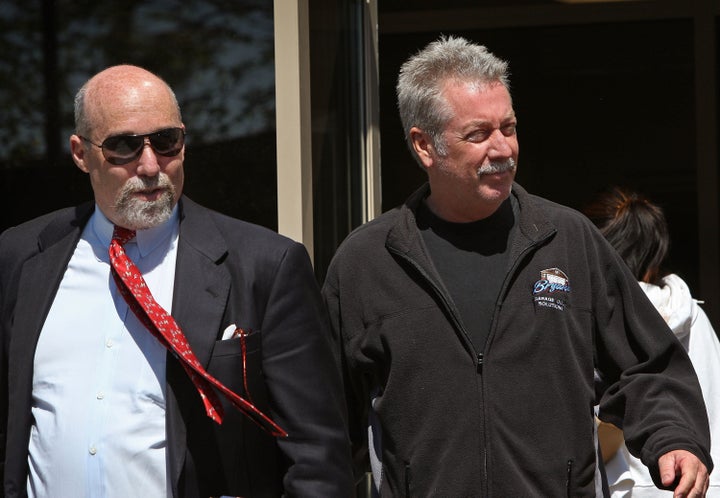 The lawyer representing former Illinois police officer and tabloid headline-grabber Drew Peterson said he and his client were happy to hear the not guilty verdicts in the Casey Anthony murder trial.
"He said it is good to see a jury not act emotionally," Peterson's attorney Joel Brodsky told The Huffington Post.
"My response is the same," Brodsky added. "The jury's job is not to act emotionally. A jury's job is to evaluate whether or not the government has sufficient evidence, and it looks like in the Casey Anthony case they felt the government did not have sufficient evidence to prove their case."
Drew Peterson, 56, was arrested in May 2009 after a special grand jury found sufficient evidence to charge him in the 2004 death of his third wife, Kathleen Savio. Police have also named him an "official suspect" in the October 2007 disappearance of his fourth wife, 23-year-old Stacy Peterson. The former Bolingbrook police officer is being held on $20 million bail, pending the start of his murder trial.
"In the Casey Anthony case, they had a pathologist say there was a homicide, an odor from the trunk, chloroform, fibers, the internet search for chloroform, the duct tape [and] a body disposed of in a swamp," Brodsky explained. "In Drew's case, they do not have one single piece of hard evidence, not one."
Brodsky continued: "They have a pathologist that said it is a homicide [but] we have got three pathologists that say it is an accident. When it comes to hard evidence, they had some in Casey Anthony's case [but] in Drew Peterson's case they have zip."
Peterson's charges stemmed from a controversial new law passed by Illinois legislators that allows a judge to admit hearsay evidence into court for first-degree murder cases, as long as the prosecution can prove that the defendant killed a witness to prevent testimony. The bill's sponsors never publicly linked the law to Peterson, but speculation about such a tie has led many experts to label it "Drew's Law."
"They say they have hearsay," Brodsky said. "Look, if a man can be convicted on what his wife's relatives say his wife said about him during a contentious divorce, then I suppose 99 percent of divorced men in America can be put away. Anybody that has been through a divorce -- even a good divorce -- will tell you that. I say [the hearsay] shouldn't get in. It is fairly meaningless."
No trial date for Peterson has been set. According to his attorney, the trial is on hold until an appellate court issues a ruling to uphold or revoke a July 2010 decision by Will County Judge Stephen White in which he barred eight of the 13 hearsay statements from being used in Peterson's pending court case.
"We are still waiting for the appellate court to rule," said Brodsky. "He [has been] locked in jail a year without a right to a speedy trail and the appellate court is taking its sweet time in ruling. In my opinion it is not right, but that is my opinion."
Speaking with The Chicago Tribune, Charles Pelkie, a spokesman for the Will County state's attorney's office, said his agency is well prepared for the eventual trial.
"Every case needs to be judged on its own merits, and we are preparing to move forward with this prosecution," Pelkie said. "The state's attorney has great faith in our system of justice and jury system."
PHOTO GALLERY
Drew Peterson
Calling all HuffPost superfans!
Sign up for membership to become a founding member and help shape HuffPost's next chapter