Casey Marie Anthony walked out of the Orange County Jail in Florida a free woman early Sunday morning. Anthony's release occurred exactly three years from the day that she made her first court appearance on multiple charges related to the disappearance of her 2-year-old daughter, Caylee.
Anthony, dressed in a bright pink polo shirt and jeans, walked out of the jail booking center with her attorney, Jose Baez, at about 12:10 a.m. When she walked out, Anthony mouthed "thank you" to one of the heavily armed guards that escorted her and her attorney to a dark SUV.
An armed contingent of law enforcement officers held back a large crowd that had gathered to watch Anthony's release. Some demonstrators waved placards while others shouted "Killer!" and "We hate you Casey!"
News helicopters briefly followed the SUV and several decoy vehicles as they left the courthouse but they quickly slipped from public view.
According to jail officials, Anthony had $537.68 on her when she was released.
"This release had an unusual amount of security so, therefore, in that sense, it would not be a normal release," Orange County Corrections Department spokesman Allen Moore said. "We have made every effort to not provide any special treatment for her. She's been treated like every other inmate."
Kelly Hall, an Orlando resident who has followed the case since Caylee was reported missing, was at the courthouse for Anthony's release.
"I was hoping to get some closure but after seeing her walk out I found myself more angry," Hall told The Huffington Post. "She had a smug look on her face and it was disgusting. This case has been emotionally damaging and I think it will take a long time for myself and everyone else who has followed it to heal."
There is speculation the SUV that carried Anthony and Baez headed for a local airport, but their destination is not yet known.
Twelve days ago, a jury of seven women and five men -- after hearing 33 days of testimony, 400 pieces of evidence and more than 90 witnesses -- found Anthony not guilty of killing her daughter.
The case against Anthony was mostly circumstantial, but as it unfolded, she was portrayed in the trial as a promiscuous, self-centered woman who became a cold-blooded killer. The motive, prosecutors alleged, was to allow her to live a carefree life without her daughter.
The state's theory was that a desperate Anthony used chloroform to subdue her daughter and then suffocated her with duct tape. Anthony then fabricated fantastic lies to cover up her deeds, the prosecutors said.
According to Baez, Casey Anthony and her father, George Anthony, were at home on June 16, 2008, when they noticed Caylee was missing. They began a frantic search, looking under beds and in the garage. Then George Anthony took the search outside to the above-ground pool, where they found a lifeless Caylee floating in the water, Baez said.
Caylee's remains were found in a wooded area near the Anthony family home in December 2008. The discovery was made roughly five months after she was reported missing.
After one day of deliberations, the jury sided with the defense and found Anthony guilty of four lesser counts of lying to police officers about the disappearance of her child -- lies which had launched one of the largest searches ever for a missing child.
The verdict ignited a cauldron of emotion in the courtroom and around the world. Angry protesters flocked to the courthouse steps, and dozens of death threats were made against Anthony and members of her family.
On July 7, Chief Judge Belvin Perry sentenced Anthony to four years for the misdemeanor counts, but he shortened her term because she had already served more than 1,000 days since being charged with first-degree murder.
Anthony, 25, faced a possible death sentence if she had been convicted of first-degree murder. Her acquittal has ensured that she can never again be tried for her daughter's murder because of the double jeopardy clause in the U.S. Constitution. Prosecutors are also prohibited from appealing her acquittal.
Two civil suits have been filed against Anthony. One was filed by a woman named Zenaida Fernandez-Gonzalez, who claims Anthony damaged her reputation when, in July 2008, she told police a woman with her name had kidnapped her daughter. The kidnapping was later proven to be a total fabrication, and Gonzalez is now seeking $15,000 in damages.
Texas EquuSearch, the missing person search and recovery group that searched for Caylee, is also seeking more than $100,000 in a lawsuit to recoup funds it spent on the search efforts.
Anthony still owes investigative and court costs and possibly fees for her murder defense.
According to her attorneys, Anthony is destitute. However, any debt she acquires as a result of her cases will likely be recouped by the money she can earn now that she has been acquitted. It's no secret that Anthony stands to make a fortune from film and book rights, and the deals are already coming in. Last week, an independent TV production company offered her $1 million for an interview.
Will Anthony attempt to cash in on her acquittal? No one knows yet. It also remains unclear where she will stay. Her parents, George and Cindy Anthony, have declined multiple requests for comment, but a source close to the family has told The Huffington Post they have made arrangements for her to stay with an aunt in Texas.
The death of Caylee is a mystery and likely will remain so for eternity. Her mother, however, has freedom.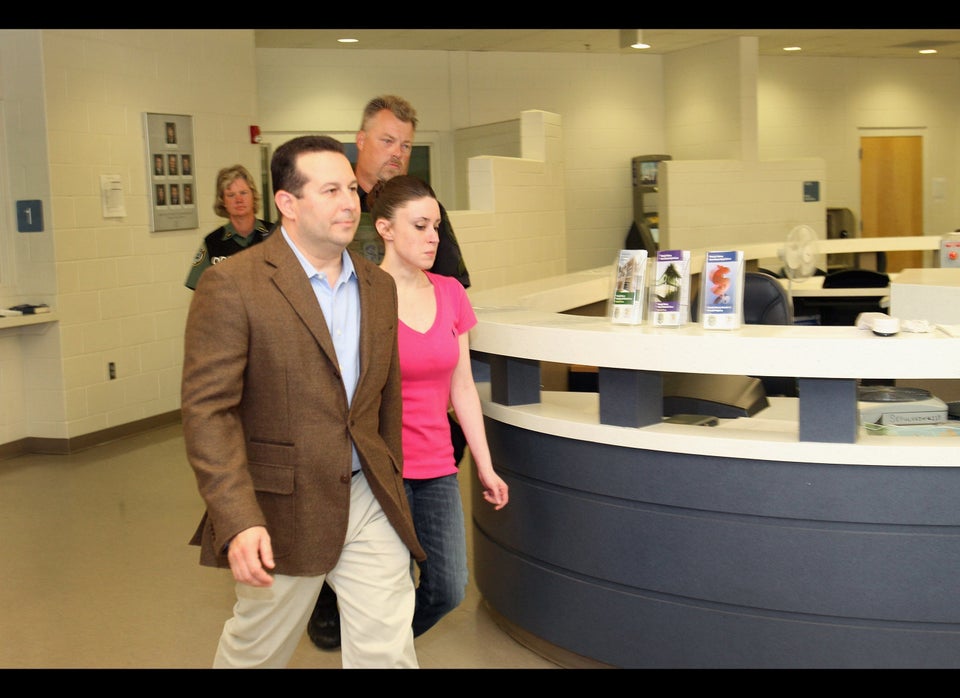 Casey Anthony Release
Popular in the Community