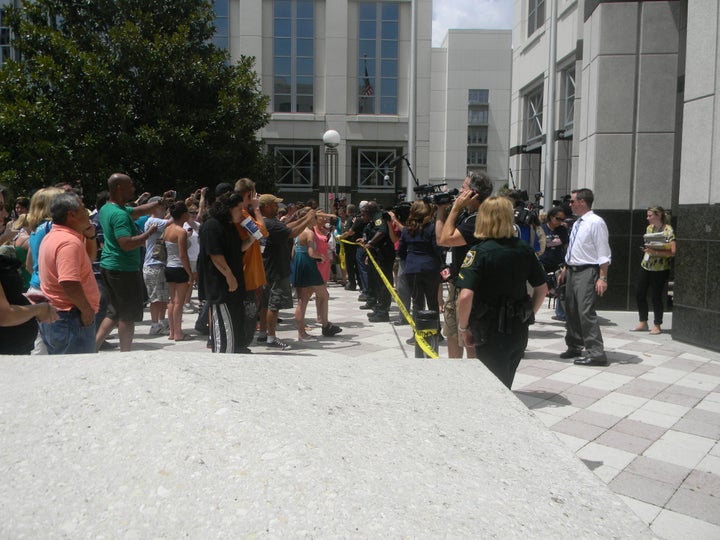 Orlando, Fla. -- Inside the courtroom, there was jubilation today for Casey Anthony and her defense team. Not only did they manage to avoid a first-degree murder conviction, they also dodged the possibility of a death sentence. However, outside on the courthouse steps, there was a lot of outrage and frustration at the verdict.
"It is not justice. I cannot believe this. How did an injustice like this happen? It is terrible, terrible," Scott Corfee of Orlando, who sat in court when the verdict was announced, told The Huffington Post.
Randall Weeks, a resident of Miami who drove to the courthouse to hear the verdict, agreed.
"This is the biggest outrage since the O.J. Simpson trial," Weeks said. "How could they be so blind? Where is justice? Who will pay for her daughter's death?"
Anthony, 25, was found not guilty of killing her 2-year-old daughter, Caylee, today. She was also found not guilty of aggravated child abuse and aggravated manslaughter of a child. But she was convicted on charges of misleading law enforcement.
As news of the verdict spread, angered onlookers swarmed the front of the courthouse. The group began shouting in unison, "We want justice" and chanted, "Justice for Caylee."
WATCH: (STORY CONTINUES BELOW VIDEO)
A dozen or so sheriff's deputies emerged from inside the courthouse and forced the angry crowd back. Officers put up caution tape and stood guard, blocking the courthouse doors. For a brief time, the media was stuck between the protesters and the police, unable to move until the area was secure.
"I am a firm believer in karma. Maybe justice did not get her, but karma will," Corfee said.
A much more peaceful gathering was being held concurrently on Suburban Drive in Orlando, where Caylee's remains were found in December 2008. For the second day in a row, hundreds of people made their way into the woods to pay their respects.
"This is the only way I know how to grieve," said a neighbor of the Anthonys who did not wish to be identified. "We'll never see little Caylee again. Only the Anthonys know where she has been laid to rest. We have no grave to visit, so what else can we do but come here to pay our respects?"
Casey Anthony will be back in court Thursday for sentencing on four misdemeanor counts of lying to police. Each count carries a maximum sentence of one year in county jail. The judge has the option of sentencing Anthony consecutively or concurrently. Anthony will receive credit for time served in jail since her 2008 arrest, meaning she could walk free.
While Thursday's outcome is yet to be seen, Weeks and others the Huffington Post spoke with said they will be back on Thursday morning to get their views across regarding Anthony's sentencing.
"You bet your ass we'll be back," Weeks' friend, Jay Henderson, said. "We'll all be back to have our voices heard." Several in the crowd cheered in agreement as he spoke.
PHOTO GALLERY
Casey Anthony Trial: Anger At The Courthouse
Calling all HuffPost superfans!
Sign up for membership to become a founding member and help shape HuffPost's next chapter