An insect expert said he found no evidence that Caylee Anthony's body decomposed inside her mother's car in testimony at Casey Anthony's first-degree murder trial today.
Dr. Timothy Huntington was the only witness called to testify by the defense during day 21 of the trial, in which Anthony is accused of multiple charges including capital murder, aggravated child abuse, aggravated manslaughter of a child and misleading law enforcement for the death of her two-year-old daughter.
The prosecution is seeking the death penalty.
Huntington is an assistant professor of biology from Concordia University and a forensic entomology consultant, who advises law enforcement and attorneys about insect evidence.
He testified that he was contacted by the defense team on Dec. 11, 2008 -- the day a county worker in Orlando found Caylee's remains in a wooded area near the Anthony family home. He said he flew down a few days later.
Huntington said he inspected the same evidence that was reviewed by Dr. Neal Haskell, an entomology expert for the state who previously testified that evidence found in the trunk of Anthony's Pontiac Sunfire suggested a decomposing body had been inside the trunk for several days.
But according to Huntington, the lack of bug evidence -- he only found one blow fly leg when he examined the car in 2010 -- suggested a body did not decompose inside the trunk. If decomposition had occurred in the trunk, there would have been "hundreds, thousands of those dead insects" in the trunk, Huntington said.
The defense entomologist also pointed to research he conducted in September 2010, in which he put dead pigs into the trunks of cars to observe the decomposition process. During that study, Huntington said blow flies were drawn to the pig soon after death.
He also noted there was a large amount of fluid left inside the vehicles by the decomposing pigs.
"It is a sticky, greasy, disgusting material," Huntington said. "Once it soaks in there, I'm not sure a professional cleaner could get it out."
Such a stain was not found in Anthony's vehicle.
During cross examination, prosecutor Jeff Ashton pointed out the pigs had not been wrapped in blankets, the way investigators allege Caylee's remains had been placed in the trunk of her mother's car.
"Why didn't you wrap your pigs in a blanket?" Ashton asked, chuckling. Huntington explained that was beyond the scope of the study he had conducted.
In regard to the location where Caylee Anthony's remains were found, Huntington testified that entomological evidence suggested her body had been moved after the decomposition process started. He noted the lack of blow flies and the lack of a stain from the decomposition process.
Huntington's opinion differed from Haskell, who previously testified that entomological evidence indicated Caylee's remains had been in the wooded area for a period of about six months.
Ashton questioned Huntington at length about his findings and at one point got the defense witness to admit that Anthony's car still smelled when he examined it in July. Huntington suggested the odor might have come from garbage that had been inside the car, but later acknowledged the lack of a food source inside the trash.
The jury was dismissed at about 4:30 p.m. It remains unclear if Huntington will return to the stand tomorrow.
SEE PHOTOS FROM THE CASEY ANTHONY TRIAL: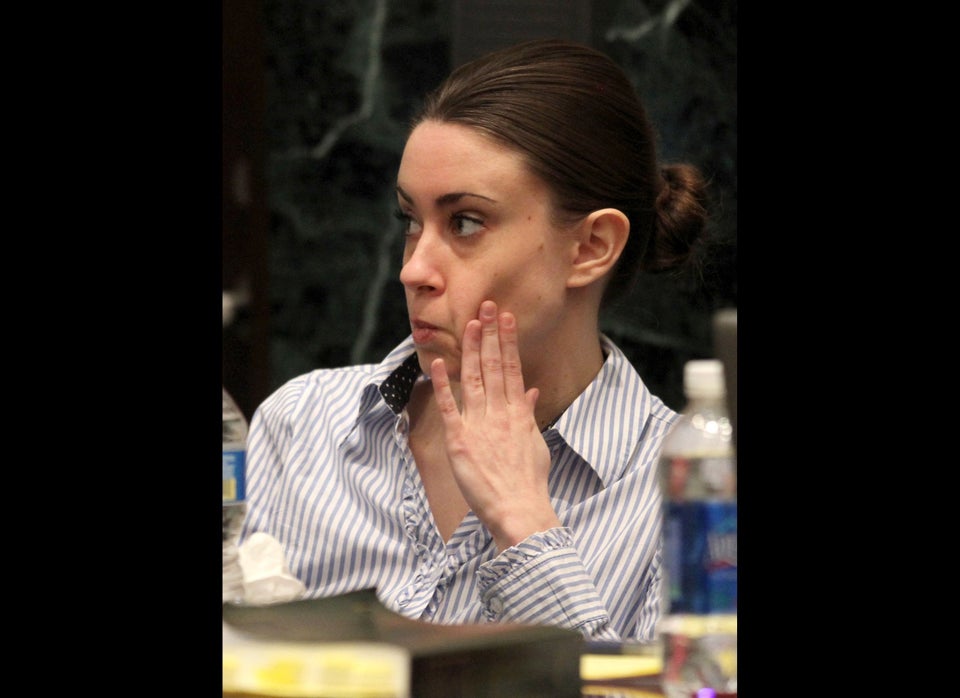 Casey Anthony Trial
Popular in the Community