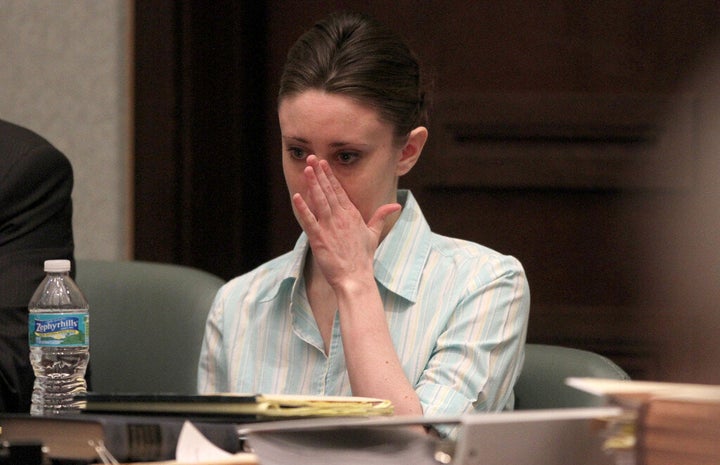 The third day of Casey Anthony's murder trial saw a number of Anthony's ex-boyfriends and friends called to the stand to discuss their interactions with her in 2008, but the most explosive testimony was not heard by the jury.
Casey Anthony's ex-boyfriend, Anthony "Tony" Lazzaro, 24, was questioned outside the jury by Anthony's defense attorney, Jose Baez, and Judge Belvin Perry. Lazzaro told them about a conversation he had with Anthony in June or July of 2008, during which she allegedly told him that her older brother, Lee Anthony, had attempted to "feel her up."
Lazzaro said he could not recall if Anthony had offered a timeframe for when the alleged abuse had occurred, but said it was "definitely in the past ... Not anything in the present," Lazzaro said.
Lazzaro also said that Anthony told him that her father, George Anthony, had physically abused her.
"Hitting; that's all I can remember," Lazzaro said.
George Anthony hasdenied the abuse allegations. Lee Anthony has yet to take the stand in the case, but is listed as a prosecution witness.
Perry has yet to rule on whether Baez can question Lazzaro about the alleged abuse allegations in front of the jury.
When he testified in front of the jury Thursday, Lazzaro discussed his relationship with Anthony, which he described as loving and recalled Caylee as a "great little girl."
"Caylee could count to 40 in Spanish. She loved 'Dora the Explorer,'" he said.
Anthony became visibly upset and started to cry when her ex described her child.
Lazzaro was also questioned about Anthony's car again — the vehicle prosecutors alleged Caylee's body was transported in. Lazzaro said he never smelled anything foul or out of the ordinary coming from the trunk.
George Anthony was called back to the stand Thursday. He was questioned about June 24, 2008, the day he discovered someone had broken into his shed and stolen two of his gas cans.
Anthony said he suspected his daughter was responsible and confronted her about the missing cans later that day when she stopped by the house. He testified he walked to the back of his daughter's car to open the trunk when she rushed ahead of him.
"As I get toward the end of the car, right toward the passenger rear, just where the tail lights stuff is at, Casey opens up the trunk, throws the trunk open, reaches in and grabs the gas cans and says, 'Here's your f---ing gas cans.' She places them down on the ground and slams her trunk," Anthony said on the stand.
Afterwards, Anthony "abruptly got into her car and drove away," her father testified.
Baez asked George Anthony if he smelled anything when he stood at the rear of his daughter's car.
"The only smell I had was the smell of gas cans placed on the ground," Anthony said.
"And you did not smell any smell of human decomposition on June 24 in the trunk of your daughter's car?" Baez pressed.
Anthony clarified he did not.
Baez then questioned Anthony about a piece of duct tape that was later found on one of the gas cans. The duct tape is the same brand that was found wrapped around Caylee's skull when a county worker found her remains on December 11, 2008.
Anthony told Baez he put the piece of tape there after his daughter returned the can, because a plastic vent cap was missing.
"I did place that particular one back on there because I didn't want the gas smell out in the shed," Anthony said.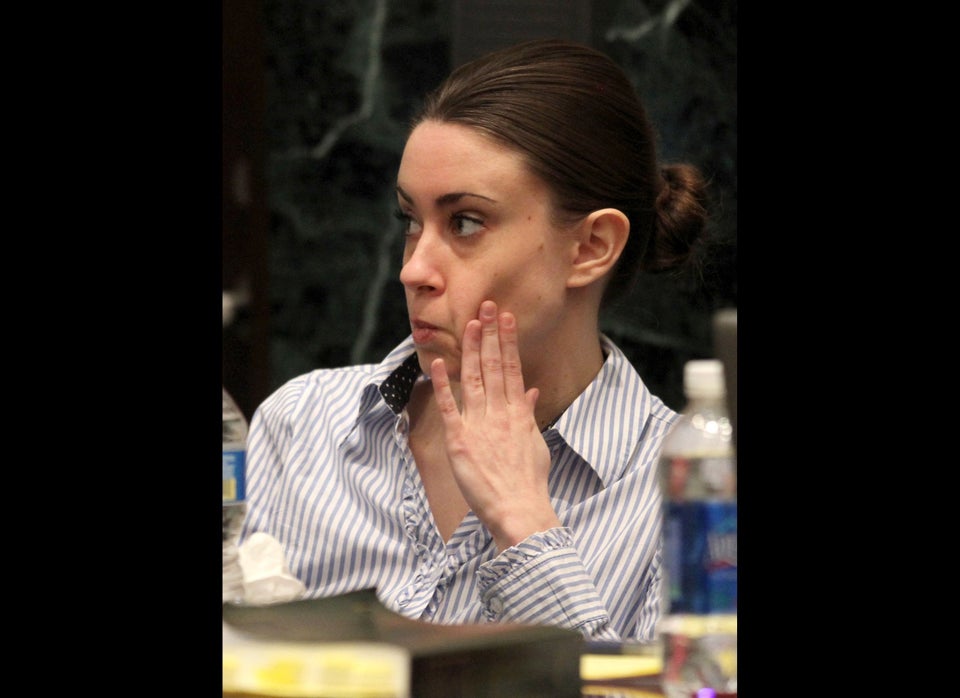 Casey Anthony Trial
When George Anthony stepped down from the stand, Ricardo Morales, a 27-year-old man who dated Anthony from February to April 2008, was called to the stand.
Morales said he remained friends with Anthony after their break-up and testified that the last time he saw Caylee was when she and her mother spent the night at his house during the first week of June.
During a subsequent meeting with Anthony on July 15, 2008, the same day Caylee would later be reported missing by her grandmother, Morales said she was acting normal.
"She was the same as she always was," Morales testified. "Happy. Smiling. Just as usual. Same Casey."
The fourth witness to take the stand Thursday was Melissa England, a woman from Massachusetts, who was dating a friend of Morales' named Troy Brown in July 2008. England testified that she stayed with Brown over the Fourth of July weekend in 2008, when she was introduced to Anthony.
"She was very friendly, outgoing, she introduced herself to me immediately," England said.
England said she went shopping with Anthony during her stay in Orlando and recounted an incident that occurred when Anthony was talking to someone on her cellphone. England said when Anthony hung up she said, "Oh my God, I am such a good liar."
Brown, 26, took the stand after his former girlfriend stepped down. He testified he last saw Caylee at Morales' home in June 2008.
Iassen Donov, a 27-year-old pharmaceutical salesman testified he met Casey Anthony in 2007 after she started dating his friend, Brandon Snow. He said Anthony discussed with him how much she liked Caylee's nanny — a woman Baez mentioned in his opening statement and said never existed.
The next witness to take the stand was 26-year-old Dante Salanti, a former high school classmate of Anthony's.
Salanti said he ran into Anthony in both June and July 2008. He said she seemed "completely free of worry."
Christopher Stutz, a 23-year-old man who had once dated Anthony, testified that she and Caylee had spent the night at his house in May 2008. He said he saw Anthony twice more, in June and July, during which "she seemed upbeat and happy," Stutz testified.
Twenty-four-year-old Matthew Crisp was the last to testify Thursday. Crisp, who said he has known Anthony since 2002, said he saw her on June 17, 2008, the day after Baez said Caylee drowned. Crisp said Anthony appeared "joyful" and did not indicate anything was wrong.
Court recessed at 5:30 p.m. and is scheduled to resume at 8:30 a.m. Friday.
Anthony is charged with first-degree murder in her daughter's death. If convicted, she could face the death penalty.
Related
Popular in the Community