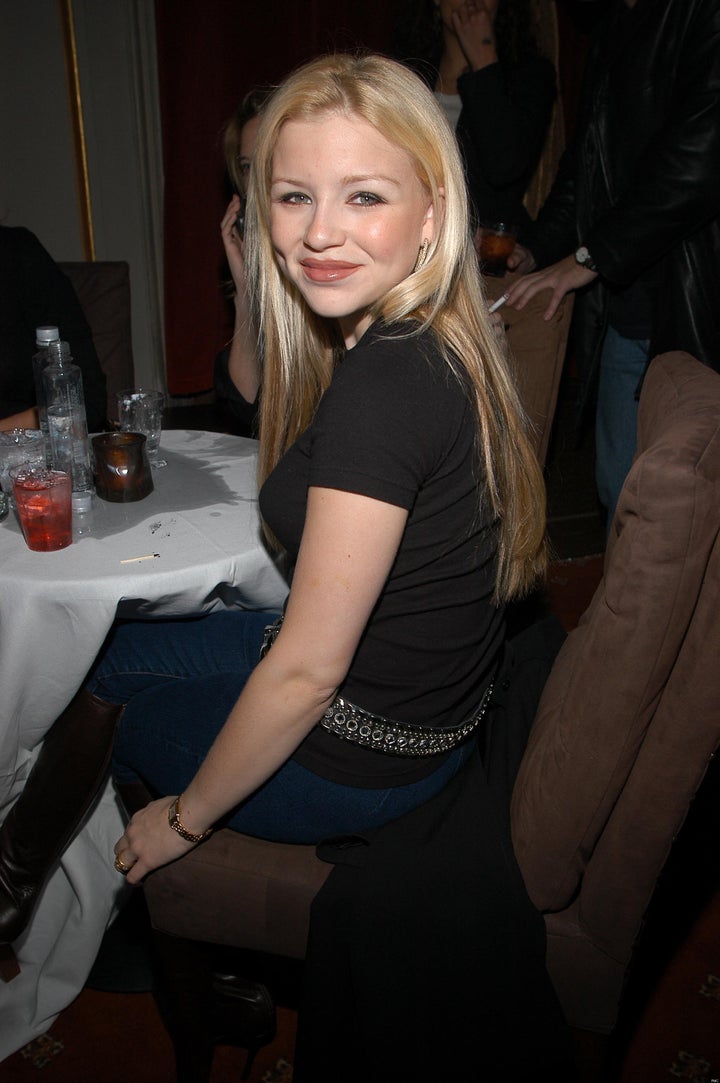 Oh Casey Johnson, what happened!?
Almost a decade ago, I wrote a coming out story about the cherub-faced Johnson & Johnson heiress. No, not that she was gay or at least bi-curious. That would come later in tabloid reports of her on-again-off-again flame, Courtenay Semel, who set Casey's hair on fire during a fight.
I wrote about Casey's 21st birthday party in NYC for the New York Observer.
Here's how Casey marked turning the legal age to drink:
"Ms. Johnson was with about 25 wonderful friends at 21, where they were celebrating her 21st birthday. She was wearing an animal-print dress, and the table included her parents; her godmother, Diandra Douglas; producer Marty Richards (who was once married to Ms. Johnson's great aunt, Mary Lee Johnson); Nicky Hilton; and jewelry company heiress Elisabeth Kieselstein-Cord. The next morning, Ms. Johnson would fly to Tampa, Fla., with her father to watch a Jets game."
Back then, her social life was more "Gossip Girl" than "Law and Order:"
"Take Monday, Sept. 25, for example: Ms. Johnson was playing hostess at her parents' Fifth Avenue apartment to Michael Douglas, Barbara Walters, Paul Newman and Christopher Reeve, at a kick-off party to benefit Mr. Reeve's paralysis foundation. But on another Monday, she might be found at karaoke night at the velvet-roped club Moomba, where she sings Madonna songs with friends like Charlotte Ronson..."
I would never have guessed that by another milestone birthday Casey would have adopted and ditched a baby from Kazakhstan, had a falling out with her aunt, Libet,
over an alleged shared boyfriend and left a particularly unsavory calling card after burglarizing a reality TV star's house.
However, I did find it troubling that soon after the story ran, I saw Casey at a Soho restaurant. I remember her staring at her reflection in the bathroom mirror and insisting that she already needed botox on her flawless forehead.
Still, relatively speaking, her problems were pretty minor, besides having diagnosed with insulin-dependent diabetes when she was 8 years-old--something that seems strangely left out of current news reports about her wild antics. She was working part time for publicist Lizzie Grubman, pre Hamptons car crash. Casey's parents were still together. She didn't seem to have discovered hard drugs yet and her favorite restaurants were McDonald's and Harry Cipriani. A friend of Casey's described her one-bedroom apartment near the Whitney Museum of Art as: "somewhere my parents would live."
In a stark contrast, Jasmine Lennard, the British model Casey recently burglarized told the New York Post that Casey's current home looks more like a crime scene:
"Her house on Mulholland Drive is a mess. The electricity is off, there are rats, the pool is green. She was supposed to be evicted and her Porsche is being repossessed."
When she was about 20, Casey's dishonesty seemed fairly limited to faking cooking for her then-boyfriend by ordering gourmet takeout:
"I'd come over all excited," he said, "and she'd say, 'Didn't I do such a good job?' Then I'd walk into the kitchen and see the bags and realize she had ordered it from Ferrier," a bistro on East 65th Street. "He never confronted me about that," said Ms. Johnson, laughing. She added that she once told Mr. Heller she had "slaved away all day" over a birthday cake for him, when in reality it had been baked by her parents' chef. "I don't think he knows to this day that I didn't make it," she said.
Casey was arrested Monday in Los Angeles on grand theft charges for allegedly stealing clothes, jewelry, shoes and legal documents from Lennard, who told the Post, "Casey basically needs to go into rehab for a long time. She has walked out [of treatment programs] twice against her parents' wishes, so they told her no more money. The last time she left early a few months ago and wrote at the bottom of her exit form: '[Bleep] you -- keep the money."
When Casey turned 21, she had a very different drug of choice:
"Unfortunately, I love Cool Ranch Doritos. That's my downfall," she said.