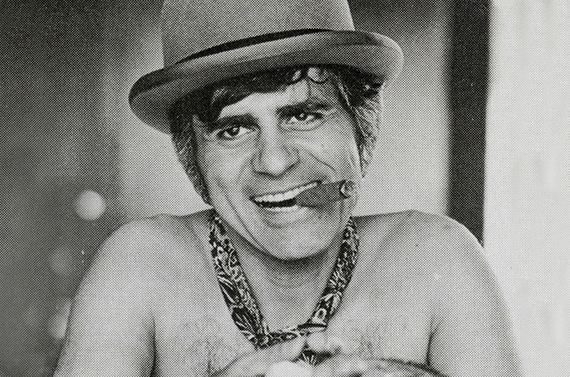 I grew up musically in the 1980s, a decade in which musical tribalism was at its peak. If your allegiance (as mine was, mostly) was to American Indie Rock and it's sub-strains it meant instant hostility towards British artists like The Smiths or Echo and the Bunnymen. Forget classic rock, that was for guys who drove Camaros at the Jersey Shore. The worst of all was anything that was "Top 40" -- so banal and homogenized that a commercial radio station deigned to actually play it. R.E.M., by these lights, went from heroes to "sell-outs" in 1987 when "The One I Love" became their first Top 10 hit.
This thinking was so ingrained that it accounted for a measure of Kurt Cobain's self- loathing as Nirvana became the world's biggest band. How could they possibly be good AND popular?
What this really had to do with was the corporatization of radio, which had gone free-form with the rise of FM in the 1970s only to become a regimented, segmented, centralized beast by the late 80s. Even the music I had sworn pigheaded fealty to would spawn a highly researched and controlled format, "Alternative Rock," that briefly had a day in the sun thanks to the breakthrough of Nirvana, Pearl Jam and British stalwarts like The Cure and Depeche Mode in the early 90s.
Thanks in part to the great leveling influence of the Internet, musical tastes now have never been so diverse. People hop around freely from rap, to cumbia, to folk-rock without batting an eye. Music criticism has entered an anti-elite phase that requires that Miley Cyrus be given as much consideration as St. Vincent.
This grand disinterest in genre barriers really isn't that new however -- in fact, starting in 1970 it was the cornerstone of Casey Kasem's American Top 40 Countdown. Every week listeners (me included) could hear the most popular songs in the nation, regardless of musical type. It may be that only a profound non-fan like Kasem could oversee such a marvelously polyglot adherence to the numbers versus the content.
The other impact this, and the corresponding rise in the Top 40 radio format in the late 70s bought about was the re-emergence of the single after so much industry emphasis on the album. Individual songs also gained their own videos as MTV emerged in 1981, which accelerated the some of Top 40s genre-busting (though MTV would be late to hip hop culture and black artists and country struggled to get shown.)
How diverse was Top 40? I would call the years 1977-1984 the peak years for classic Top 40 so let's take a look at 1981, a year that falls right in the middle of this golden age. This is Billboard's Top 100 songs for the year which means that during the course of 1981 every single one of these 100 songs jostled against each other in various permutations of Casey Kasem's countdown. Look at the genres, genders, skin colors, and even world views represented on this chart:
1. Kim Carnes -- Bette Davis Eyes
2. Diana Ross and Lionel Richie- Endless Love
3. Kenny Rogers -- Lady
4. John Lennon -- (Just Like) Starting Over
5. Rick Springfield -- Jessie's Girl
6. Kool and The Gang -- Celebration
7. Daryl Hall and John Oates -- Kiss On My List
8. Eddie Rabbitt -- I Love A Rainy Night
9. Dolly Parton -- 9 To 5
10. REO Speedwagon -- Keep On Loving You
11. Joey Scarbury -- Theme From "Greatest American Hero" (Believe It Or Not)
12. Sheena Easton -- Morning Train (Nine To Five)
13. Smokey Robinson -- Being With You
14. Juice Newton -- Queen Of Hearts
15. Blondie -- Rapture
16. Ray Parker Jr. and Raydio -- A Woman Needs Love
17. Blondie -- The Tide Is High
18. Grover Washington Jr. -- Just The Two Of Us
19. Pointer Sisters -- Slow Hand
20. Climax Blues Band -- I Love You
21. John Lennon -- Woman
22. A Taste Of Honey -- Sukiyaki
23. ABBA -- The Winner Takes It All
24. Stars On 45 -- Medley
25. Juice Newton -- Angel Of The Morning
26. Neil Diamond -- Love On The Rocks
27. Air Supply -- Every Woman In The World
28. Air Supply -- The One That You Love
29. Barbra Streisand and Barry Gibb -- Guilty
30. Styx -- The Best Of Times
31. Oak Ridge Boys -- Elvira
32. REO Speedwagon -- Take It On The Run
33. Ronnie Milsap -- No Gettin' Over Me
34. Gino Vannelli -- Living Outside Myself
35. Barbra Streisand -- Woman In Love
36. Manhattan Transfer -- Boy From New York City
37. Foreigner -- Urgent
38. Rod Stewart -- Passion
39. Commodores -- Lady (You Bring Me Up)
40. Don McLean -- Crying
41. Marty Balin -- Hearts
42. Diana Ross -- It's My Turn
43. Daryl Hall and John Oates -- You Make My Dreams
44. Kenny Rogers -- I Don't Need You
45. Champaign -- How 'Bout Us
46. Pat Benatar -- Hit Me With Your Best Shot
47. Greg Kihn Band -- The Breakup Song
48. Alan Parsons Project -- Time
49. Bruce Springsteen -- Hungry Heart
50. Franke and The Knockouts -- Sweetheart
51. Terri Gibbs -- Someone's Knockin'
52. Leo Sayer -- More Than I Can Say
53. Tierra -- Together
54. Styx -- Too Much Time On My Hands
55. Dottie West -- What Are We Doin' In Love
56. Journey -- Who's Crying Now
57. Police -- De Do Do Do, De Da Da
58. Gary U.S. Bonds -- This Little Girl
59. Stevie Nicks With Tom Petty and The Heartbreakers -- Stop Draggin' My Heart Around
60. Delbert McClinton -- Giving It Up For Your Love
61. Cliff Richard -- A Little In Love
62. Neil Diamond -- America
63. John Cougar -- Ain't Even Done With The Night
64. Christopher Cross -- Arthur's Theme
65. Queen -- Another One Bites The Dust
66. Alan Parsons Project -- Games People Play
67. Eric Clapton -- I Can't Stand It
68. Steve Winwood -- While You See A Chance
69. Stevie Wonder -- Master Blaster
70. Neil Diamond -- Hello Again
71. Police -- Don't Stand So Close To Me
72. Steely Dan -- Hey Nineteen
73. Stevie Wonder -- I Ain't Gonna Stand For It
74. George Harrison -- All Those Years Ago
75. Eddie Rabbitt -- Step By Step
76. Billy Squier -- The Stroke
77. Alabama -- Feels So Right
78. Stanley Clarke and George Duke -- Sweet Baby
79. Dan Fogelberg -- Same Old Lang Syne
80. Pablo Cruise -- Cool Love
81. ELO -- Hold On Tight
82. John Schneider -- It's Now Or Never
83. Pat Benatar -- Treat Me Right
84. Santana -- Winning
85. Barbra Streisand and Barry Gibb -- What Kind Of Fool
86. John Lennon -- Watching The Wheels
87. Heart -- Tell It Like It Is
88. Ronnie Milsap -- Smoky Mountain Rain
89. Barry Manilow -- I Made It Through The Rain
90. Daryl Hall and John Oates -- You've Lost That Lovin' Feelin'
91. Olivia Newton-John and Cliff Richard -- Suddenly
92. Sheena Easton -- For Your Eyes Only
93. Beach Boys -- The Beach Boys Medley
94. Devo -- Whip It
95. Sheena Easton -- Modern Girl
96. Gary Wright -- Really Wanna Know You
97. Rosanne Cash -- Seven Year Ache
98. Diana Ross -- I'm Coming Out
99. Boz Scaggs -- Miss Sun
100. Andy Gibb -- Time Is Time
The first thing that stands out is how many of these songs were what Jody Rosen recently described as schlock in a fantastic piece for New York magazine -- with no pejorative implied. Here's his definition:
"Schlock, at its finest, is where bad taste becomes great art. Schlock is music that subjugates all other values to brute emotional impact; it aims to overwhelm, to body-slam the senses, to deliver catharsis like a linebacker delivers a clothesline tackle. The qualities traditionally prized by music critics and other listeners of discerning taste -- sophistication, subtlety, wit, irony, originality, "experimentation" -- have no place in schlock. Schlock is extravagant, grandiose, sentimental, with an unshakable faith in the crudest melodrama, the biggest statements, the most timeworn tropes and most overwrought gestures. Put another way: Schlock is Rodgers and Hammerstein, not Rodgers and Hart. It's 'Climb Ev'ry Mountain' and 'You'll Never Walk Alone,' not 'Manhattan' and 'My Funny Valentine.' "
"Keep on Lovin' You" by REO Speedwagon, "America" by Neil Diamond, "Angel of The Morning" by Juice Newton all fit the bill. What really interests me though is the range of music on display. From the easy listening of Diana Ross and Lionel Richie's theme from "Endless Love," to the late John Lennon's doo-wop influenced comeback single "Starting Over," to Kool and The Gang's soon-to-be wedding band classic pop funk jam "Celebration", to Hall & Oates blue-eyed soul of "Kiss Is On My List," to Dolly Parton's country pop theme from "9 To 5," to Blondie's groundbreaking disco/rap mashup "Rapture," to Grover Washington Jr.'s quiet storm "Just The Two of Us," to the power pop crunch of Greg Kihn's "The Breakup Song," to Springsteen's classic rock "Hungry Heart," to The Police's new wave, Stevie Wonder in hard funk mode, the yacht rock of Christopher Cross, the wimp rock of Dan Fogelberg, Devo's post-punk art rock, Rosanne Cash inventing alt-country -- the breadth is amazing. You would simply NEVER hear a radio station playing all of these songs in rotation today. But in 1981, these were regularly back-to-back on Casey Kasem's show.
It's refreshing to think that all you needed to get played on Top 40 was that magical hit song regardless of genre. While that may smack of selling out, or as Glen Campbell sang in his his Top 40 hit from 1975 "Rhinestone Cowboy" -- "There's been a load of compromisin'/
On the road to my horizon" -- it also meant that anyone who wanted to could take a crack at a hit song and maybe, lead listeners down the garden path on an album.
Eventually the racial, gender, and even class diversity (think of how country music is thought of by many urban dwellers) fell to the wave of radio consolidation that in turn led to audience segmentation by station.
It took the Internet to put real music discovery back on the table through streaming services like Pandora and Spotify, YouTube's plethora of music of all types, and even the deep catalog of the iTunes store. Somehow though, it feels diffuse, with many listeners all off in their own musical experience.
With Casey Kasem though, the sound of everything was united by the cold logic of the charts and the warm bonhomie of his chipper voice. He'll be missed.
Calling all HuffPost superfans!
Sign up for membership to become a founding member and help shape HuffPost's next chapter