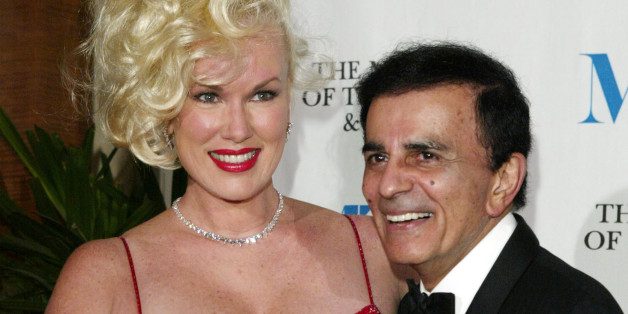 Legendary radio DJ Casey Kasem is at the center of a family feud involving his wife, Jean, and his three children, who claim their stepmother won't let them see their ailing father as he battles Parkinson's disease.
The 81-year-old icon, who rose to fame as the host of the "American Top 40" countdown, has not had contact with family and friends in ages, according to TMZ. Kasem's children, Kerri, Mike and Julie, have purportedly tried to get in touch with him for three months, but to no avail. His wife, Jean, is reportedly behind the issue.
On Tuesday, Oct. 1, Kasem's kids staged a protest outside his Holmby Hills, Los Angeles estate with his brother, friends and former business associates, KABC reported. Kerri told the network Jean refuses to answer their calls and tells them to go away when they try to visit the home, despite the fact that their father's condition is "deteriorating."
"I've got a feeling I might not see him again, and that's why I'm here," Kasem's brother, Mouner, who hasn't seen the star in a year, told KABC.
Kerri told the New York Daily News that she and her siblings aren't interested in money, although they are not named as beneficiaries in their dad's will. They have good jobs and personal trust funds, and are only concerned about Kasem's well-being.
"My dad is very sick, and we have been completely shut off from him for the last three months," the 41-year-old told the Daily News. "There is no money issue here, we just want to see our dad. We love him, and everyone knows his kids and grandkids are a source of joy for him."
Jean allegedly called police on Tuesday in an attempt to get the protesters away from the house, TMZ reported.
Kerri, Mike and Julie are Kasem's children from his first marriage to Linda Myers. He married Jean in 1980. Jean, an actress, is best known for playing Loretta Tortelli on "Cheers." She has also voiced animated roles in "Shaggy & Scooby-Doo Get a Clue!" and "Johnny Bravo." The two have a daughter, Liberty, together, according to Us Weekly.
Watch news coverage from the protest below.
BEFORE YOU GO
PHOTO GALLERY
Celebrity News & Photos