Having an incarcerated parent can be devastating for a child's well-being. But now there are clear steps states can take to ensure these children are able to thrive.
In the U.S., 5 million children -- or one in 14 kids -- have a parent behind bars.
Having a parent in the system can hamper kids' long-term chances of success, according to a new report from the Annie E. Casey Foundation.
"The impact of having someone who is incarcerated: It creates a vacuum in a child's life," said Scot Spencer, associate director for advocacy at the Annie E. Casey Foundation, to The Huffington Post. "It's a series of missed connections, missed hugs, missed storytelling. It's something you wouldn't wish on any child."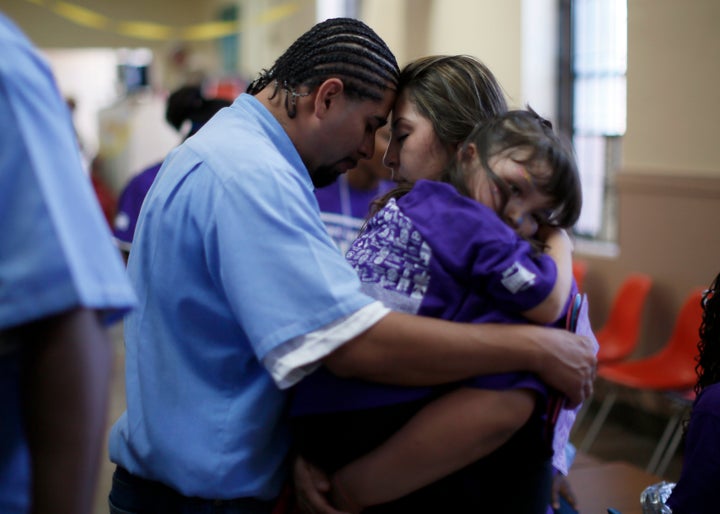 Families with fathers who have been incarcerated are more likely to live in poverty and to experience homelessness, according to the report. Their children are at higher risk of having mental health issues and of dropping out of school.
The study also points out that compared to their white peers, black children are seven times more likely, and Latino kids are twice as likely, to have a parent incarcerated.
"A kid shouldn't suffer the same sentence that their parents are suffering," Spencer said. "These are children. What is their future going to be like?"
Here are four steps from the Casey report that states can do to support kids with a parent behind bars:
1. Letting Kids Stay Connected To Their Incarcerated Parent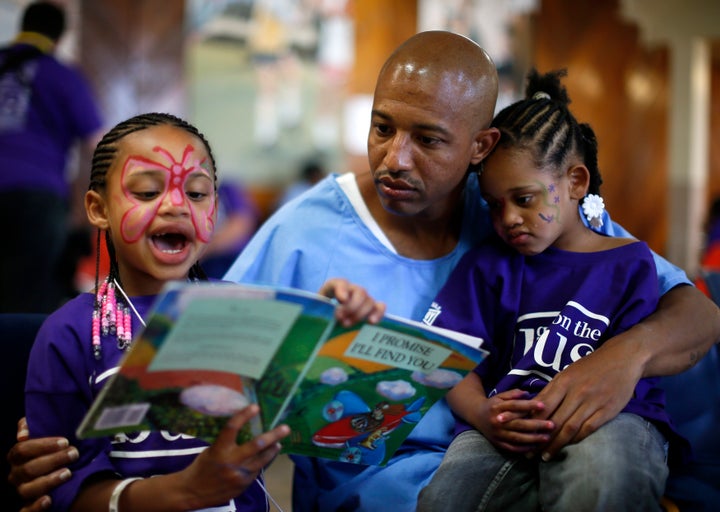 Children with parents in prison are typically younger, according to the report. Most are under 10, and about one in five of them are under five years old.
"Judges need to consider placement, so parents can have contact with their child," Spencer said. "These kids are missing a crucial connection in their early years."
One of the easiest ways states can ensure children aren't missing out entirely on the support of incarcerated parents is to improve child visitation.
The report recommends state justice systems encourage judges to consider the location of kids and families when making prison assignments, and that prisons develop child-friendly visitation policies, including providing transportation.
In New York, for instance, the Osborne Association's FamilyWorks program focuses on "parenting from prison," creating child-friendly spaces in visiting rooms, and offering parenting courses and counseling for incarcerated parents.
2. Preventing Incarceration From Affecting Employment
The steep costs of incarceration, including court fees and visitation expenses, can push already struggling families straight into poverty.
When fathers are incarcerated, family income can drop by an average of 22 percent, according to the report. Worse still, once a parent gets out of prison, their chances at getting a job are often hampered by their criminal record.
The report recommends states expand "ban-the-box" policies, requiring employers to not consider the criminal history of a candidate until final rounds.
Nearly 20 states, including Connecticut and Minnesota, have adopted "ban-the-box" policies, according to the report. But that means more than 30 states haven't.
3. Ensuring Parents Can Meet Kids' Basic Needs Once They Leave Prison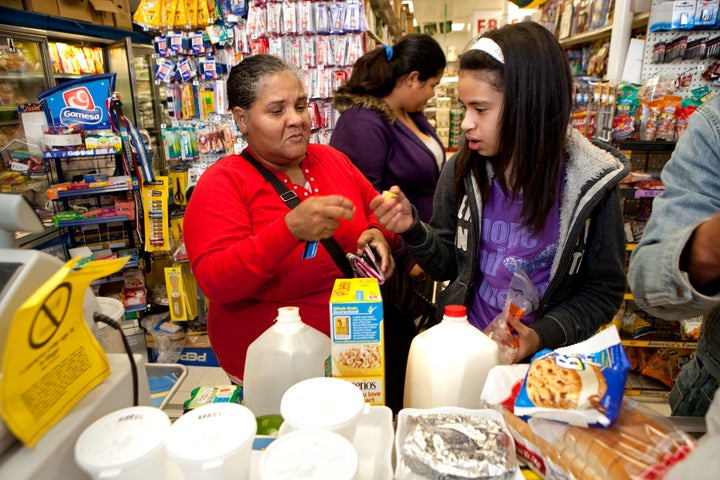 An alarming 65 percent of families with a member in prison could not meet basic needs, according to the report. What's worse, once an incarcerated parent gets out of jail, they often have restricted access to public programs such as food assistance, hindering them from providing for their children.
Johnny Waller, for instance, was convicted of a felony drug conviction in 1998, according to Stateline news. When his toddler son was diagnosed with cancer in 2007 and needed full-time care, his record disqualified him from food stamps.
"I really needed assistance," Waller told the news outlet last year. But he couldn't get it, because of a conviction "that didn't have anything to do with my son."
Only 18 states allow formerly incarcerated individuals full access to food and cash benefits, said Spencer. This means 32 states still have a full or partial ban, preventing parents with records from giving their children the support they need.
4. Eliminating Barriers To Housing That Having A Record Can Cause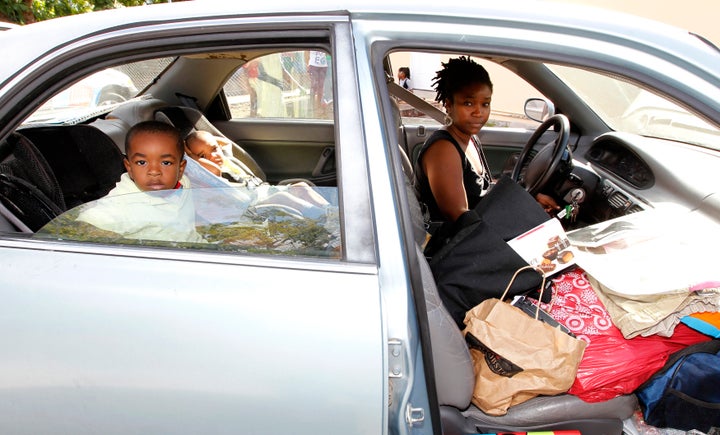 Kids with fathers in prison, particularly African-American children, are at greater risk of ending up homeless, according to the report. Homelessness can have dire consequences for children, including chronic stress and trauma.
"Having even a minor criminal record can present lifelong barriers to housing, as four in five landlords use criminal background checks on potential tenants," said Carmel Martin of the Center for American Progress, in a statement earlier this month. "Ensuring families have a fair shot at housing [can] keep families together."
States have the power to provide incentives for housing authorities and landlords to lift restrictions on people with records, according to the report.
In Oregon, for instance, private landlords can't discriminate based on a person's arrest record. But in other states, there is much more progress to be made.
To see all of the recommendations for states, read the full report here.
Related
Before You Go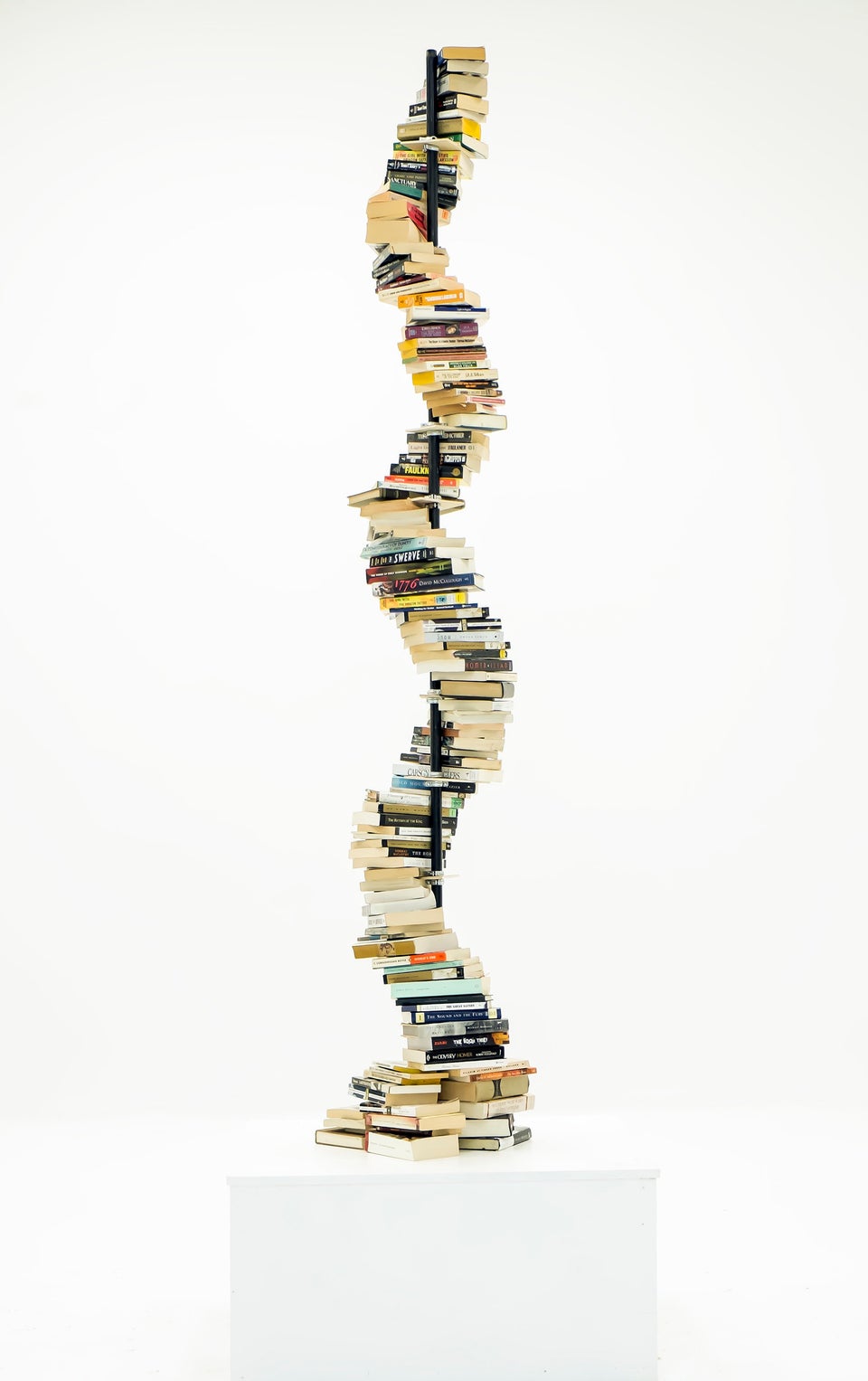 Prison Inmates Create Artistic Monuments