Texas Tech University student and children's social worker Casey Stegall was fired earlier this month by the Children's Home of Lubbock after introducing his teenage clients to his fiancé during a water park outing on the Fourth of July.
In justifying Stegall's July 10 firing, Lynn Harms, president of the nonprofit Christian child care center for at-risk children, accused Stegall of "presenting a lifestyle that is damaging to kids" by displaying public affection toward another man.
"As a faith-based, church-related outreach providing welfare services, if you will, to children and families, there is a set of biblical values that we adhere to and live by," Harms explained in an interview with The Lubbock Avalanche-Journal on Friday. "When you are implementing life training and so forth -- particularly with children -- to put a confused message out there is counterproductive."
From a treatment standpoint, Harms argued, at-risk children with previous histories of sexual abuse are more vulnerable to homosexuality's "terms of sexual identity."
"It gets garbled in terms of sexual identity, sexual preferences, fears, concerns, re-traumatization," he argued, promoting the behavior of other gay employees at the Children's Home who "fly under the radar."
"If you want to try to force our culture to meet your expectations, that's not going to go well," Harms added. "I don't feel like the culture here has to meet an individual's desire for the world to be different."
As Stegall's supervisor explained why his employment was being terminated, Stegall denied the allegations, insisting that both he and his fiancé were church-attending Christians who "read the same Bible you read" and "believe in the same God you believe in."
"Sitting there in his office and hearing those words come out of his mouth it just really hurt me. I cared very deeply about my job," Stegall told the Avalanche-Journal on Friday. "I loved every kid that I came in contact with."
Lubbock psychologist Dr. Brian Carr also criticized Stegall's firing in an interview with the Avalanche-Journal Friday, characterizing Harms' reasoning as "prejudicial and completely inaccurate."
"There is no effect -- that's ludicrous," Carr said. "He is combining the idea that people who are gay also have to have some sort of history of either being sexually molested or being sexual molesters, and that is not true."
Without a statewide or Lubbock municipal ban on LGBT employment discrimination, Segall's termination is legal under Texas law.
In fact, only 18 states and the District of Columbia have enacted laws explicitly prohibiting discrimination based on sexual orientation.
While the nation still lacks federal legislation barring employment discrimination against LGBT employees, President Barack Obama signed an executive order last week making it illegal to fire or harass federal contractors and federal government employees based on their sexual orientation or gender identity.
The Employment Non-Discrimination Act, a broader measure expanding the protection to almost all LGBT workers, passed the Senate in November but failed to clear the House after Speaker John Boehner (R-Ohio) refused to bring the bill up for a vote.
"The work I poured my heart and soul into over the past fourteen months was ripped away from me in a flash," Stegall wrote in a BelieveOutLoud blog post Friday. "This is who God made me to be, and I will not step back in the closet. ... I still can't believe that in the year 2014, discrimination is still prevalent and affecting so many LGBTQ people across this country."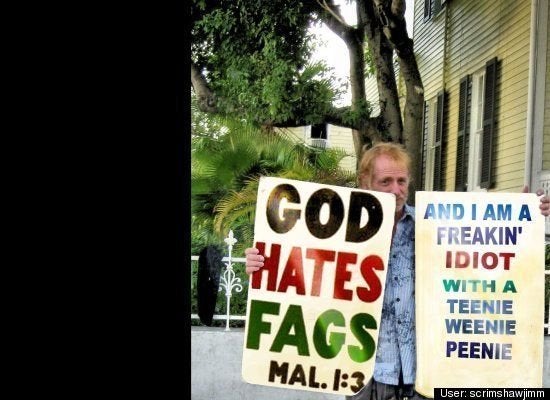 Anti-Gay Protesters Getting Owned
Popular in the Community