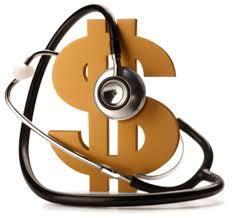 Health conscious consumers who have proven their value to insurers over the course of twelve months deserve to receive financial reimbursement for their efforts. Even a year's worth of successful compliance by those patients facing on-going conditions such as diabetes would prove beneficial to patient and insurer. The old marketing adage, "Cash is King" is a time tested truth for good reason. By offering cash rebates rather than less enticing discounts, health insurers and individuals both stand to benefit. Savings at the vitamin store and your next pair of glasses is nice, but not as enticing as a health insurance rebate check.

Health insurance companies are only a few simple mobile apps away from developing wellness cash back savings programs that benefit both the consumer and the insurer. Going to the gym or out for a walk? Check in with your "Healthy Patient Discount" app and get credit for it. Had your annual preventative exam and flu shot? Get credit for that, too. Take your children to get their vaccinations? Finish the year without any major health related issues because of your efforts? Look for your rebate check in the mail from your insurer. The parameters for these wellness programs, crafted by each insurer, could be used by the insurers as a means to educate and motivate their members, lessen risk and as a point of differentiation in their sales/marketing efforts to attract new members, just as all major automotive insurers have done through "safe driver" programs.
Healthy member cash back programs, designed to deliver real financial rewards to healthcare consumers, may even attract young, healthy individuals into the health insurance fold who simply can't justify the financial outlay.
Most large employers offer wellness programs to their employees to drive down the costs the companies pay insurers as well as to improve the physical, fiscal and behavioral health of their workers. Individual policy holders should receive the same type of financial incentives and rewards. With considerably more of the health insurance costs falling on the shoulders of individuals (less than 60% of Americans receive their healthcare benefits from their employers), it makes good sense for health insurers to send a check to those members committed to personal wellness at the end of the policy's annual term.

An ounce of prevention is worth a pound of cure. As for the health conscious 50-year old living in Texas? He deserves some of his $6413.80 back.

Sarah O'Leary is a consumer healthcare expert, author, and founder of Exhale Healthcare Advocates, LLC (www.exhalehealth.com).

Popular in the Community