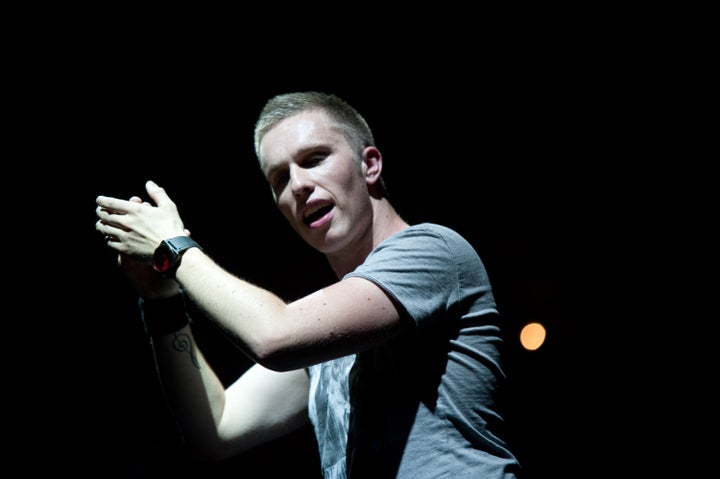 As the lights dimmed on weekend one of this year's Ultra Music Festival, the beats stayed bumping through the Florida air. The events and parties of Miami Music Week and WMC kept the fire burning all week long on South Beach. From mermaids swimming the pool of the Cover Girl / Hyde Beach Club Party at SLS with Nervo to intense debauchery at the Big Beat Records karaoke party at the Clevelander, this week was bonkers!
Marquee's Jason Strauss threw a classy party in the penthouse of the Dream Hotel filled with drinks, hors d'oeuvres and a view overlooking all of South Beach. The chill rooftop hangout was the perfect getaway from all the madness that filled the streets the below. Being electronic music producers ourselves since '08, it was overwhelming yet amazing to see the dance music community grow so much over the years. Miami Music Week, WMC, and the Ultra Music Festival combined to create one of the most exciting and influential gatherings for EDM music today.
UMF is so much more than just a festival; it's a lifestyle and a community. There's a stage for everyone. You could be at one stage singing to a pop set then turn around to hear fresh new underground gems roar from another stage. The beauty behind the festival is that fans and artists travel from all over the world to be a part of the event making it an unforgettable experience for everyone involved. The intriguing accents you hear from every direction add so much color and culture to a scene that outsiders see as hectic mayhem. All of the surrounding hotels were booked a year in advance by hardcore fans that refuse to break free from the magnetic pull UMF has over them during the week. Once you get hooked, it seems, you're in for good. The fans are so in touch with all the artists and vice-versa. They love that the artists are also so intertwined with each other and thrive on the collaborations that occur from in the studio to on the stage. Fans follow all the artists actively on Twiter, watching the artist-on-artist relationships grow along with the community. The people are intrigued by it, and so are we as musicians.
We artists are constantly learning from one another -- picking up on different tricks and lessons, whether they are technical tips, like what someone puts on their mastering chain, or learning how to command a festival crowd by watching your peers on the big stage. It never ends as producers keep raising the bar higher and higher each year revealing their moves. The artists are becoming very competitive taking the sounds to new heights. Sonically, the music has reached a place that literally did not exist 5 years ago. We're at a level of compression, saturation, and maximized sound that is so new and fresh to the ears. For all of you that have no idea about all this technical lingo, our point is simple: the production and musicianship of EDM is growing just as rapid as the community and fan base. You don't have to like it or pump your fist when you hear us banging our beats, but you better believe that we're not going anywhere anytime soon; this is only the beginning. As David Guetta puts it, "The whole world is dancing." We sat down with Nicky Romero, a 24-year-old Dutch producer who already has his own record label, to get his thoughts on the whole scene just before he took the stage to play his second UMF set.
How has Ultra Music Festival been so far for you?
Ultra has been really amazing, It's all about new music and new artists. I always feel so inspired when I get here and I see everyone doing their thing. I think the world is really interested in what's happening here, and we're all fortunate to be a part of all of this.
Over the past 4 or 5 years, how have you seen the dance music scene or Ultra Music Festival itself change?
To be honest, this is just my third year at Ultra. The first year I played at a really small tent, the second year I played on a small stage, and this year is the first time I'm playing main stage. I definitely see things changing, but it's hard for me to tell what's really different because I'm still an upcoming producer as well.
For sure. So we're going to get a little "artist on artist" here. We produce our music using Cubase and we've done a lot of collaborations with other producers and artists that use different DAW's like Ableton, Logic, & Pro-tools. What's it like working with other producers that use different software? Is it a problem and how do you work around it.
I normally work with bounces. So if someone is working with different software, we bounce the audio and just work with the stems or midi. I don't really care if its just audio files though. It's better of course to work in the same software, because you have the same presets and stuff, but sometimes its not always possible.
What's your usual process for creating a song? Do you like to start with a certain instrument, like drums, bass, chords, or melody?
I normally start with the melody, but sometimes I'm even triggered by a vocal. It's honestly different every time.
So when you're creating a song, do you have a title in mind that you use for inspiration, or does the title come last?
Usually the title comes last. Sometimes I am inspired by a lyric, and I'll work around it. Then I'll name the song after the lyric. That's what happened to me with the song "Generation 303" that I did. It was about the lyric "back with another one of those block rocking beats," and I just worked the whole song around that sample.
We've done a lot of international touring to places like Japan, Brazil, & Europe. It was definitely a monumental experience to see crowds all the way across the world reacting so positively to our music. In what country were you most surprised by the audience's reaction?
I think to me it was either Indonesia or South Africa.
So who are some people you look up to in business?
Almost anyone who is creative. I really respect anyone who takes the time to create something unique. I don't care if its rock music, dubstep, drum and bass or whatever genre, I respect anyone who has a unique sound and produces their own music. I don't like artists that buy off tracks or boast, "Yea I was next to them in the studio when this got made..." F--k that sh-t. I know so many people on this festival who buy their tracks and say it's their own, I hate that.
Yea that is crazy, like artists with ghost-producers and what not?
Yeah, I just don't like that at all. If you call yourself an artist, you should create your own songs.
Being touring artists ourselves, we know how it affects us with our families, friends, and relationships. How does it affect you? Do you ever get bummed or stressed out from touring?
I do, I really do sometimes. I try to see my family as much as possible and relax. I try to be there for my sister and that kind of stuff. But I do enjoy touring, and love to share my experiences with my family.
Throughout the years, we've been building and refining our home studio setup. We basically are a bunch a "gear nerds." Do you have any unique or special pieces of gear in your studio?
I have a Moog. I use the Moog for almost all my bass.
Oh nice! Which one do you have?
The Little Phatty. I love recording the analog sound. I use this one preset called 'Taurus Bass.' It's such a nice warm bass. I've recorded all the notes on that sound and I have it with me in a sample bank.
That's great that you have it in audio form and can use it whenever you want, wherever you are. We have a vintage Juno 106 analog synth where we actually did the same thing. We took a bunch of different bass and lead sounds and sampled all the notes, so we can just use the audio when we're working from the road. Our last question is when did you decide to start mentoring new talent, making a community, and start running your own label, Protocol Recordings?
I created "Protocol" to have a platform for releasing music without any bullsh-t. No majors, and no bullsh-t with follow-up tracks. I just want to be like "Hey this is my record, and here's where you can buy it." We do everything for our records. We make the wallpapers, Facebook designs, websites, as well as videos for our releases. Everyone who releases something through the label gets our full attention; I will support them until I die, you know what I mean? We also really like to focus on one record, every one and a half months at maximum, not like 10 records a month. Quality over quantity always!
Keep up with us and Nicky at
facebook.com/djnickyromero
REAL LIFE. REAL NEWS. REAL VOICES.
Help us tell more of the stories that matter from voices that too often remain unheard.