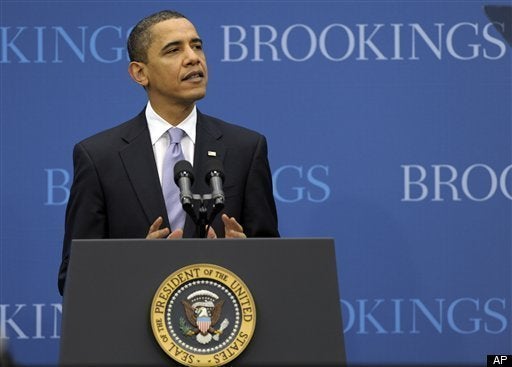 In an effort to further stimulate job growth, the Obama administration is applying the principles of the Cash for Clunkers program to the housing construction industry.
The president announced on Tuesday a three-pronged approach to resuscitating a stagnant labor market. In addition to providing a series of financial incentives to spur small business growth as well as investments in modernizing the nation's infrastructure, the White House aims to spur a virtual revolution in housing weatherization.
It's been called "Cash for Caulkers," based on the name given to the (much-maligned but largely successful) program the administration put in place for the auto industry earlier this year. The outlines of the two programs are broadly the same, a senior administration official told reporters minutes before the president's speech. Incentives will be provided for people to make more energy-efficient purchases -- only instead of cars it will be home alterations.
A reform effort once closely associated with former Obama adviser Van Jones, the Cash for Caulkers program would (if done correctly) compel consumers to makes home alterations both big, like modernizing heating or water systems, and small, such as installing better-sealed windows.
"It has a win-win quality of both having the potential to save consumers money by lowering their energy bill and putting people back to work particularly in the hard-hit construction sector," said the senior administration official. "We are hoping for a Cash for Clunkers type response where both retailers are out advertising, consumers are made more aware of the potential to save money by these investments and we pull forward those investments."
Details, even after the president's speech, remain relatively scant. Obama barely touched on the topic in his 3,800-word address, other than to say that such a reform "creates jobs, saves money for families, and reduces the pollution that threatens our environment." But a White House fact sheet passed to reporters beforehand included the following description of the program, which would require congressional authorization:
New incentives for consumers who invest in energy efficient retrofits in their homes. Smart, targeted investments in energy efficiency can help create jobs while improving our energy security and saving consumers money. The President today called on Congress to consider a new program to provide rebates for consumers who make energy efficiency retrofits. Such a program will harness the power of the private sector to help drive consumers to make cost-saving investments in their homes.
There are, it should be noted, two proposals along these lines that have already been floated in economic and political circles: one by John Doerr, the Silicon Valley venture capitalist, and another by former President Bill Clinton. As David Leonhardt, of the New York Times describes it:
The Doerr plan would cost $23 billion over two years. Most of the money would go for incentive payments, generally $2,000 to $4,000, for weatherization projects. The homeowner would always have to pay at least 50 percent of the project's total cost. About $3 billion would be set aside for retailers and contractors in the hope that they would promote the program, much as car dealerships promoted cash for clunkers. (Mr. Doerr says he owns no stake in any weatherization companies.)

The Clinton plan depends on the reallocation of clean energy money from the stimulus bill that has not yet been spent. It covers not just houses and apartments but also commercial and industrial buildings.
Popular in the Community