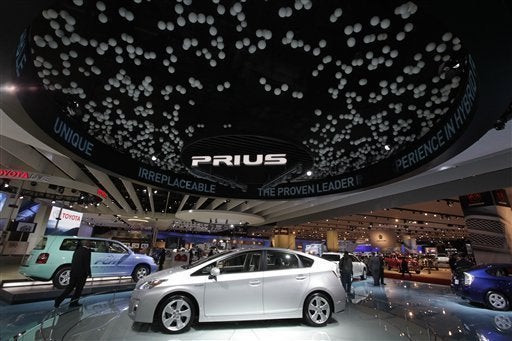 Dr. Bill Chameides is the dean of Duke's Nicholas School of the Environment and a member of the National Academy of Sciences. He blogs regularly at theGreenGrok.com. His Twitter handle is: theGreenGrok.
The U.S. Congress is not the only (or first) group considering cash-for-clunkers programs. Similar incentives are underway on the other side of the big pond.
We all know the story over here. A couple of days ago, the New York Times headline announced, "U.S. Is Said to Prepare Filing for Chrysler Bankruptcy," and General Motors broke the news of an extended summer recess for its employees. Nobody's buying cars, and U.S. automakers are in the doldrums.
It's arguable that Senator Dianne Feinstein's (D-CA) "cash for clunkers" bill (S. 247) might prop up car sales while providing greenhouse gas benefits within five years. (For details see my post.)
The car-market picture across the pond is much the same: drivers have not been crowding the showroom floor. At least not until European countries implemented variations on the cash-for-clunker scheme. These programs are alive and well over there, and some of them, according to news and business reports, are stimulating the car market. We environmentalists, of course, are also interested in the environmental piece of it, and again some do look to have environmental teeth; others do not.
Like those being considered here, some of the European schemes are moving targets still in flux. But here's what I've been able to find out thus far (unless otherwise noted, these programs are already up and running).
New car consumes 7 litres/100 km max
New car consumes 5 litres/100 km max
Up to €5,000 ($6,500) for purchase of electric, natural gas, or hydrogen-fueled car
New car with CO2 emissions less than 120g/km
(up to £5,000 ($7,275) to drivers who buy electric or plug-in hybrid cars)
While economies may or may not be growing, the list of countries planning similar programs is (for example, Canada and Japan).
There is a general sense out there that these programs will be good for the environment -- after all how can removing an old, presumably polluting car from the roadways and driving a new one be bad? Well it turns out it can be an environmental downer, especially when the programs carry poor or unenforced environmental qualifications, or, of course, none whatsoever.
Don't forget that manufacturing a new car requires energy and so it arrives in your driveway with several thousand tons of CO2 emissions embedded in it. To make up for those embedded emissions, you'd better be sure that there is a significant differential between the mileage of your old car and your new one. For more info on that take a look at these related posts and quiz.
Popular in the Community