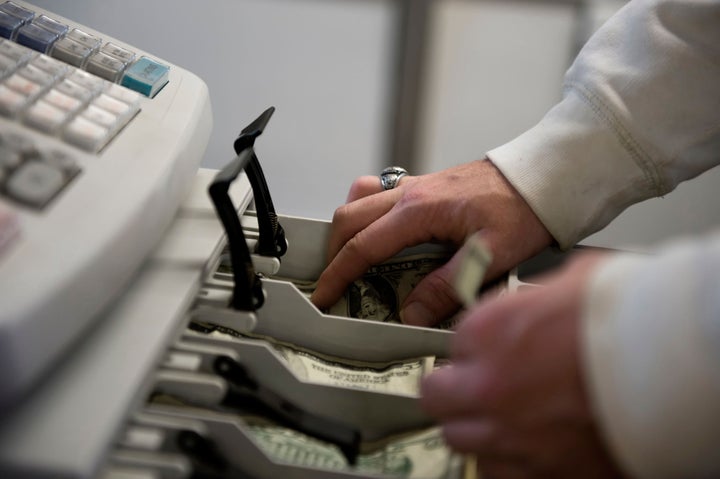 When it's time to pay for small, everyday items, cash is still king.
More than three-quarters, or 79 percent, of consumers said they made a cash purchase in the last seven days, according to a report released on Tuesday from Javelin Strategy & Research, a market research group for financial services. Compare that to about 65 percent of credit and debit cardholders who say they swiped their plastic in the last week.
The Javelin report looked at how recent financial regulations have changed the way people pay for things. If consumers had to pay a debit card fee, most said they would replace their debit card with cash and checks, and just one quarter said they would move to credit cards. That sentiment was made very clear last fall when Bank of America tried -- and failed -- to add a $5 bank fee to its debit cards.
Over the last several years, debit cards have become very popular as an alternative for cash, especially for small purchases like coffee or food. But with the future of debit cards less certain now, dollars and cents are making a comeback for low-price purchases, said David Albertazzi, a senior research analyst with the Aite Groupe, a financial services research firm.
"We will see consumers convert [back] to cash for smaller transactions and credit card use will increase this year," he said.
The preference for cash shows that Americans are opting for alternatives that do not add to their debt pile. That's good news for fee-savvy consumers and small business merchants, and bad news for banks, which count on processing fees for electronic payments to bring in revenue.
Starting last October, the biggest banks lost a giant revenue stream under the Durbin Amendment, which changed how much banks could earn on debit-card processing. For example, a $1,000 purchase made with a debit card before the swipe-fee rule netted card issuers a healthy $15.02 in revenue. Following the law change, which went into effect on Oct. 1, 2010, banks only make 72 cents on that same purchase, according to data in the Javelin report. That adds up to more than $12 billion in lost revenue starting this year, the report says.
To make up for that, big banks have already been aggressively pushing customers back to credit cards with hip advertising and incentives. "[Financial institutions'] new messaging is that rewards are around something specific," said Beth Robertson, director of payments research at Javelin. "And to get [consumers] to use credit more actively, especially if the price point is $11 or below."
Unlike electronic payments, it is harder to implement behind-the-scenes fees on hard currency. Credit cards, on the other hand, earn issuers between 2 percent and 4 percent of the transaction in processing fees.
While consumers are sticking to cash for now, the use of electronic payment alternatives, especially prepaid cards, is growing and could compete with cash, said Todd Nuttall, CEO of Better ATM Networks.
In one test market in Arizona, ATMs are now dispensing cash as well as VISA-branded gift cards. Nuttall, whose company is running the market test, said that using an ATM to sell cards is just another way to build on the existing demand for prepaid cards. "Cash is not shrinking," Nuttall said, "it's just not growing."
REAL LIFE. REAL NEWS. REAL VOICES.
Help us tell more of the stories that matter from voices that too often remain unheard.