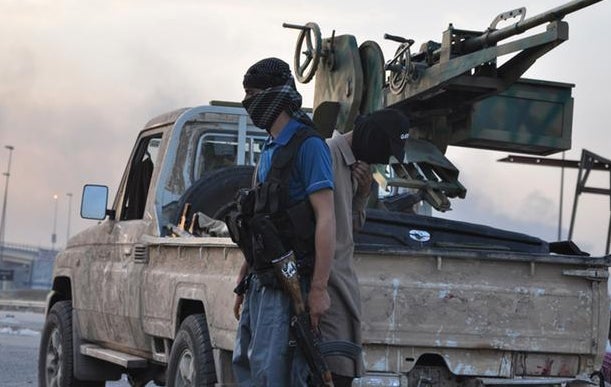 On June 13, St. Francis Assisi, a California-based nonprofit mutual benefit corporation, on behalf of Assyrian Christians, filed a complaint in the Northern District of California against the Kuveyt-Turk Participation Bank, Inc., and Kuwait Finance House for damages Assyrian Christians suffered at the hands of the Islamic State in Iraq and Syria.
The complaint alleges that the banks "continuously, knowingly, directly, and willfully provided, distributed, and administered benefits, money, and financial services to the terrorist organization known as the Islamic State." This case is substantially significant due to it being the first civil complaint filed in a court of law to go after the people, businesses, and other official establishments acting as facilitators of the Islamic State in their violent activities ― from the financing of terrorism to supporting terrorist organizations across a variety of mediums.
The Islamic State has systematically and indiscriminately targeted, killed, enslaved, and forcibly moved people and communities deemed as "enemies," including minority groups such as Christians, Yazidis, and Shiite Muslims, as well as Sunni opposition groups. On March 15, the U.S. Senate passed a concurrent resolution "expressing the sense of Congress that the atrocities perpetrated by ISIL against religious and ethnic minorities in Iraq and Syria include war crimes, crimes against humanity, and genocide."
The St. Francis Assisi complaint specifically addresses two banks: Kuwait Finance House (KFH), a Kuwait-based bank, and Kuveyt-Turk Participation Bank, Inc. (KTPB), a Turkey-based financial institution. Both banks, but particularly the KTPB, are accused of knowingly and willingly participating in and facilitating Islamic State and Jabhat al-Nusra (now known as Jabhat Fateh al-Sham) fundraising campaigns. The KTPB account numbers for various front organizations and associations affiliated with the Islamic State and Jabhat al-Nusra were provided in case documentation, which are freely available on the websites of these organizations.
The owners of KTPB are prominent political figures in Turkey. Abdullah Tivnikli, who served as a member of the Kuveyt-Turk board from 1988 to 2001 and was vice chairman of the management board from 2005 to 2015, is a close friend of Turkish President Recep Tayyip Erdoğan. Tivnikli resigned from his position at KTPB only in September 2015 as the bank's involvement in financing the Islamic State was being questioned internationally. Beyond KTPB, Tivnikli has been involved in many prominent enterprises. He owns a large energy and construction company, Eksim Holding. He is also the chairman of management boards at 20 large-scale companies, vice chairman at eight, and a board member of nine more. These companies run some of the most affluent and successful industries in Turkey, including Turk Telekom and several energy and construction companies. Because of this relationship with Erdoğan and ties to affluent businesses that contract with the Turkish government, Kemal Kılıçdaroğlu, the leader of Turkey's main opposition party, has commented on Tivnikli's connection to the president, referring to him as "the representative and depository of the most prominent political individual in Turkey."
Tivnikli has been suspect in a corruption probe before: In December 2013, Tivnikli and other prominent figures close to Erdoğan faced charges such as bribery and influence peddling, tender fraud, and clearing assets acquired through criminal activity. This case was closed rather quickly, allegedly due to political interference from the president's office. Moreover, Tivnikli has been suspected of other shady and illegal business dealings. For example, when he was bidding to purchase one of the largest state-run power distribution companies, Dicle Electric Inc., he financed the purchase directly from KTPB—a transaction that is against banking regulations. Similarly, Tivnikli is alleged to have paid the school tuition of Erdoğan press secretary's daughter in exchange for regulatory assistance with his businesses.
When asked about the allegations via email, the Kuveyt-Turk Participation Bank responded that all the allegations were made up and lies, the claimed accounts were never opened in their banks and the bank always complied with the rules of the banking system in Turkey. However, KTPB is already known as the hard cash transfer bank of Turkey. The KTPB branch at the Grand Bazaar in Istanbul is commonly known as a place where people can wire large sums of cash without being questioned or filing Suspicious Transaction Reports. It is alleged the Islamic State uses businesses in the Grand Bazaar and in Gaziantep, Turkey to transfer terrorist funds .
The Erdogan government has deemed it to be in its best interests to provide both open and hidden support to terrorist groups, including Al-Nusra and ISIL. It is alleged the Erdogan government has consistently turned a blind eye to thousands of ISIL terrorists passing through porous Turkish borders , let ISIL freely carry out its recruitment activities , allowed terrorist organizations to provide logistical and military support through Turkey, and purchased ISIL oil through Erdogan's son-in-law, the Minister of Energy, Berat Albayrak, and then sold it through his son Bilal Erdogan's companies. In the Turkish bureaucracy, especially police forces, it has been understood for some time that officials do not intervene with ISIL and Jabhat Al-Nusra activities, as any officers who did so have been subject to arrest and imprisonment between 2014 to 2016.
The KTPB activities in assisting terrorist financing were therefore effectively unregulated. The Turkish Banking Regulation and Supervision Agency (BDDK) and Financial Crimes Investigation Board (MASAK)—the two official bodies that should have intervened swiftly—did not act to stop these alleged activities.
Meanwhile, despite facing possible jail time for failing to do so, KTPB clerks and officials did not report suspicious transactions. Although the Islamic State is responsible for its violent activities, the institutions that facilitate and aid its acts of terror should also be accountable. From this perspective, the St. Francis Assisi case could be ground-breaking. If successful, it would pave the way for future legal actions against all of the different state and non-state actors facilitating or enabling the terror of the Islamic State and other terrorist organizations.
From IED equipment allegedly provided to the Islamic State by Turkish companies, to ISIL oil allegedly purchased and sold by Erdogan family members, to Toyota trucks sold and transferred to the terrorist group both through and from Turkey, this case will serve as an example for future investigations into states and corporations that falsely claim ignorance of terrorism happening right under their noses.
Victims of Islamic State terrorism might also be able to file similar complaints against not only the perpetrators but the entities assisting terrorist organizations. Consequently, such righteous enforcement of the rule of law would hopefully have the wretched supporters and facilitators of terrorist organizations reconsider their actions more seriously, as they would not only be liable against state criminal investigative bodies but at the same time subject to deeply punitive financial civil suits.
Article first published in Modern Diplomacy.
Ahmet S. Yayla, Ph.D. is co-author of the just released book, ISIS Defectors: Inside Stories of the Terrorist Caliphate. He is Adjunct Professor of Criminology, Law and Society at George Mason University. He formerly served as Professor and the Chair of the Sociology Department at Harran University in Turkey. He is the former Chief of Counterterrorism and Operations Division for the Turkish National Police with a 20‐year career interviewing terrorists.
Calling all HuffPost superfans!
Sign up for membership to become a founding member and help shape HuffPost's next chapter
BEFORE YOU GO