Indian Prime Minister Narendra Modi has a grand ambition to make his country into a cashless society. In 2014, he launched a scheme to provide bank accounts to the nearly 40 percent of the population with little or no access to financial services. In November 2016, he withdrew 500 and 1,000 rupee notes ($7.80 and $15.60), the country's two most common banknotes, from circulation.
The aim was to clamp down on black-market money and get more people into the formal economy, but it had a negative effect on the poor, with micro and small-scale service businesses cutting 35 percent of staff in the first few months, and some families left unable to afford fruit and vegetables.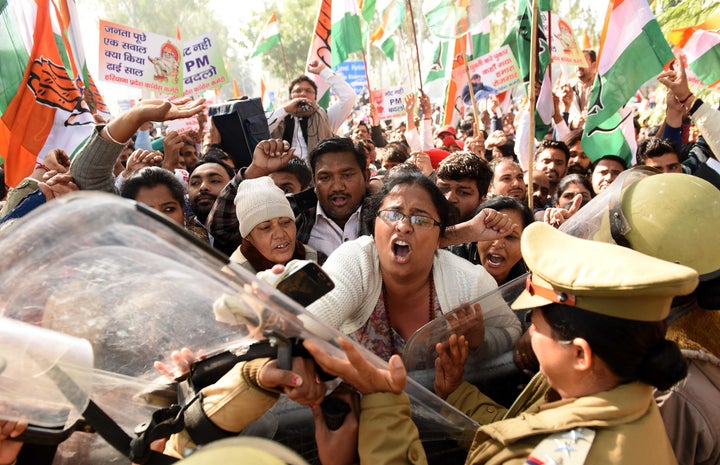 Cash is on the decline worldwide; non-cash transactions grew 11.2 percent globally in 2015. But for some, the Modi experiment is a sign that cashless societies will hurt the poor, and India is not alone in having poor, unbanked populations. An estimated 7 percent of American households don't have access to bank accounts, according to the most recent survey from the Federal Deposit Insurance Corp. And a government study at the end of last year found that the U.S. homeless population had risen for the first time since 2010. Given rising inequality, what happens to those on the margins of the economy when cash is no longer king?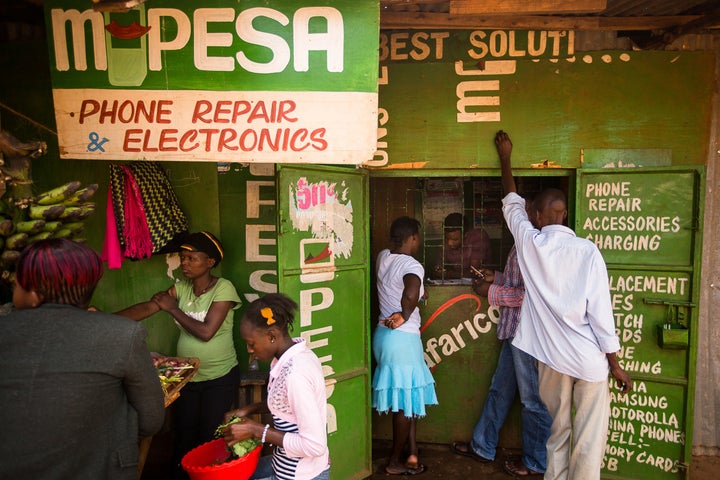 But Mehrsa Baradaran, associate dean for strategic initiatives and J. Alton Hosch associate professor of law at the University of Georgia, says that absent these countries' unique context, these examples would be difficult to follow in the U.S.
"Kenya had one national bank and one mobile company that had a monopoly," she explains. "Everyone was on the same mobile network so they just rolled out M-Pesa on the mobiles and everyone immediately got on." The U.S. has a dual banking system (state and federal) and more than 6,500 banks meaning rolling out mobile banking would require a lot more coordination, says Baradaran. "Kenya had a different population ― more poverty and less of a profit model-oriented banking system."
As for Sweden, Baradaran says, "They just don't have the level of poverty that we do. ... They have a lot of social services and they've transitioned off cash because they have a less-stratified society."
Economist Kenneth Rogoff, a Harvard professor who formerly served as the chief economist for the International Monetary Fund, argues in his book The Curse of Cash for a gradual elimination of cash to get at the black market and to crack down on tax evasion.
To protect the unbanked, he proposes "making free basic debit card accounts available to everyone, as many countries are now doing," he told HuffPost. "If India can make free basic accounts available to everyone, surely the U.S. can do the same."
But Baradaran points out that U.S. banks have historically refused to do this. "In the U.S., banks have a monopoly on payments and transactions," she says. "If you're unbanked, you have to operate in cash. All of these fintech providers, like Venmo, PayPal, etc., they all connect to banks too. So, how do we force people into banks? There have been so many efforts in the U.S. over the years to get banks to offer free accounts, but [the banks] refuse because those accounts aren't profitable for them."
Grant Kerber, a volunteer with Oakland Omni Commons and Food Not Bombs, says the suggestion to simply bank the unbanked "seems out of touch" with how poor people actually live. "Things like ID cards, driver's licenses, these are already incredibly difficult for people who are marginalized in society to get access to, so the whole digital payment thing just pushes the goal post even further out."
Not that there aren't problems with cash. "It's actually really expensive to be unbanked," Baradaran explains. "You're constantly having to pay out part of your income in fees to turn your cash into other forms of transactional currency ― a prepaid card, for example ― or to turn your cash into checks and back again."
She does have a potential solution. In her book How the Other Half Banks, Baradaran suggests a postal banking system. "There are already brick and mortar post offices in most neighborhoods, so my idea was that people could bring cash to the post office, they could hold it for them and give them a digital account," she says.
Such a system would be appealing to the fintech folks, who might pick up hundreds of thousands of new customers by linking to these postal accounts, and shouldn't bother the banks, which have been avoiding dealing with this segment of the population for years. But Baradaran says she still gets a lot of pushback on it from economists and academics, mostly middle- or upper-class people who see the proposition of having to stand in line at the post office to bank as untenable.
"But that's because they're not the ones it's for," Baradaran says. "It's not for people who are already living comfortably with a bank account and direct deposit, who can just bank through the mobile app on their phones. It's for people who have none of that."
"Unless you're poor, it's hard to understand what it's like to be poor," Baradaran says. "And a lot of people don't realize that if you go into any water office or electric utility office in the country right now, there's a line of people in there waiting to pay their bill in cash."
For more content and to be part of the "This New World" community, join our Facebook Group.
HuffPost's "This New World" series is funded by Partners for a New Economy and the Kendeda Fund. All content is editorially independent, with no influence or input from the foundations. If you'd like to contribute a post to the editorial series, send an email to thisnewworld@huffpost.com
Support HuffPost
The Stakes Have Never Been Higher
Related
Popular in the Community