A fire aboard a casino shuttle boat off Florida's west coast has left one passenger dead and more than a dozen others injured, authorities said.
The boat was carrying 50 people to an offshore casino boat from Port Richey, about 40 miles north of Tampa, when flames broke out late Sunday afternoon, the Pasco Sheriff's Office said.
Dramatic video posted to social media shows some passengers plunging into the cold water as flames consumed the vessel.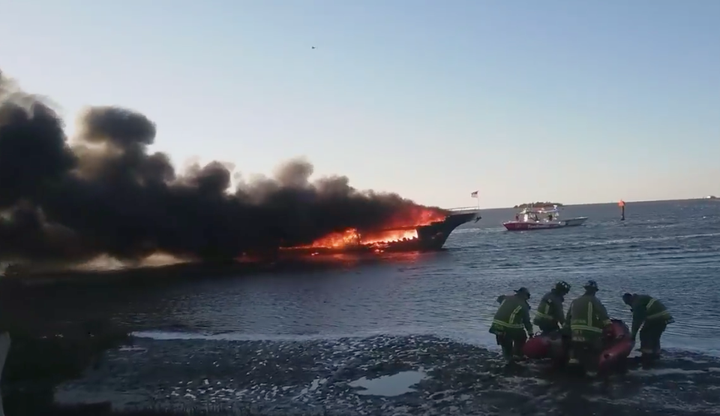 Everyone managed to escape the boat, with 15 people taken to a local hospital for treatment for minor injuries, including smoke inhalation and chest pain.
It wasn't until late Sunday that a female passenger reported feeling ill and sought treatment at the Regional Medical Center Bayonet Point. She died roughly an hour later, a hospital spokesman told The Associated Press.
The woman's name has not been released and her cause of death has not been determined, the spokesman said.
The cause of the fire also remains under investigation, though authorities said they are eying the boat's engine as the cause.
"The captain of the boat said there was an issue with the engine. He said he noticed smoke coming from the engine room and turned the boat around," Shawn Whited, division chief with Pasco Fire Rescue, told Reuters.
Port Richey Police Chief Gerard DeCanio credited the captain with preventing a far worse tragedy.
"What he did was he brought (the shuttle) closer to shore, actually almost beaching the boat," DeCanio said of the captain's immediate actions, according to Tampa station WTSP. "The water was very shallow and the people were able to jump off into the water and actually walk ashore."
The boat was carrying passengers to the Sun Cruz Casino boat, which was anchored in nearby international waters, authorities said.
Calling all HuffPost superfans!
Sign up for membership to become a founding member and help shape HuffPost's next chapter