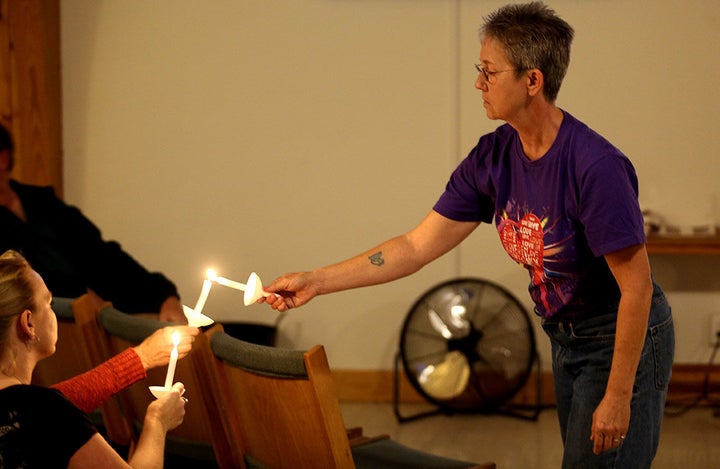 When Rev. Dee Lundberg joined the United Church Of Christ in Casper, Wyoming, in 2008, the congregation was considering closing its doors. Six years earlier, the inclusive house of worship had announced itself as "open and affirming." It would welcome everyone, and its clergy would perform same-sex weddings.
But in 2002, the idea of LGBTQ inclusivity was "hugely radical" in Wyoming, Lundberg said. The brutal death of Matthew Shepard, a gay student in the state, had slowly ushered in some change and tolerance, but not much. In the years after the church declared its openness, average attendance at Sunday services had dwindled to 12 people.
After serving as an interim minister in the area, Lundberg came across a position at the struggling church. The job description was the most honest she had ever seen.
"They were laying out their struggles and how they were thinking of voting to close because they'd lost so many members at that time," she said. "Those who were left wanted to take one more crack at it."
"Open and affirming" referred to "full inclusion of the LGBTQ community," Lundberg told HuffPost. Many members of the red-state congregation threatened to leave if the church performed same-sex weddings. Others threatened to leave if it didn't.
"There was a lot of sadness after that. Some felt they lost family members in a way. But they felt sure that they had done the right thing. Sometimes, doing the right thing hurts," Lundberg said.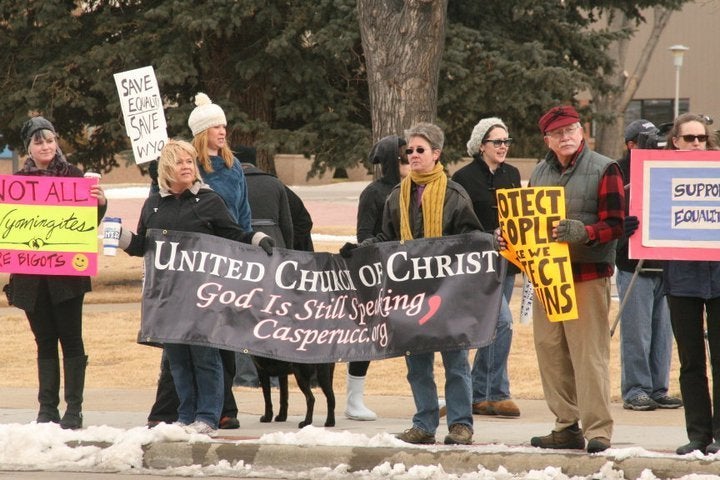 "We just as a group decided that we wanted to be louder. The political environment fueled that," she said. "There's a crop of younger people that are just ready. We thought, yeah, you know, I think we can do this now. The response wasn't that bad."
But Casper, Lundberg said, remains a primarily a conservative Christian town. Fifteen years after publicly committing to equality, church members are "doing our damndest to be open and affirming to all sorts of things," Lundberg said.
For her, that means maintaining a space for Wyoming's progressive minority and creating room for more diverse viewpoints. She said young families primarily contribute to the church's growth.
"They want to raise their kids in a place where they're going to learn some tolerance and justice and peace, because when they go to school here, they will have a dose of a more fundamentalist student body," Lundberg said.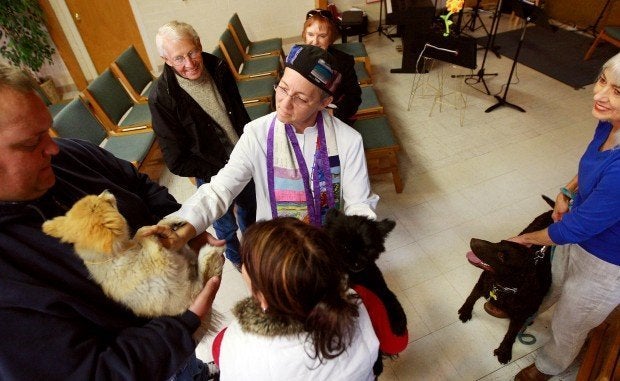 Locally, Casper UCC is known for its early commitment to equality. But it's much more than "the gay church," Lundberg said: "We're not a one-trick pony."
While she tries to avoid explicit social justice or political messages in her sermons, Lundberg said that there are some things, such as the mass shooting in Las Vegas, that there's "no way I can't address."
"My job on Sunday morning isn't to tell people what to believe, but to throw out the big questions. Sometimes we have a discussion instead of a sermon, because there's a lot of wisdom in the room," she said.
Most Sundays, Lundberg focuses her sermons on unity in an increasingly polarized political environment. "It's a lot of, 'How do we get through this next week of craziness together?'" she said. "How do we talk to each other and move past these divisions and how do we keep working for social justice and equality in a climate that feels like the waves are always banging against us?"
Lundberg tells congregants to "stay strong."
"Stay focused. Have hope. Don't be part of the problem. Don't feed into the darkness. Find a way to do this with grace. But by all means, don't stop fighting," she said.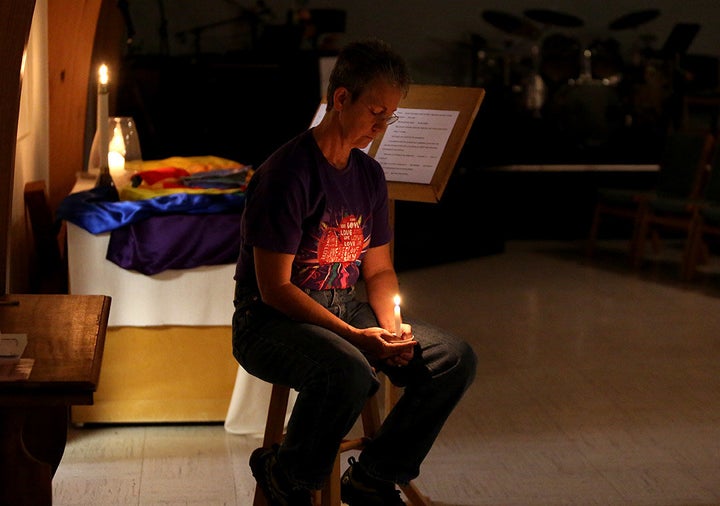 For Lundberg and Casper UCC, "church" doesn't simply mean a place of worship. It's a community.
"My church is by no means all Christian; I have a handful of atheists in there. A truckload of agnostics. They want that community, that tolerant, open, peace-seeking community," she said.
Lundberg sings in the church band, which primarily performs secular covers. After services on Sunday, the church becomes more of a community center and "sanctuary for people who need a place to voice these more liberal/progressive ideas," she said.
"People know they can come there. I'll give them the key, say 'Make yourself at home.'"
Lundberg grew up in Montana. After getting sober at 26, she was ready to commit her life to social justice.
"I had known since before I can remember that racism and intolerance and war and all was wrong ... and when I got clean and became an addictions therapist, I really launched into the social justice work," she said.
She has been to D.C. to lobby against the U.S. embargo on Cuba and against the late Defense of Marriage Act. She works to solve hunger and homelessness in Casper, and currently spends most of her energy on suicide prevention work. Under her leadership, a small church in a conservative Christian fundamentalist town became the city's nexus of progressivism.
But it's those congregants who stayed with the church in 2002, before LGBTQ equality was popular or feasible, who are "the real heroes of this story," Lundberg says.
She calls the church's "open and affirming" journey a "great experiment." What surprises her most, and makes her most proud, is that it has worked.
"I'm so proud of my people. I'm proud of the fact that it has worked; it has worked for us. It's like this great experiment in throwing the rulebook away, and finding a way to till the soil for a whole different church experience," she said.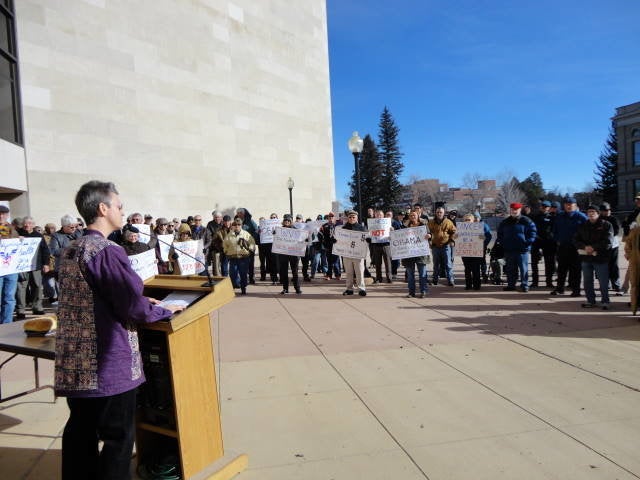 Casper's United Church of Christ remains small. It continues to struggle with its budget. Wyoming may always be a socially conservative state. But Lundberg and her team have found a stronger currency.
"Every time someone walks through the door and sees the flag, or sits long enough through a sermon, and you see their shoulders kinda relax, or they say something in the prayer time that they finally feel like they're home or with their people, or it's okay for me to be who I am ― you can't put a price on that," she said.
"That's the good stuff. That's what it's all about."
Correction: A previous version of this article stated that UCC first flew the Pride flag in 2014. It was 2012.