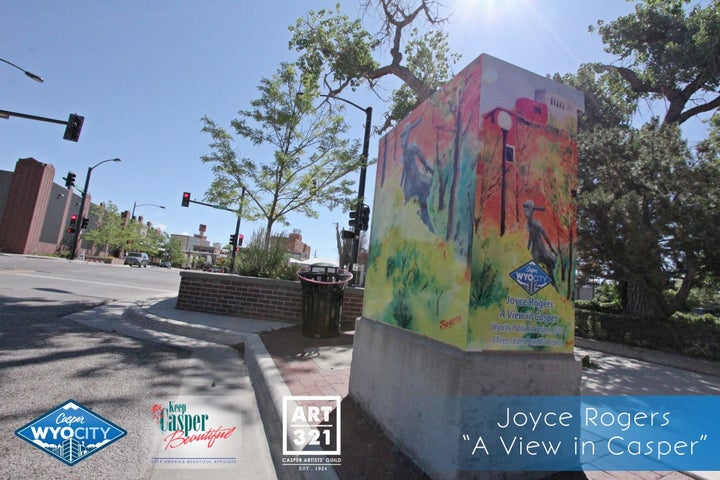 Being stopped at a red light is an aggravating experience, even in a smaller city such as Casper, Wyoming, where an across-town commute may only last 20 minutes. It takes valuable time out of the day and can make you late. It's also not very interesting or thought-provoking. But what if idling at an intersection was a beautiful experience?
Roadside beautification projects are nothing new. Highways, freeways and major intersections have been treated to beauty regimens for decades. Since 1965, highways across the country have benefitted from the Highway Beautification Act, and one can hardly drive across the country without noticing a bevy of flowers, trees and, in some places in the southwest, rock art.
But left out of this campaign were the many intersections and strips of roadways that traverse cities throughout the country.
Many towns and cities have begun to beautify the daily commute with flowers, trees and public art. Casper's traffic box program seeks to take the mundane and ordinary control boxes of hated red lights and make them a masterpiece of public art. Something worth pausing for.
The project started as a way to deter vandalism, a way for the traffic department to get out of the task of cleaning crude words, symbols and sophomoric scribblings off the boxes, but it's become one of the more popular programs of Keep Casper Beautiful. It started in 2010 with one experimental box. The box remained untouched by vandalism for seven years.
In 2016, Keep Casper Beautiful received the go ahead from Casper Public Services to start a traffic box program, and four boxes downtown were wrapped with original art work. Keep Casper Beautiful worked with the local artists guild on an open call to all artists within the county. A few submissions were received, and a panel selected three works. The public voted on a fourth. In 2017, Keep Casper Beautiful again put out a call to artists county-wide and received three times as many submissions as 2016. Clearly, word was spreading among artists that this was a public art project that would be worth the work of a submittal. Five more boxes were wrapped using the same panel and public vote process.
Calls and letters started to come into the Downtown Development Authority office praising the art and the effort. Keep Casper Beautiful receives calls and comments on social media regularly concerning the art. Happy citizens and visitors even call City Hall to express their appreciation. Artists often call the office to make sure they did not miss the call to artists. Keep Casper Beautiful has plans to continue wrapping traffic boxes each year.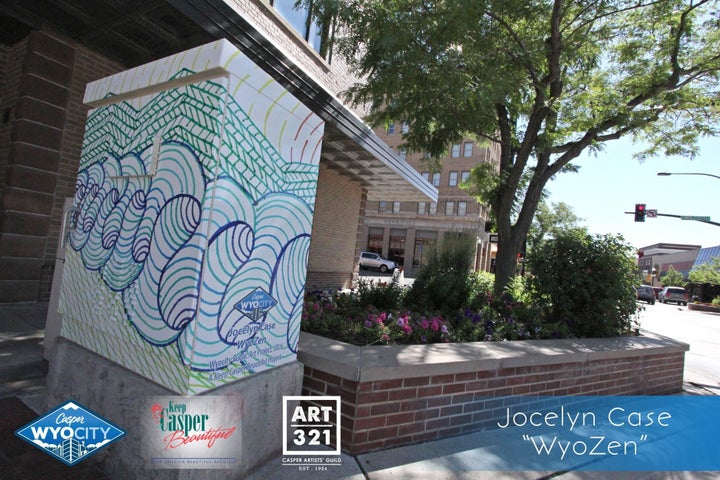 The cost to the program is minimal. Artists receive a small fee for the use of their art but maintain the rights to the work. The vinyl wraps are sometimes donated, leaving labor for installation as the only cost.
At $2,000 each year, the program budget is small and more attainable than some public art projects, which can cost a city tens of thousands of dollars for one work. Printed vinyl was chosen to keep costs low and to ensure that boxes could easily be cleaned should they be vandalized. Among the most debated items on the budget sheet is the artist fee.
Some have felt that recognition is enough payment, while some have felt that the fee should be raised. As the Keep Casper Beautiful director and a performing artist myself, I have always felt that artists should be paid for their work and that exposure is not payment. The opportunities for paid work are often few and far between in small communities. Often, lesser-known local artists are left out of public art projects completely, as they are either not invited to submit or lack the qualifications to meet the standards set by the request for proposals. Currently, I support the modest fee, as it encourages an array of artists to submit work and does not intimidate young or amateur artists who may have never sold work. I also firmly believe the project has support of local artists because of the fee payment. Local artists want paid opportunities in their communities, and they want some of those opportunities to be public art.
While the public art project is not groundbreaking ― we are not the first organization to decorate traffic control boxes, nor are we the first to use public art to transform spaces and deter vandalism ― it is transforming the way people in Casper, Wyoming view public art. If anything, the program has taught Casperites that public art doesn't have to be grand statues or huge murals. It can be transforming the ordinary, everyday objects into the extraordinary. Art can be part of the daily grind, making us want to pause maybe just a little longer.
Popular in the Community