A Florida woman who wanted a smoothie ended up getting an insult thrown in for free.
Cassandra Peoples went to the Tropical Smoothie Cafe in Gainesville on Wednesday and ordered her usual ― a $5.49 "Detox Island."
Peoples, 47, said the cashier made a point of asking her name, so she was shocked when she saw the receipt.
Instead of "Cassandra," the employee had identified Peoples as "black chick," according to local station WGFL.
"When I saw 'black chick' where the name was supposed to be, I'm like, 'I know I told them Cassandra,'" Peoples told the station. "I've never experienced anything disrespectful like that before. I wouldn't want to say its racist, its just disrespectful."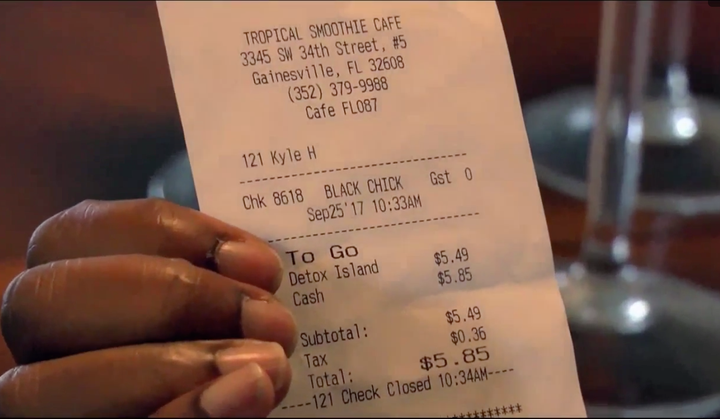 Peoples didn't notice the rude receipt until after she had left the store. She told The Independent Florida Alligator, the University of Florida student newspaper, that the employee who made the smoothie was rude when Peoples complained she was making the drink wrong.
Peoples reached out to Tropical Smoothie Cafe's corporate headquarters in Atlanta to complain, but reached a voice mailbox.
Her friend posted a photo of the racially tinged receipt on a Gainesville-themed Facebook page, sparking outrage and hundreds of posts before it was removed, according to the Alligator.
Julie Bartz, the general manager of the Tropical Smoothie Cafe, later posted that the employee responsible had been fired.
HuffPost attempted to reach Bartz and the company's corporate headquarters, but neither immediately responded.
Company spokeswoman Andie Beiderman released this statement to the Alligator:
"This type of conduct clearly does not reflect the values of our brand or our commitment to creating a welcoming environment at each and every location. We apologize to all of our loyal guests."
But Peoples said she's not looking for an apology.
"I mean I want some answers," she told WGFL.
And she wants people to call her by her name: "Cassandra. My birth name. Not a black chick."
You can see the complete WGFL video below:
America does not do a good job of tracking incidents of hate and bias. We need your help to create a database of such incidents across the country, so we all know what's going on. Tell us your story.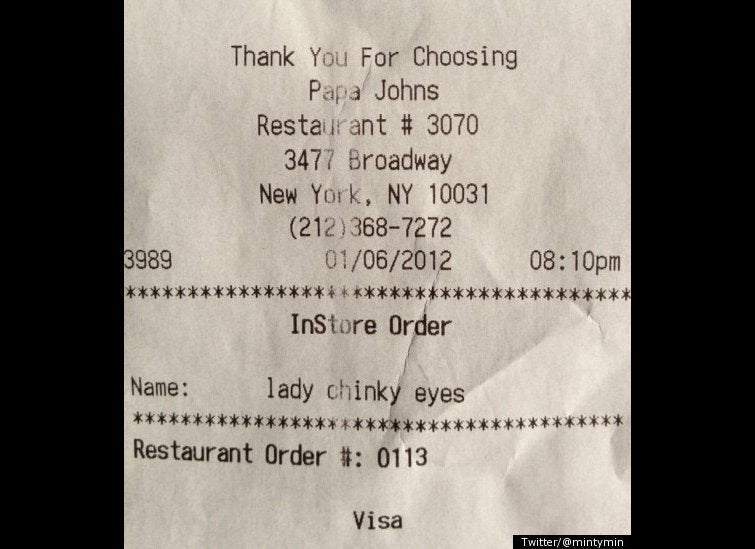 Outrageous Receipts (EXPLICIT LANGUAGE)