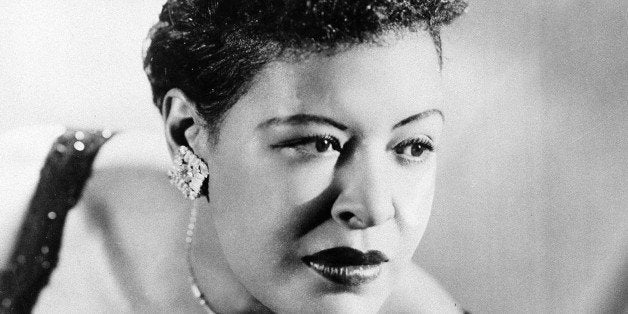 Of the many tributes to Billie Holiday's 100th birthday today (April 7), the most compelling I've heard is Cassandra Wilson's Sony Legacy album Coming Forth By Day, a strange, atmospheric brew produced by Nick Launay (whose credits include music by Nick Cave and Arcade Fire) with shimmering string arrangements by the incomparable Van Dyke Parks. The record manages to evoke Holiday's sad, beautiful spirit -- she died in 1959 -- without sounding remotely like her.
Coming Forth features a profound take on "Crazy He Calls Me," a song first recorded by Holiday in October 1949, shortly after my father, Carl Sigman, and his collaborator, Bob Russell, finished writing it. I was born just a couple of months before its release as a single, so I've always considered it the "Crazy" sister I never had. Wilson's interpretation, which clocks in at a leisurely 6.18, is a fine new outfit for my sister to wear to a centennial celebration.
"Crazy" had a longer gestation period than most offspring. Carl and Bob penned most of it before WWII. But they couldn't come up with the right lyric for the bridge -- the B in the standard AABA construction of so many pop songs. When the U.S. joined the war effort, the writers tabled their struggle in favor of a more important one.
After the war, Carl met and married Eleanor "Terry" Berkowitz, Louis Prima's young Gal Friday. Neither had ever been farther west than New Jersey, so they hopped a train to L.A. for an extended honeymoon.
During that sojourn, they spent many hours at Bob and his wife Hannah Russell's Burbank home, where they ate, drank and played Charades. But Bob was obsessed with finishing "Crazy," and when the socializing ended, the lyrical agonistes began.
Still bridge-less and at their wit's end after one grueling all-nighter, inspiration struck Carl in the form of a ghostly sign that suddenly hovered above him. This was no celestial command; Carl had nothing but disdain for the supernatural. It was a sign he'd seen for years on the wall of the Army mess hall. "The difficult I'll do right now/The impossible will take a little while" was supposed to inspire spud-peeling GIs; it happened also to go hand in glove with the melodic bridge of "Crazy."
Billie Holiday's version of "Crazy He Calls Me" is definitive. As the song matured to what some used to call "retirement age," it's been covered by hundreds if not thousands of artists including Linda Ronstadt, Dinah Washington, Aretha Franklin, Natalie Cole and -- as "Crazy She Calls Me" -- Rod Stewart, Sam Cooke, Nat King Cole and Tony Bennett. Audra MacDonald won a record sixth Tony Award when she sang "Crazy" and other Holiday songs in Lady Day at Emerson's Bar and Grill, an uncanny channeling of Billie at Manhattan's Circle in the Square Theater last year.
Billie's recording of "Crazy" was inducted into the Grammy Hall of Fame in 2010. Industry vet Bob Merlis, who submitted the nomination, says, "I've been taken by this song for a long time, and Billie Holliday's reading of it is the very definition of 'singular'.... Nobody else comes close. What has long intrigued me is the grammatical construction of the title. It seems like a transliteration of something said in Yiddish. I mean, it's unusual to put it in the order it's in; it would be more standard to have said or written 'He calls me crazy' but the poetry of it lies in the very fact it's backwards. If not Yiddish, maybe Shakespearean and, most certainly, wonderfully poetic."
The crazy order of words in the title comes full circle in the lyric's final phrase. After the singer acknowledges her sublime craziness -- "Sure I'm Crazy" -- she closes with, "Crazy in love am I."
I was barely three months old when "Crazy" came into the world. Call her crazy, but my mom says that the instant I heard the opening notes of Billie's recording, I did the impossible: leaping over the walls of my crib, I landed squarely on the piano bench and welcomed my new sister into the world by tickling the ivories like the Duke and singing along in perfect three-part harmony.
(Portions of this blog appeared in a posting last June.)
Calling all HuffPost superfans!
Sign up for membership to become a founding member and help shape HuffPost's next chapter