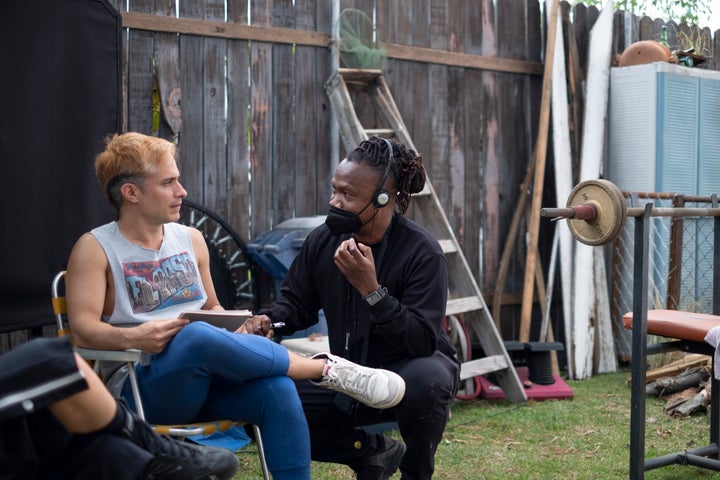 Watch any Batman film and you might get a sense of why Roger Ross Williams considers "Cassandro" to be a superhero movie.
Just as Bruce Wayne dons his iconic outfit to become the Caped Crusader, Saúl Armendáriz (Gael García Bernal) wears flamboyant wrestling garb and makeup to transform into Cassandro, a much more powerful figure than Armendáriz is in his daily life.
That transformation is at the heart of "Cassandro," out Friday on Amazon Prime Video. The film is based on the true story of Armendáriz. who created his alter ego in the early 1980s while living in Texas and crossing the Mexican border to take part in lucha libre wrestling.
While the movie is Williams' narrative feature debut, he is by no means new to filmmaking. In fact, he was the first Black director to receive an Academy Award, winning in 2010 for the documentary short "Music by Prudence." And "Cassandro," which he also co-wrote, is just one of the many offerings he has out this year; he just debuted an adaptation of Ibram X. Kendi's "Stamped From the Beginning" at the the Toronto International Film Festival, and his Apple TV+ series "The Super Models" premiered this week.
In an interview with HuffPost, Williams said that despite the true story behind "Cassandro," he sees the movie as a work of fiction. It is not just a biopic about Armendáriz; it uses his story to craft a superhero narrative that underscores the importance of queer people realizing their own strength, whether in or out of the wrestling ring.
This interview has been edited and condensed for clarity and brevity.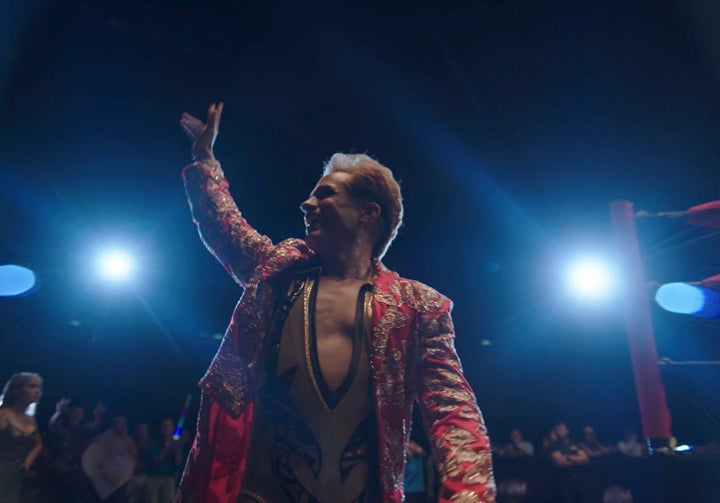 Can you tell me about what first attracted you to the story of Cassandro, and why this was a good movie to serve as your narrative feature debut?
I made a short documentary about Cassandro for the New Yorker series on Amazon Prime. I met Cassandro the first day making that documentary, and I fell completely in love with him. I just found his story so inspirational and so full. He was a gay man in the macho world of lucha wrestling, who basically conquered that world and rose to the top of that world on his own terms as an out, queer, feminine man.
And he won matches and turned the whole lucha libre world upside down, and is beloved in the lucha libre world because he's good at what he does. He's a good wrestler. He's a great performer and he has a good charisma, and I was drawn to that charisma.
I was thinking about the wrestling scenes quite a bit after watching your film. They were so psychologically rich, seeing the crowd booing Armendáriz and then turning to love him. What went into crafting those scenes?
Each scene, in my mind, is a short film. Each scene tells a story, and each scene moves the narrative forward.
The first wrestling match is a match where Saúl as El Topo [an earlier persona] is humiliated, but the audience thinks that he's something he's not. And that mask, as a gay man, he's using that mask to hide behind and mask who he really is. And he's made fun of, and he goes backstage and they tease him about his mustache, and he goes home and shaves his mustache off. He has this shame, you know? So that's what the first match is about.
When he comes out first as Cassandro, he's in his costume — by the brilliant Mariestela Fernández [a costume designer for the film] — it's rickety. It's just cutoff shorts and bad makeup and he's not together, right? But he's defined halfway as he's walking out to jeers — and the great sound design and the score by [film composer] Marcelo Zarvos — and he has to find some power somewhere. And he finds it in the jeers, in those taunts. And he butts the guy who's telling him he's a "fag" and that he'll not be anything, and he uses those as his power.
That becomes his superpower, by taking that and turning it on its head and using those yelling "fag" at him and "puto" [an anti-gay slur in Mexico] and all that stuff. He uses that to get stronger and stronger, and then he wins over the audience until he has the audience in the palm of his hand. And that's the match.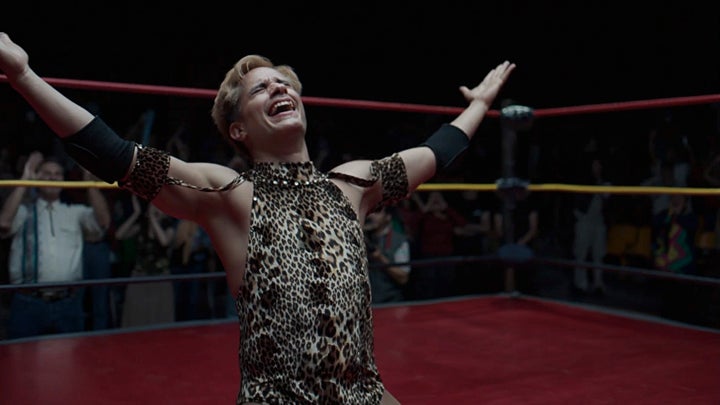 And then match number three, he's more sophisticated. And he's in a costume that has a history! That was his mother's leopard-print shirt that humiliated his mother when he was a young boy, and the flashback scene of him seeing her wear that shirt — it is the birth of a superhero.
And by the time he fights [wrestler El Hijo del] Santo as Cassandro, his outfit is spectacular. He's triumphant there and he has confidence there. But he also has a lot of demons in his past, tragedy that comes to haunt him and he has to find his inner strength, all in that fight.
Before Cassandro, Armendáriz is seen as a "runt" and wants to break out of that. He views Cassandro as a "top," unlike himself. What does the movie have to say about the roles that we are assigned, and how we transcend them?
The film is all about your mask and being who you are. As the film progresses, Saúl really becomes Cassandro. He wants to be an out, confident gay man and he doesn't want to be the runt or he doesn't want to be closeted. He doesn't want Gerardo [his lover and a fellow wrestler] to be closeted and live a lie; none of us should live a lie. And that's the message, and that's what the film is saying to the viewer — and that's what life is about. Take off your mask, don't live a lie yourself.
As queer people, when we take off our masks, our relationships sometimes change with those in our lives. Armendáriz experiences this with his mother, Gerardo and other wrestlers. What was it like to write that story of authentic queerness and the way that it changes our relationships?
It was easy because that's my story. As a gay man, I realized and came into my own queerness, and many relationships changed. And that's OK, because the people who support you and really love you will still support you and really love you. And you will become more successful because you are true to yourself and you're speaking your truth.
But as that happens, people may be jealous or are not able to have the same strength as you, and you have to just move on. You have to move on. Saúl had to move on at the end of this movie. He had to move on from Gerardo, had to figure out his place in the world and realize that he is iconic ... and that there are thousands of queer kids all over Mexico who look up to him, and that was his purpose.
I loved the scene about Cassandro on El Hijo del Santo's TV program. After seeing the movie, I found the real-life footage on YouTube. What was it like to take that story, something that was filmed in reality, and narrativize it in the movie?
It's great freedom because it's not a documentary. That's the beauty of fiction. You get to create these scenes and use them for dramatic effect. I'm not making a documentary, so I'm not married to whatever happened. It's about, "What is the story I'm trying to tell?" and how best to tell it in the form of a film, where it has to be almost truncated storytelling, compact and efficient. So it was great.
And it was great to work with J.C. Molina, who's an openly gay Mexican American production designer who designed that fabulous Santo set, which was amazing, with a giant silver mask as the backdrop and the silver chairs. Beautiful, beautiful work. And for J.C. Molina, who is a gay Mexican American who was bullied in school and found his power and became a fantastic production designer of Beyonce's "Lemonade" and of The Weeknd, movies like "Honey Boy" ... and now, we both are, we're like, look at us! We've both found our superpower and we're both doing things, even though we were bullied, we were cheated. And we're like, screw everyone who can't keep up!
I love what you said about how this is not a documentary but fiction, even though it's a biopic.
I mean, for me it's not a biopic as much as it's a superhero narrative. It's about Saúl creating a superhero character. It's not cradle-to-grave, although he does have flashbacks, which happen all the time in superhero narratives. He creates his own version of Superman, you know? Superwoman, Super Queen. And that is what propels the story forward, is the origin story: How does he come up with the idea and get the idea and start to build his costumes? You know, you've seen it in "Batman."
You're having an incredible year. Besides "Cassandro," you've had a Donna Summer documentary on Max, "Stamped From the Beginning" at TIFF, and "The Super Models" on Apple TV+. Do you see these projects as speaking to each other? How do they represent you as a filmmaker?
All these projects are me. I was a huge Donna Summer fan, and found myself and came out on the floor of a disco in high school listening to "I Feel Love." I grew up with the supermodels and worked in the Palladium nightclub in New York in the '80s and '90s. And I love these iconic ladies — Cindy [Crawford] and Naomi [Campbell] and Christy [Turlington] and Linda [Evangelista].
And "Cassandro" — you know, I was a bullied, neglected, sort of abandoned by his father, a gay man who found his voice and wrote and even won an Oscar. And "Stamped From the Beginning," I'm a Black man in America trying to deal with the current situation, in which it's open season on Black lives. And every time I step out my door, I could be shot by the police. It's all me.
Support HuffPost
The Stakes Have Never Been Higher
Popular in the Community