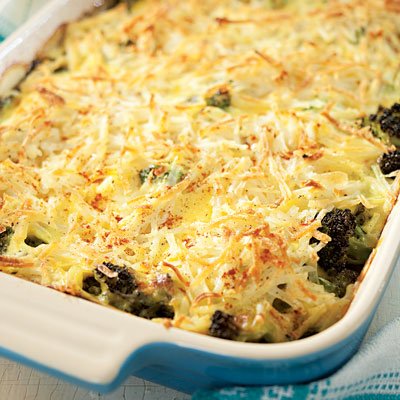 Last fall at my husband's grandmother's 100th birthday party in Minneapolis was when I first heard of "hotdish." The word, spoken with a slight Minnesotan lilt, seemed so much more nostalgic than "casserole," which is in essence what a hotdish is. Apparently hotdish has been the answer to what's for dinner in Minnesota, as well as the Dakotas, Wisconsin and parts of Iowa, since at least the 1800s.
Related Link: Healthy Casserole Recipes
To be proper, the dish should include meat of some sort, a starch (potatoes, rice or noodles are common), a bit of vegetable (frozen or canned, preferably, for ease) and a binder, which is typically a creamy soup, such as cream of mushroom.
One of my husband's relatives, Eric, told me his hotdish of choice is Tater Tot hotdish—ground beef with cream of mushroom soup, perhaps some frozen green beans or peas and then a layer of Tater Tots on top. Seriously?????! I was drooling! I was sure this sort of dish was the perfect candidate for an EatingWell makeover—we would make it with fewer calories, less saturated fat and processed ingredients, but still with plenty of ooey-gooey comfort factor.
Related: Cozy Casserole Recipes That Won't Pack on the Pounds
Delicious Meatless Casserole Recipes
When I did get back to Vermont, the weather had turned chilly and I headed to the store to pick up the frozen Tots, canned soup and a bag of frozen French-cut green beans.
For my first taste of hotdish, I thought it was only right to go with an original. The results were heavenly...Americana on a plate. I wanted to try another classic, wild rice and chicken casserole, but I skipped the canned soup and made up a quick light, creamy sauce instead. That opened the floodgates. I realized rules were made to be broken and if I wanted to lighten the casseroles, use fresh vegetables, skip potato chip toppings or never use canned soup, that was just fine. It was hard to go wrong and, frankly, I was hooked on hotdish. The recipes I put together can be made ahead and taken along, and many can be popped in the freezer and reheated later.
Related Link: Make-Ahead Casserole Recipes
And most of all, they taste like rich, satisfying comfort in a casserole dish. Perhaps next time I see the relatives in Minnesota, we'll share a hotdish together.
Here's an original EatingWell test kitchen recipe, inspired by the classic Minnesota Tater Tot hotdish, to get you hooked on hotdish:
Broccoli, Beef & Potato Hotdish
This easy casserole, full of ground beef, roasted broccoli and topped with hash browns, was inspired by the classic Minnesota Tater Tot hotdish. Roasting the broccoli before adding it to the casserole gives the whole dish a much more complex and exciting flavor, but it's by no means necessary. If you want to keep it simple, skip roasting the broccoli (Step 2) and use 6 cups frozen broccoli, thawed, in its place (omit 1 tablespoon oil, as well).
8 servings
Active Time: 45 minutes
Total Time: 1 hour 40 minutes
Ingredients
1 1/2 pounds broccoli, cut into 1-inch florets (about 6 cups)
2 tablespoons canola oil, divided
1 1/2 pounds 95%-lean ground beef
1 large onion, chopped
2 tablespoons Worcestershire sauce
1 teaspoon garlic powder
1 1/4 teaspoons salt, divided
4 cups low-fat milk
1/3 cup cornstarch
2 cups shredded sharp Cheddar cheese, preferably orange
1/4 teaspoon ground turmeric
4 cups frozen hash-brown or precooked shredded potatoes (see Note)
1 large egg, lightly beaten
1/2 teaspoon freshly ground pepper
Canola or olive oil cooking spray
1/4 teaspoon Hungarian paprika, preferably hot
Preparation
Preheat oven to 450°F.
Toss broccoli with 1 tablespoon oil in a large bowl. Spread out on a baking sheet and roast, stirring once halfway though, until just soft and browned in spots, about 15 minutes.
Meanwhile, heat the remaining 1 tablespoon oil in a large skillet over medium heat. Add beef and onion and cook, breaking up the beef with a wooden spoon, until the beef is browned and the onion is softened, 10 to 12 minutes. Stir in Worcestershire, garlic powder and 1/4 teaspoon salt. Set aside.
Whisk milk and cornstarch in a large saucepan. Bring to a boil over medium-high heat, whisking often, until bubbling and thickened enough to coat the back of a spoon, 6 to 8 minutes total. Remove from the heat and stir in Cheddar, 3/4 teaspoon salt and turmeric until the cheese is melted.
Spread the beef mixture in a 9-by-13-inch (or similar 3-quart) baking dish. Top with the broccoli and pour the cheese sauce evenly over the top.
Combine potatoes, egg, pepper and the remaining 1/4 teaspoon salt in a medium bowl. Sprinkle evenly over the casserole. Coat the top with cooking spray.
Bake the casserole until it is bubbling and the potatoes are beginning to brown, about 40 minutes. Sprinkle with paprika. Let stand for 10 minutes before serving.
Tips & Notes
Make Ahead Tip: Prepare through Step 6; cover and refrigerate for up to 1 day or freeze for up to 1 month (defrost in the refrigerator for 2 days before baking). Let stand at room temperature for 30 minutes before baking (Step 7).
Note: Precooked shredded potatoes can be found in the dairy section of most supermarkets or near other fresh prepared vegetables in the refrigerated produce section. To make your own, halve 1 pound unpeeled baking potatoes; cook in lightly salted boiling water until slightly tender but still firm in the center, 7 to 10 minutes. Let cool on a clean cutting board. Shred using the large holes of a box grater.
Nutrition
Per serving: 411 calories; 19 g fat (10 g sat, 8 g mono); 115 mg cholesterol; 26 g carbohydrates; 0 g added sugars; 34 g protein; 4 g fiber; 737 mg sodium; 861 mg potassium.
Nutrition Bonus: Vitamin C (140% daily value), Vitamin A (63% dv), Calcium (42% dv), Zinc (41% dv), Potassium (25% dv), Folate & Iron (20% dv), Magnesium (16% dv).
What is your favorite hotdish/casserole recipe?
By Jessie Price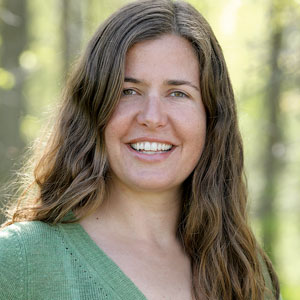 Jessie Price is the deputy editor of food for EatingWell Media Group, where she directs all food content. Besides her work on nine other EatingWell books, she is the author of EatingWell on a Budget and The Simple Art of EatingWell. She lives in Charlotte, Vermont where she stays busy growing her own vegetables in the summer and tracking down great Vermont food products when she's not working.
Related Links from EatingWell:
Calling all HuffPost superfans!
Sign up for membership to become a founding member and help shape HuffPost's next chapter