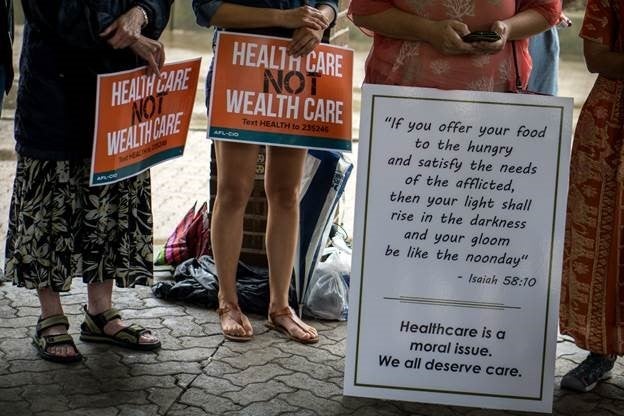 Sen. John McCain, in the wake of his brain cancer diagnosis, took to the Senate floor in late July and derailed his party's rushed, secretive and partisan effort to repeal the Affordable Care Act. In his stirring speech, Sen. McCain implored Congress to "return to regular order" based on compromise, transparency and trust:
"Why don't we try the old way of legislating in the Senate, the way our rules and customs encourage us to act," he asked. "What have we to lose by trying to work together to find those solutions?"
At that moment, Sen. John McCain put the American people before personal interests or political party. If only Sen. Lindsey Graham and Sen. Bill Cassidy would take McCain's words to heart, and follow the brave examples of Senator Murkowski of Alaska and Senator Collins on Maine who both also chose protecting people over politics even under intense political pressure.
But alas, they are doing just the opposite. The so-called Cassidy-Graham plan is the GOP's last hope of tearing up the ACA and decimating Medicaid– and they're trying to ram it through Congress before Sept. 30 – the date that the special budget rules, which allow Republicans to pass this bill without Democrats' support, are set to expire.
It's déjà vu all over again – only this bill is even worse than the original. Whether you care for a disabled or sick child, have a pre-existing health condition, like asthma or cancer, or buy health insurance on the individual market, this bill would cause irreparable harm. It would undermine all the progress we've made under the Affordable Care Act, including through the Medicaid Expansion – causing tens of millions to lose coverage and raising premiums and out-of-pocket costs for millions more.
For millions of seniors, people with disabilities and families with children who rely on Medicaid to afford care, this bill is as dangerous as it is cruel: the bill will cut tax credits to help individuals buy insurance, radically restructure and end Medicaid expansion – replacing tax subsidies and Medicaid funding with woefully inadequate block grants of money. Because the amount of money states receive will be fixed each year, states will be left on the hook for any and all unexpected costs – whether they face recessions, natural disasters, public health emergencies or prescription drug price spikes. And after 2026, the money would disappear altogether. To be clear this is the GOP's ultimate goal…
Cassidy-Graham also gives states leeway to waive the ACA's essential health benefits and its prohibition on charging people with pre-existing conditions exorbitant, unaffordable premiums or selling plans that do not cover basic health needs, like maternity care and mental health care. And like previous repeal bills, this bill treats women like second-class citizens by prohibiting states from reimbursing Planned Parenthood for preventative health and family planning services.
This disastrous plan is just a few votes shy of passage, despite overwhelming opposition on both sides. Republican governors from Ohio, Nevada, Alaska, Massachusetts and New Hampshire, among others, have come out against Cassidy-Graham. No one wants a repeal bill more than Sen. Rand Paul – and even he opposes it. And last week, in a joint letter to Senate Majority Leader Mitch McConnell and Senate Minority Leader Chuck Schumer, six organizations, representing over 560,000 physicians, called on the Senate to reject this disruptive and harmful proposal, which would only "exacerbate inequities in coverage" and "place millions of vulnerable individuals at risk of losing their health care coverage."
Doctors know best – and so do the overwhelming majority of Americans. It's time to heed John McCain's words and demand Congress set this partisan, destructive bill aside and commit to a bipartisan effort – a plan that builds on our progress, stabilizes the insurance marketplace, and makes health care more affordable for every American.
Dorian Warren is president of the Center for Community Change Action.
REAL LIFE. REAL NEWS. REAL VOICES.
Help us tell more of the stories that matter from voices that too often remain unheard.
BEFORE YOU GO