Editor's note: This story uses gender neutral pronouns (they, them, their) to refer to transgender artist Cassils, the subject of the following interview.
In the fall of 2013, transgender artist Cassils (sometimes referred to as Heather Cassils) opened their first solo show at Ronald Feldman Fine Arts in New York City. Over the past two years, Cassils has continued to perform and show work internationally, has been awarded several major prizes recognizing their artistic achievements, including the first ANTI International Prize for Live Art and a Creative Capital Grant, and has developed a new incendiary work titled "Inextinguishable Fire."

For readers unaware of Cassils' impressive oeuvre, their multidisciplinary work spans live art, performance, sculpture, sound, installation, photography, video, and even the occasional watercolor. Often through lengthy and rigorous training, their body is altered and specialized to certain endurance tasks that have included everything from bodybuilding to professional stunt school.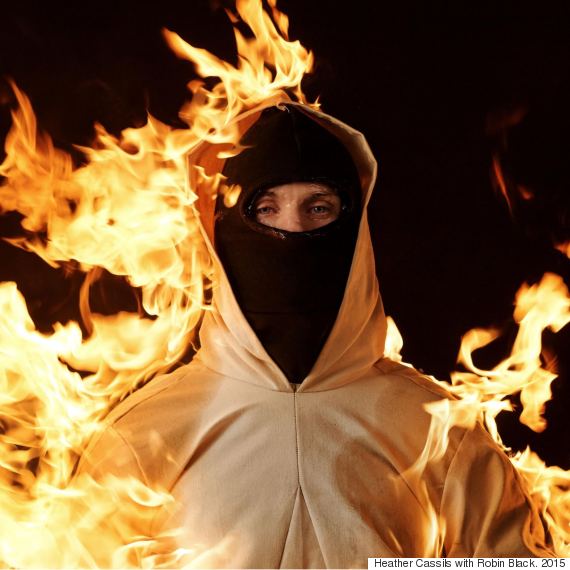 Inextinguishable Fire, Burn for Portrait.
Here, Cassils and Kris Grey, a NYC-based gender queer artist whose work combines strategies of communication, activism, community building, education, lecture, and studio production, chat about Cassils' work.

Kris Grey: Congratulations on your recent achievements and the opening of your first museum and European solo exhibition at MU Eindhoven in the Netherlands! You have released a teaser for "Inextinguishable Fire" on your website (see video above). Can you describe what happens in the work?
Cassils: Thanks Kris. "Inextinguishable Fire" is both a live performance and a performance for the camera in which I am engaged in a treacherous fire stunt. Using techniques borrowed from Hollywood stunts, I experience the very real human terror of being lit on fire. The 14-second full-body burn is extended to 14 minutes of slow motion flame, shot at 1000 frames per second. Slowing the burn down makes the viewer spend time with the image and the action. Crucial to my film is the use of a slow motion zoom outwards. This constantly changes the context and our understanding of the image is based on what we are seeing within the frame at any given moment. This ultimately makes the staged quality of the stunt as visible as its potential risks. The way the sound operates really informs the image. First you identify with the burning victim, the flames licking at your ears, and the material singeing as if it were your own clothing on fire. However, as the camera moves away, you hear the burning body across from you with ever increasing distance. I wanted to speak to the constant stream of mediated images in our Facebook feeds and play with how identification, alienation and mediation affect the way we experience violent images. Though the stunt is a simulation of violence it still presents real danger. This possibly volatile situation as well as the attempt to control it are captured to create an image where danger, empathy for those experiencing violence, and the privilege of removal all operate simultaneously in one transparent performance.
Kris Grey: Like some of your previous work, "Inextinguishable Fire" refers to a specific piece from the past.
Cassils: The title of the piece references Harun Farocki's 1969 film of the same name. Both versions of "Inextinguishable Fire" are about the radical unrepresentability of certain forms of trauma and violence. In Farocki's film, he puts a cigarette out in his arm as a way of demonstrating an act of pain and trauma that we can tolerate seeing, as opposed to the incomprehensible image of a body doused in napalm. We can know what a cigarette burn feels like even though we cannot begin to imagine what it is like to be torched with napalm. I see the fire stunt functioning in a similar way. My act of self-immolation gestures toward the desire to know and understand this horror, as well as the impossibility of doing so. How can I enact empathy when my own situation is so removed from the immediacy of torture and war? Many of us are so saturated with brutalized imagery that a distance is created. Likewise so many images are fed to us at such rapid succession that the ability to analyze and think critically about these images is reduced. People "like" articles on FaceBook and Twitter based on the fleeting headlines. People don't even read the articles anymore. My hope is that by creating a film where at first you think you are looking at a traumatized body, but at the end of the film you realize you are looking at an image constructed to manipulate you into thinking you are looking at a traumatized body, that people will think more critically about the construction of such imagery and pay closer attention. I was inspired by Farocki's concept of using images to critique images.
Julia Steinmetz writes in her essay "Cassils: Inextinguishable Fire," which will be published in the upcoming book that is accompanying the "Incendiary" show:
"Self-immolation has a long history as a powerful form of political protest. Under conditions of extreme oppression, sometimes the timing and staging of one's own obliteration is the only meaningful autonomous act available. The flames of 'Inextinguishable Fire' lap up against the revolutionary fires presently burning on the streets of Baltimore in outraged protest against police brutality and the expendability of black lives, catalyzed by the assault and ensuing homicide of Freddie Gray in the course of his unlawful arrest. The refrain 'I can't breathe' echoes from suffocating scene of of Eric Garner's death at the hands of the NYPD to the sound of my tightly held breath, spanning the film's fourteen minutes of slow motion full body burn. The gunshots from Ferguson, Missouri are still ringing in our ears as we see a parade of bodies spelling 'Hands Up, Don't Shoot,' although we know the unconscious pulled the trigger. Flames fill our news feeds as commentators ask why the residents of Baltimore would set their own neighborhoods on fire, as if there weren't a long history of self immolation as revolt in the face of intolerable circumstances. Much in the same way that Becoming and Image memorializes the experience of bodies under siege by making lives that 'don't matter' literally take on a precious materiality, 'Inextinguishable Fire' stages resilience and forges strength through trial by fire."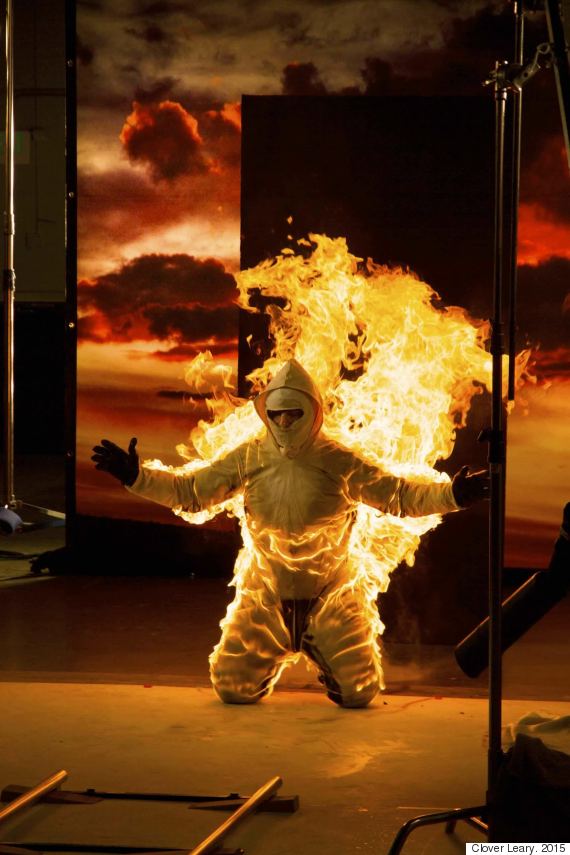 Inextinguishable Fire, Performance/ Set Still
Kris Grey: I know there was a very specific shift you observed in your work as a trainer.
Cassils: Yes, after I graduated from the bastion of marxist critique aka CalArts in 2002, I landed a job as a personal trainer in a corporate box gym in West Hollywood. Training is how I have always earned my income. It was under halogen lighting, surrounded by the flexing of tissue that I witnessed the Battle of Fallujah on twelve separate monitors. Bodies of "others" exploding on the television as an army of hard bodied gay men checked their pulses for optimal fat burn as they whirled aimlessly on the treadmills. Shortly thereafter several "B list" actors who worked out at my gym started to approach me for training sessions. They had just landed a part: could I "make them look like a soldier in six weeks." It became my job to construct a body that reflected militarism. This made me uncomfortable but it also got me thinking about the tremendous crossover between the military industrial complex and the entertainment industry. After much research, I found a military base called Fort Irwin, located one-and-a-half hours southeast of Los Angeles that used Hollywood stunt men and FX professionals to simulate the conditions of war in Iraq. They had expatriate Iraqis bussed in from San Diego to play "real insurgents." When I asked the general what they did when they ran out of Iraqi actors, as there seemed to be a disproportionate ratio of soldiers to actors, he said nonchalantly "We use Mexicans." It became crystal clear to me the ways in which faulty modes of representation inform political unfoldings and have real-life consequences. It is from this line of inquiry that I developed Inextinguishable Fire.

Kris Grey: Both "Inextinguishable Fire" and "Becoming An Image" employ some form of abstraction. It seems to me this abstraction is a queer strategy to combat the trappings of representation.
Cassils: I continue to make work that addresses trans representation. However I feel frustrated at the limits by which my work is perceived in a way which rests solely on my body and identity. Specifically a fetishized muscular body. That being said, it was important for me to make self-empowered, self-transforming pieces such as "Cuts: A Traditional Sculpture," "Tiresias," and "Hard Times," but I now trust that the trans content is inherently "in" the work. Much like the sculptures made from the resulting clay bashes in "Becoming An Image," "Inextinguishable Fire "speaks to the unrepresentability of trauma and asks what that means for not just my body but many bodies. In this way I aim to make a humanist work that does not only exist within the confines of the identity politics specific to my own subjectivity.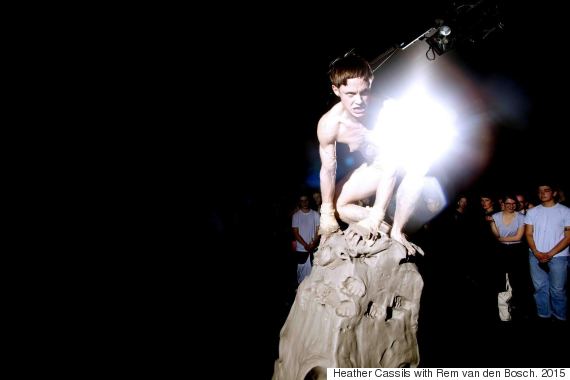 Still from opening night performance of "Becoming An Image," MU Eindhoven.
There is such a pressure for those of us coming from disenfranchised positions to make "positive images" that speak for this marginalized community. One artist can never speak for everyone. I have become interested in anti-representational tactics. As trans politics become more mainstream we run the risk of becoming a target market subject to the same slotting and governing as the dominant culture. I'm invested in transness as a political position that offers the possibility of resistance. I want to play with formal possibilities which embrace the obtuse and the unrecognizable. I am curious as to what ideas and questions can come from continual transformation.
"Incendiary: A Solo Show" by Cassils opened on Friday, May 22, 2015 with a live performance of "Becoming An Image" at MU, Torenallee 40-60, Strijp S, 5617 BD Eindhoven, The Netherlands, www.mu.nl. The show is on view from May 22 until July 19. Programs include GET A ROOM! #2 an evening of sexual expression on Thursday, May 28 and a live performance and panel on Wednesday, June 17.
This piece was Edited by Julia Steinmetz. She is a Performance Studies scholar and visual artist based in New York City. She has collaborated with Cassils on art-making and critical projects since the turn of the millennium. Steinmetz's current research is focused on transformational aesthetics and the ways in which art interfaces with the unconscious.
Before You Go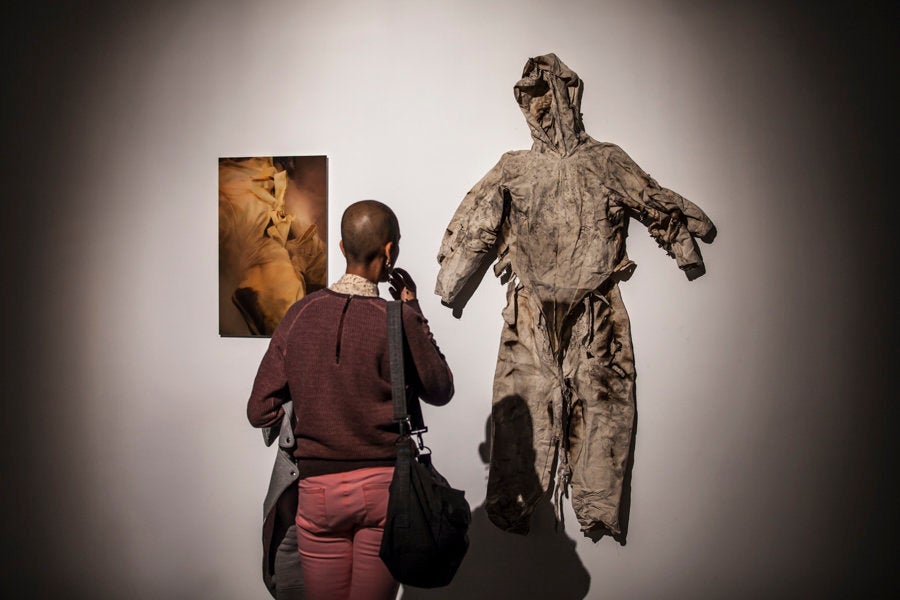 The Work Of Cassils
Popular in the Community