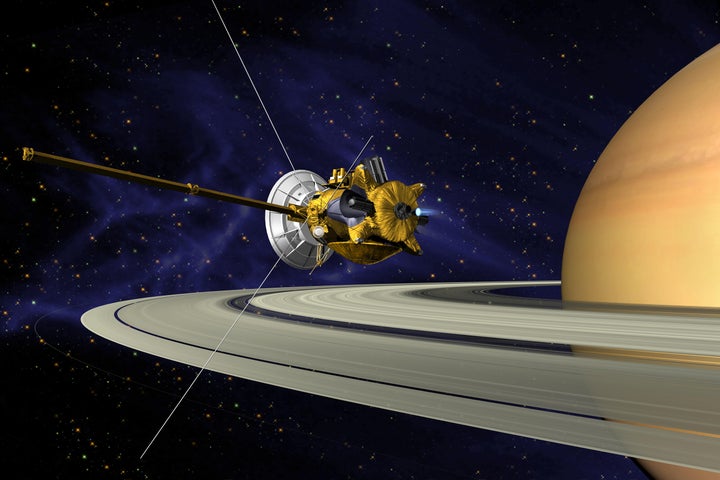 Co-authored with Megan Watzke
On Friday, September 15, 2017, NASA's Cassini spacecraft will make one final maneuver and then plummet into the planet Saturn. This kamikaze mission is not for show or spectacle, but for science.
The Cassini mission was launched into space in 1997 and spent nearly the next seven years traveling to Saturn, the second largest planet in the Solar System and the sixth planet from the Sun. Before Cassini, scientists had just relatively brief glimpses of this amazing gas giant planet from flybys from NASA's Pioneer and Voyager missions launched decades ago.
It is no exaggeration that Cassini has revolutionized our understanding of Saturn and its fascinating moons. There are 62 of those moons, some of which, like Titan and Enceladus, include potential sites to look for life in the Solar System.

All good things must come to an end, however, as the saying goes, and the Cassini spacecraft is running out of fuel. Rather than let it spiral out of control on its own (and potentially contaminate places that could be future sites to explore for signs of life), NASA will send the spacecraft into the planet. As it goes, Cassini will be grabbing data about Saturn's rings, gravity and magnetic fields, and more, as it makes a final descent to its doom.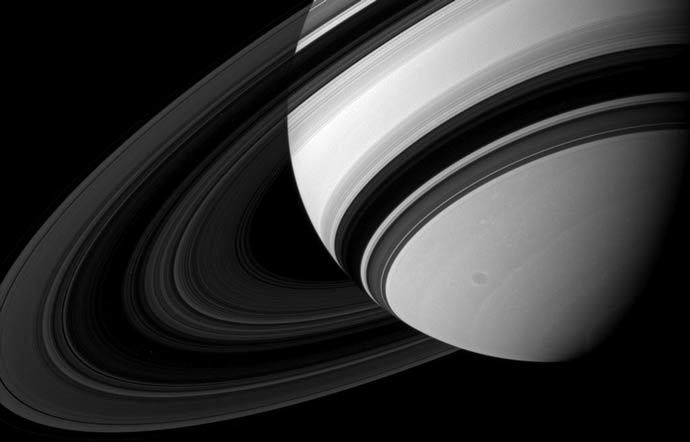 Perhaps the best way to understand what Cassini has done is to compare it with things that we are more familiar with. This gives us a sense of scale and reference points to orient ourselves to the awe-inspiring accomplishments human ingenuity can deliver. Here are some highlights:
Distance: Cassini traveled about 2.2 billion miles (3.5 billion kilometers) to reach Saturn. The average distance between the Earth and Moon is only* about 240,000 miles (380,000 km), so the Apollo mission astronauts could have made that trip over 9 million times. (The distance from Earth to Saturn at Cassini's arrival is about 934 million miles, or 1.5 billion kilometers. Cassini had to sling shot around Venus, Earth and Jupiter to get a gravity boost for its trip out to Saturn, adding the extra distance to its total journey.)
*We say only because there's enough space between Earth and the Moon (using the average distance from Earth to our Moon) to fit the rest of the planets in our Solar System – just to give an idea how much space there is in space.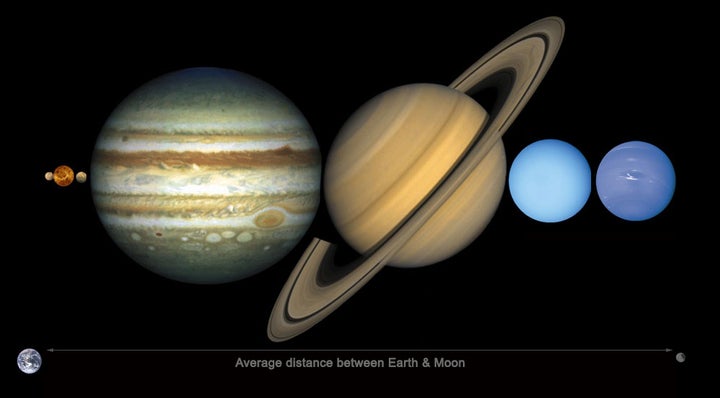 Time: The Titan rocket that carried Cassini left Earth on October 15, 1997. By the time Cassini plunges into Saturn for its "Grand Finale," it will have been in space over 19 years and 11 months. In 1997, many people didn't even own cell phones yet and the ones that existed were the size of bricks; the mere 100,000 web pages online (compared to the billions we have now) were little more than plain text and basic images; babies born at the time of launch are now adults who can vote and are not too far away from legally being able to have a glass of wine to toast Cassini.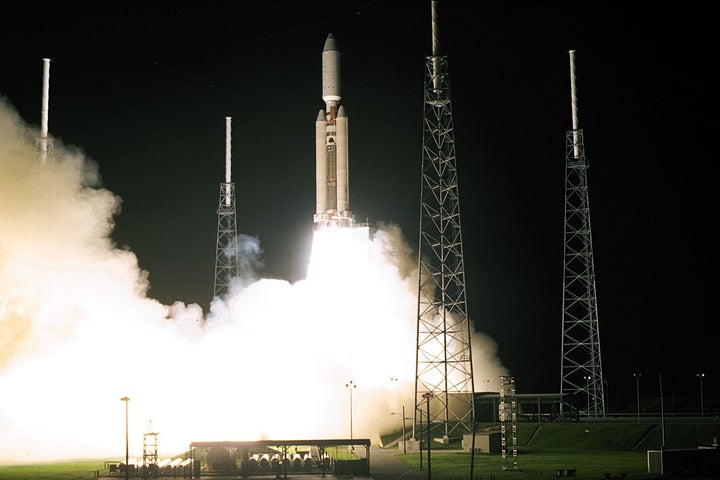 Speed: As Cassini makes its final orbits around Saturn, its speeds will reach between 75,000 and 78,000 miles per hour (121,000 and 126,000 kilometers per hour). That's faster than the speed that our planet moves around our Sun, which occurs in its orbit at a speed of about 67,000 miles per hour (108,000 kilometers per hour). To think of it another way, Cassini is moving at about 100 times faster than the speed of sound.
Pressure: Saturn is a gas giant planet, which means, as the name implies, that it is made up of gas, primarily hydrogen, and also helium. While there may be a small solid core, scientists aren't completely sure. Instead, they define the "surface" of Saturn to be where the pressure is equal to the Earth's atmosphere at sea level. It's not clear when or if Cassini will reach this pressure.
Mass: The Cassini orbiter weighs 12,593 pounds (5,712 kilograms) plus extra for fuel. (Cassini also had another smaller probe, called Huygens, which was jettisoned into the moon of Titan in 2005 that added another 705 pounds or 320 kilograms.) Consider that an average bowling ball has a mass of about 5 kilograms, so the Cassini orbiter has the mass of well over a thousand bowling balls (without fuel).
Rotation: Just how long is a day on Saturn? It turns out determining that is tricky because Saturn is comprised mainly of a bank of clouds with hard-to-discern features. Scientists had to use Cassini to figure out that Saturn rotates once every 10.6 to 10.8 hours. To compare, a typical household ceiling fan rotates a bit more than 15,000 times faster than Saturn turns over the course of its day.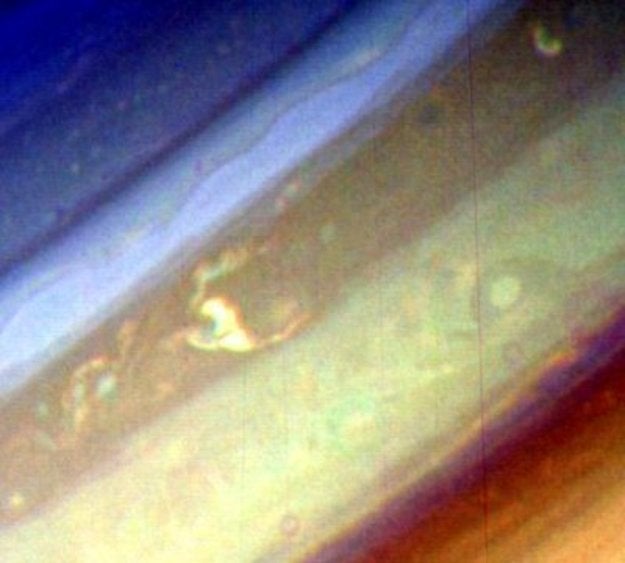 During its concluding plunge, Cassini will continue to transmit data back to Earth until the force of Saturn's atmosphere takes over the spacecraft's thrusters and Cassini will no longer be able to point its antenna back to Earth. At this point, the Cassini mission will come to an end, but its legacy will just be at its beginning.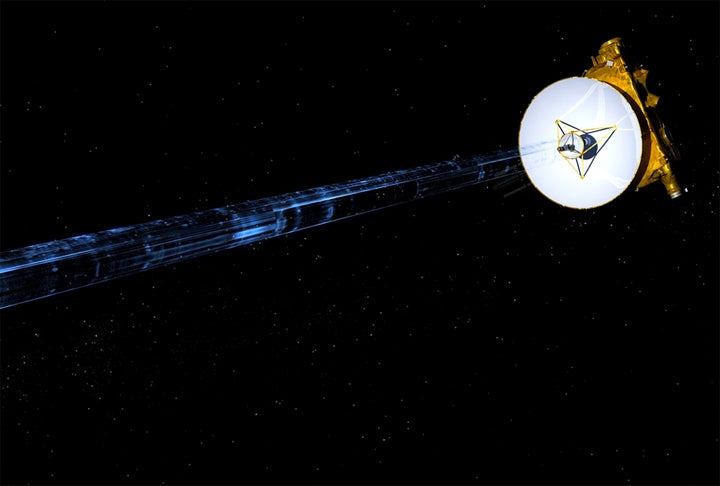 The Cassini mission represents the remarkable things people can do: dispatching a spacecraft with complex and one-of-a-kind instruments across billions of miles, through space to a distant world, and sending back never-before-seen data and images. Grasping the magnitude of these spectacular accomplishments is worth the effort to better understand and enjoy our shared place in the Universe.
Related
Popular in the Community