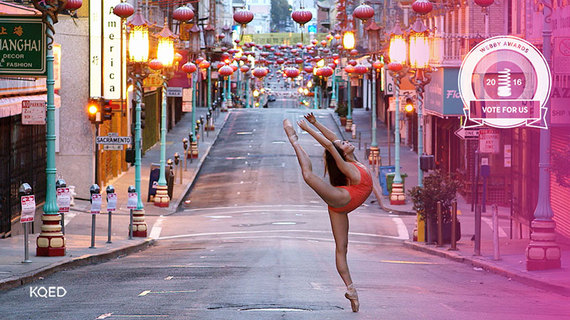 Neither, it appears, can Miko Fogarty.
The feisty ballerina - who is part Japanese, part English, part Swiss - first burst onto the scene as an adorable 12-year-old in 'First Position,' the award-winning documentary about the 2011 Youth America Grand Prix (which, for those unfamiliar with the high-pressure world of ballet competitions, is not a motor race.) Fogarty has since scooped up awards in various European ballet competitions, along with an enormous fan base.
Last year, on the eve of her departure for England to take up her first professional contract with the Birmingham Royal Ballet, the now-18-year-old Fogarty was the subject of a short film by Abhi Singh for PBS. The ebullient Fogarty was captured dancing the famous 'Esmeralda' variation on San Francisco Bay Area streets and beaches, and ripping off those never-ending fouettés from 'Le Corsaire' in the rehearsal studio. She reflected on the challenges of not having been born with the ideal ballet body, and being of mixed race in a profession dominated by a specific kind of Caucasian body type.
The surge in popularity of ballet as mainstream entertainment can be traced partly to the phenomenon of Misty Copeland, whose saga as a ballerina of color has been broadcast in memoir, on film, in countless interviews, in the famous Under Armour commercial, and in TIME magazine, which named her to their list of 100 most influential people last year. Fogarty specifically cites Copeland as an inspiration. And she is in good company at Birmingham Royal, which has a notable contingent of Asian and black dancers.
Ballet-lovers have just six more days to vote online for 'A Bay Area Ballerina Comes of Age' to win a Webby, if they'd like to make even more buzz about the art form.
Calling all HuffPost superfans!
Sign up for membership to become a founding member and help shape HuffPost's next chapter