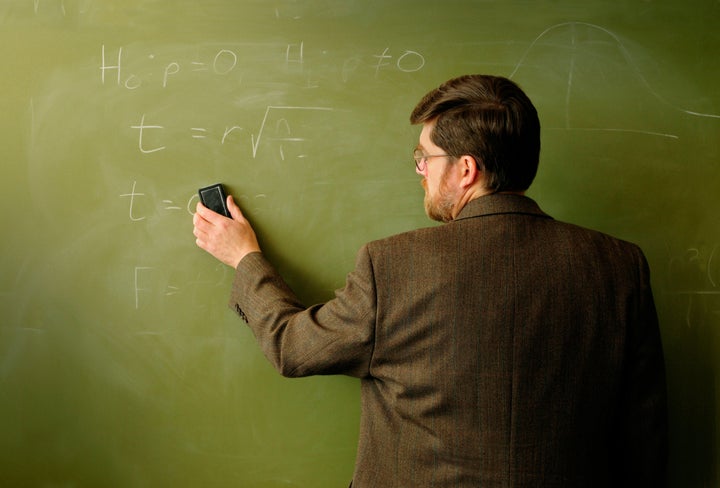 The caste system in higher education is alive and well, according to a report recently issued by the Center for the Future of Higher Education.
The report, "Who is Professor 'Staff'," is based on a survey of adjunct or contingent faculty members, over three-quarters of them part-time, conducted last fall by the New Faculty Majority Foundation, a national association that promotes better work conditions for adjunct faculty in colleges and universities. The report, primarily written by foundation staff, takes its title from the way adjunct professors are often described on course schedule -- a dehumanizing aspect of the adjunct experience. The report leaves no doubt that adjunct teachers are treated like second-class citizens.
The report focuses on two of the major problems adjuncts face. The first is that many, if not most, of them are hired at the last minute, weeks if not days before the start of a course. That is the reason they are listed as 'Staff,' not by their real names, leaving students to guess about who will be running their classes.
These "just-in-time" hiring practices give instructors very little or no time to prepare for their classes. Thirty-eight percent of the survey's respondents reported that they had less than two weeks' notice before the start of class; another 25 percent said that they had between two and three weeks' notice. And, regardless of the timing of their appointments, they were not paid for whatever preparation they did.
The second problem is the limited access to technology and other resources provided to adjunct faculty. Twenty-one percent of the respondents were not given either a desk or office space; another 38 percent received office space less than two weeks before the start of classes.
Forty-five percent of the adjuncts gained library privileges less than two weeks before classes began, while 47 percent received copying services less than two weeks before the start of classes. Twenty-one percent of the teachers never received curriculum guidelines; 32 percent of them received guidelines less than two weeks before classes. Access to computers was also limited.
The survey revealed the extent to which many adjuncts sacrifice time and money to shield their atrocious working conditions from their students. The report states that, "In the face of these overwhelming structural obstacles, many contingent faculty do additional work to meet their students' needs even though they are inadequately supported by their campuses." These teachers do a heroic job of protecting students from the adverse effects of the resource problems they face.
Clearly, the structural obstacles adjuncts must surmount undermine the quality of teaching and make little administrative sense. Academic administrators, nevertheless, claim that the system provides the flexibility they need to manage their programs. They apparently are little concerned with the professional needs of teachers. The report questions how much flexibility is required by administrators who have increasingly attained nearly total discretion in managing the faculty workforce. For the most part, they seem oblivious to the fact that poor working conditions and few incentives for stable teaching careers are not the blueprint for effective education.
The report concludes by stressing the need by academic institutions to be increasingly aware of the deplorable working conditions of their adjunct faculty. It suggests that its survey instrument be widely used by colleges to assess the status of their contingent teachers
The report does not deal with other significant problems that adjuncts face. Chief among them is their extremely low rate of compensation, amounting in many cases to slave labor wages. Across the country, among diverse institutions of higher education, the average pay for a course is just under $2,700. Most adjuncts, moreover, receive no health or retirement benefits, nor do they enjoy academic rights that are the privilege of tenured faculty... no arbitrary dismissals, the right to a hearing, etc.
Many adjuncts have to teach at multiple institutions in order to earn a minimal living. They are not paid for the cost of commuting to their classes. Nor are they compensated for the time they spend with students out of class or, in many instances, for serving on academic committees. Subject to the arbitrary whims and procedures of academic deans, they often are afraid to discuss controversial issues in class for fear of retribution. To add to their indignities, they are frequently looked down upon or ignored by their tenured peers. They are the Rodney Dangerfields of college life. Indeed, they get little or no respect.
Remarkably, as the number of contingent faculty has grown exponentially during the past decade, universities and colleges have done nothing to address the problem. Adjuncts are now almost 75 percent of all teachers in higher education, over half of whom are part-time. They remain the "untouchables" of our education caste system. College presidents and administrators seem to be looking the other way. When pressed on the issue, they claim they cannot afford to raise adjunct compensation or provide benefits because of budget cuts and restrictions.
The financial rationale for not improving the conditions of contingent faculty is a bogus argument. Universities and colleges have plenty of money to provide adjuncts with decent pay and benefits, if they wanted to do so. Unfortunately, they prefer to spend their funds on a number of other priorities. CEO compensation has grown enormously in recent years; some 40 CEOs currently receive over $1 million. The number of administrators, many of them superfluous, has also increased significantly as has their salaries and benefit packages. Akron University, for example, now boasts several vice presidents. These institutions are spending huge amounts in new facilities, in real estate investments and in sports programs.
Colleges and universities are neglecting the very purpose for which they were established... to provide a quality education to their students. Fortunately, adjuncts are beginning to realize that, unless they organize with the help of sympathetic faculty and administrators, labor unions and professional associations, nothing will change. Without these new efforts, not only will the large majority of our college teachers continue to be downtrodden, but our children will be deprived of the education they deserve. It's a national disgrace that can no longer be tolerated.
Related
Popular in the Community