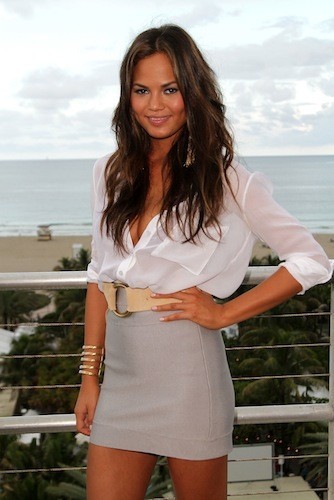 Chrissy Teigen
Getty
In our series "Casting Call," we chat with our favorite models to get the scoop on their fast-paced lifestyles. We're kicking off with Christine Teigen (she prefers Chrissy), who first caught our attention when she appeared in the 2010 Sports Illustrated Swimsuit issue. The Washington-native was scouted after she moved to California at 18 while working in a surfboard shop, so she was definitely not a rookie when it came to modeling skimpy bikinis. Now at 25, Teigen still shows off her bod for the cameras and in November, will star in a video game. Check out our Q&A with the bombshell to get more dish.
What's your favorite photo shoot so far?
CT: Well I'd say my Sports Illustrated photo shoot was pretty major because Walter Iooss shot it; he's had so many Sports Illustrated covers and photos. He's so old school and intimidating at the same time. He's the coolest guy and he has such an amazing team around him. I was nervous to work with him. John and I also did one for Raphael Mazzuco's book "Culo." It's a book of butts -– but in an artistic and gorgeous way. That was a very cool shoot because it was in our home in Los Angeles. In the photo, you can tell it's our bedroom and there was no hair, makeup or anything -– just our butts. It comes out around the holidays.
What's your worst photo shoot?
CT: I honestly don't have any. Let's face it –- it's not that difficult to be a swimsuit model. I was a backside model for Victoria's Secret's website and it ended up being the most painful thing I have done. It's the four little pictures of different angles if you click on a picture of a bottom -- they have people come in and do that. No face involved, just butt. I had to pop my butt out the entire time and I remember that my back was in the most pain of my entire life.

Okay so no terrible photoshoots, what about your dream photoshoot?
CT: My mother's from Thailand and they're very strict about girls in bikinis, but I would love to do a shoot in the floating market in Thailand. They did it years ago in Sports Illustrated, so if they ever decide to do it again, I would be the first to sign up for that.
What projects are you working on now?
CT: Irina Shayk and I are co-starring in a Need for Speed video game that comes out in November. Irina and I did motion capturing for it and became a part of the game. They didn't just draw us and use us; it's totally us – all the movements and everything. This is one of the coolest things I've done. Especially because I used to be a racing freak, I used to love racing video games and to be a part of one now is so cool. I'm also in the season finale of Bravo's "Mad Fashion." The finale covers Chris March making my dress for the Met Ball. It's going to be fun episode. I definitely requested the human hair.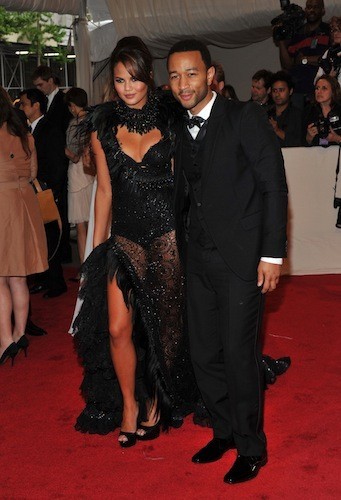 Teigen and Legend at the Met Costume Institute Gala
Getty Images
What are your must-have beauty products and clothing labels?
CT: I love Dior Airflash foundation. The only problem is that I travel a lot and I always forget to put it in my luggage. No matter how small aerosol cans are, security takes it away from my purse. It's so upsetting when they take away my brand-new, $60 can of Dior foundation. I fight for it every time. I also love Nars eye shadow, Guerlain bronzer and Kevyn Aucoin -- they have what I think is the best eyelash curler on the planet. I also love the lip gloss in Claudine -- it's sheer, feels good and smells good. I love J. Brand jeans, Rag & Bone, Alexander Wang's tops and anything Helmut Lang. Those are my definite go-to brands.

You've got an amazing body, what are your tips?
CT: I discovered that it's not counting the calories. I think that has a lot to do with the way I eat on a regular basis. It's all carbs -- I love heavy, home cooked things, like soul food. I love casseroles and pizza. I'm not into sweets or anything so once I go without carbs for little bit, it only takes three or four days for me to shed around the mid-section.
So you and John live in the East Village now, what are some of your favorite places to grab some grub?
CT: Oh yes, oh my goodness. The Meatball Shop is great. Momofuku is also right by me, I love it. The only thing is that it doesn't deliver and I crave it all the time, so I have to drag myself out of bed and go there. I like the chilled spicy noodles, but it's so hot. After six bites, I'm dying. John wasn't really into food before he met me and I sway his opinions a lot. He has so many business meetings, so his favorite restaurant is Gemma at the Bowery Hotel. He loves Frank's, on 2nd Avenue between 5th and 6th. If he could have Frank's baked eggs and prosciutto everyday, he would.

You're a model that loves food and isn't afraid to admit it, is there anything else that people wouldn't expect from you?
CT: I can't swim! I'm a swimsuit model, but I'm not modeling scuba gear or anything so I don't have to get in the water. If anything, I'm posing in a few feet of water, but when I was in Vegas Magazine, I had to float. It was so difficult, so they put floaties underneath my back and butt. It was exhausting, but John can't swim either, so we're in the same boat. We've gotten to the point where we're too old to learn to swim. Can you imagine us at the Y now?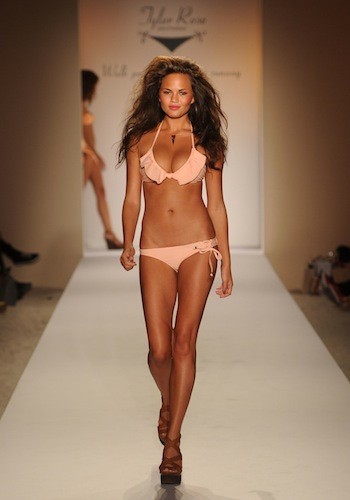 Teigen on the job
Getty Images for IMG
Do you and John plan to dress up for Halloween?
CT: I was so excited because I was going to be a toddler from "Toddlers & Tiaras" and John was going to be my stage dad. He was going to have a sweatshirt with my face on it, but we just found out that we have to be in London, so I hope it translates over there. I don't even know if they watch the show there, but it's going to be so weird if nobody knows the show and we're just dressed up as the creepiest people ever.
Are you and John planning to take the next step anytime soon?
CT: One would think after five years! But honestly, everything is so perfect now. I'll tell you this –- it's not going to go on for ten years! I'm just really happy right now -- we have two homes and two stinky dogs together right. And that's good enough for me.