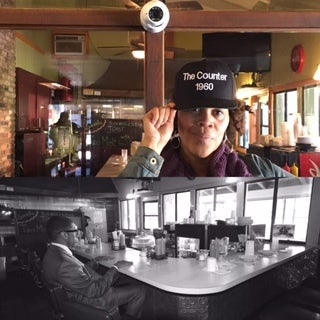 Prominent Casting Director Tracy "Twinkie" Byrd shows her versatility as an artist by taking on the role of Director and Writer in her debut film entitled "The Counter: 1960." On the set of her new film, Byrd shared her inspiration and passion for bringing this project to life.
Twinkie Byrd is best known for casting actors in such notable television and film projects as "Being Mary Jane," "Fruitvale," "Stomp the Yard," "Jumping the Broom," "Notorious," and "Sparkle," which featured Whitney Houston's last film performance. Byrd also cast the actors for "Southside with You," the indie film about the first date between former President Barack Obama and First Lady Michelle Obama. Twinkie Byrd put on her Casting Director hat once again when she enlisted one of the actors from "Southside With You," Jerod Haynes, to appear in "The Counter: 1960."
"The Counter: 1960" tells the story of six individuals who go back in time to experience a sit-in as a form of peaceful resistance during the Civil Rights Era. Byrd co-wrote the script with Ashley Jackson, the daughter of long-time civil rights activist Jesse Jackson. Byrd describes her experience of co-writing the script as very organic, explaining that she "saw the scenes in [her] head." In addition to featuring co-writer Ashley Jackson and Jerod Haynes, the ensemble cast also includes Etienne Ralph-Maurice, the son of Sheryl Lee Ralph. In the film, Ralph-Maurice reprises the role he played on stage. Other members of the cast include Tabitha Brown, Michael Pooler, and Nic Few.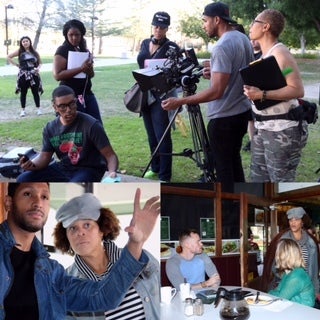 "The Counter: 1960" is a personal project for Twinkie Byrd who is a relative (maternal side) of Emmett Louis Till, the 14-year-old African-American who was lynched in Mississippi in 1955. Byrd states that it has "always been in [her] spirit" to tell the stories of the Civil Rights era. "I've always been touched by the era. That's a big deal -- when you know whose shoulders we stand on, you can't be still or dormant. It's the spirit of the warriors and the spirit of the [African] kings and queens rising inside saying 'No more! Stand up ... sit-in ... no more!' That is what I'm hoping to accomplish with this [film]."
Twinkie Byrd states that she wants to be diverse as an artist and has always disliked the expression "stay in your lane." In fact, she counters that idea with a ready response -- "Don't you see my blinkers on?" -- when she sets out to change lanes. "It's about exploring other sides of yourself creatively," Byrd explains.
Twinkie Byrd credits veteran actor Richard Lawson for inspiring her to direct her first film. She states that she initially wanted someone else to direct the film, but Lawson advised that it was hers to direct. "He took me out of my complacency," explains Byrd about her participation in Richard Lawson's Professional Development Program. "Richard Lawson's class included a lesson about D-O-I-N, essentially 'What is your Declaration of Independence?' My declaration is to use my art to build a bridge between past and present generations. I'm an activist through my art."
Byrd also credits her "The Counter: 1960" crew (Producer Kim Ogletree and the crew from Industry Lab at New York Film Academy) for being her support system.
This film that pays homage to the 1960's Civil Rights movement is particularly timely given the contemporary "Black Lives Matter" movement. Byrd offers words of wisdom for today's Civil Rights Activists, "Look to the past and to your roots. Strategize and elevate."
As an artist, Byrd draws inspiration from other filmmakers including Ava Duvernay and Spike Lee. She is also inspired by her brother Jeff Byrd who recently directed an episode of "Switched at Birth" which focused on a sit-in. As professionals in the same industry, Byrd hopes that she and her brother might someday "work together like the Hughes brothers."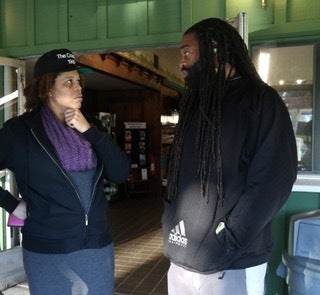 Byrd is just getting started, with other projects underway such as casting BEATS for IM Global produced by Bob Teitel and Director Chris Robinson. She is also working on future projects with Raven Symone and Gary Hardwick.
In terms of future projects, Byrd is creating a documentary film featuring legendary black actors who were pioneers who paved the way for future generations. In addition, she is pitching other scripts. "The producer side is growing inside as well," Byrd adds. "It's not about my ego; it's about touching lives." Byrd states that she also hopes to create a series of historical short films which she envisions as "15 or 30 minute shorts highlighting Rosa Parks, the Black Panthers, the Vietnam era ... those types of provocative times in history."
When asked what she hopes viewers of "The Counter: 1960" will take away after watching the film, Byrd responded, "I hope they get energized, encouraged, enlightened, and motivated." And if her record to date is any indication, Byrd may indeed get what she hopes for with her upcoming film.
#EnergizedEncouragedEnlightenedMotivated
(For more of Twinkie Byrd's interview, click on the video).
REAL LIFE. REAL NEWS. REAL VOICES.
Help us tell more of the stories that matter from voices that too often remain unheard.
This post was published on the now-closed HuffPost Contributor platform. Contributors control their own work and posted freely to our site. If you need to flag this entry as abusive,
send us an email
.