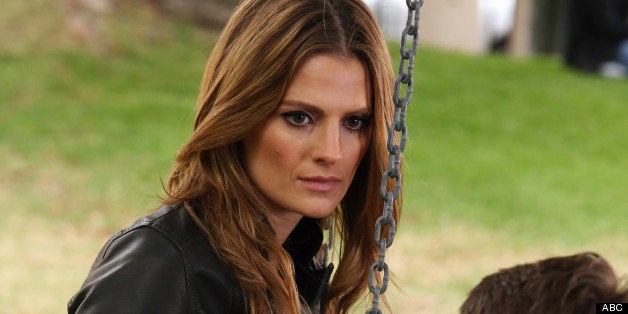 "Castle" fans, brace yourselves.
Who knows if the dialogue will remain the same once Season 6 of "Castle" hits ABC this fall, but here's how the script reads in the audition tape above (starting at the :58 mark):
Pi: "Hey, Mr. C -- I get the feeling that things didn't go so well in D.C. with your fiancé."
Castle: "No, Pi -- they didn't."
Pi: "I mean, I hope you don't mind me bringing it up, but sometimes the best thing to do is talk about it."
Castle: "You know what? You are absolutely right. Thanks."
Pi: "Where you goin'?"
Castle: "To find someone to talk about it with."
So, Beckett says yes and she still takes the job in D.C.?! Caskett just can't catch a break. But worry not -- Marlowe teased to TV Guide that Season 6 will be a "romantic" one, including "a birth, a new love interest for one character and possibly a wedding." He added, "Regardless of [Beckett's] answer, it is going to significantly change their relationship."
Do you think Castle and Beckett will survive Season 6? Could we see their wedding this season? Sound off in the comments!
"Castle" Season 6 premieres on Monday, Sept. 23 at 10 p.m. ET on ABC.
PHOTO GALLERY
Castle Season 5
Calling all HuffPost superfans!
Sign up for membership to become a founding member and help shape HuffPost's next chapter