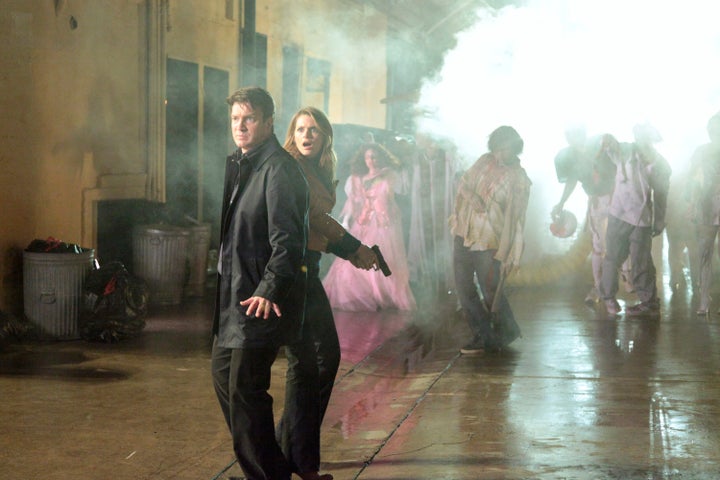 This season of "Castle" (Mondays at 10 p.m. ET on ABC) has been a season full of big secrets: Castle (Nathan Fillion) tried to keep information from Beckett about her mother's murder to keep her safe, and Beckett (Stana Katic) refused to acknowledge those three little words that Castle said to her when she was shot.
Leading up to the Season 4 finale (Mon., May 7), this week's "Castle" takes a lighter turn with the April 30th episode, "Undead Again," where a murder case's prime suspects are zombies. But don't think that a zombie apocalypse is a gimmick to distract us from what's been happening between Castle and Beckett, and what needs to happen in the big finale. "Castle" boss Andrew Marlowe says this episode does exactly the opposite.
"We can't step out of time and space and pretend it's not going on," Marlowe told HuffPost TV. "So acknowledging it here gets us to an interesting place for the finale."
Marlowe teased the action that brings Castle and Beckett closer again, rediscovering what makes them a good team. "That rediscovery gives their relationship a little growth," he said, adding, "Of course, we knock that on its ass in the finale."
Keep reading for more scoop on this fun episode from Marlowe, and check back later in the week for more "Castle" Season 4 finale scoop.
Zombies on "Castle" -- it's about time!
It is about time. I mean, I know that the fans have been calling out for zombies since the first season. They were really looking forward to our characters getting together, with zombies -- that's what I've been hearing. [Laughs.]
Yes! A hookup is even hotter with flesh-eating, end-of-the-world kind of stuff.
Of course! That's what people want -- I've seen the numbers on "The Walking Dead"; I know that that's what the audience is clamoring for.
[Laughs.] So what can we expect from the episode?
You know, it's a fun episode that comes in the middle of a really interesting trajectory for Castle and Beckett that we started in "47 Seconds." We advertise this as our "season of secrets" where Beckett hasn't revealed that she heard Castle say "I love you," and Castle hasn't revealed to her the mysterious goings on in her mother's murder and that conspiracy case, with him being told, "You can't look into it -- you have to steer her away." And so, in "47 Seconds" when the bomb went off, we had the metaphoric bomb of Castle discovering that Beckett had been keeping that secret, and we've had a couple of episodes where we've really put the two of them on the outs. You know, Castle showing up at a crime scene with a date, and then the next episode, he's out investigating with another cop. Both really fun, interesting shows, but both also showing the cracks in the Castle-Beckett relationship.
Castle clearly is acting out, and is clearly punishing her, whether he realizes it or not. And I think when we start the zombie episode, there's a little bit of a realization that things aren't working between the two of them -- should things go on between the two of them, or should we just call it a day? But dealing with zombies, there's just so much fun to be had that, in a way, through that episode, they rediscover each other and rediscover the fun they have on their cases together, and each other's value. That rediscovery gives their relationship a little growth ... of course, we knock that on its ass in the finale when all the secrets that we've been keeping eventually come out.
With these two characters, where a lot of their conversations have been in subtext and their feelings have been subterranean, they are forced to -- because of the nature of the case, and the nature of where the characters are going -- reveal everything. Not only how they feel about one another, but also how they feel about being betrayed by the other one. It puts us in really interesting ground to be able to deal with that.
The zombie episode, as fun as it sounds, gets to a very credible place at the end of it, as we did with the episode where it seemed like the murderer was aliens from outer space -- we like, at the end of the episode, to come back to a very credible place. But we do have a lot of fun with the zombie genre and Castle and Beckett start to discover the spark that they've been missing for the last several episodes. It's really fun to watch that -- really gratifying.
Here's the official episode description:

"Undead Again" -- When Castle and Beckett investigate the murder of a man with human bite marks on his body, Castle's wild theories start flying. But none are as wild as what their only witness insists happened - a Zombie attack. As the evidence pointing towards an undead assailant piles up, the team plunges into New York's Zombie subculture to find the killer and bring him in -- dead, undead or alive.
Tell us: Are you excited for zombies on "Castle"? And, more importantly, to see Castle and Beckett reignite the spark between them?
Plus, here's more of what to watch this week: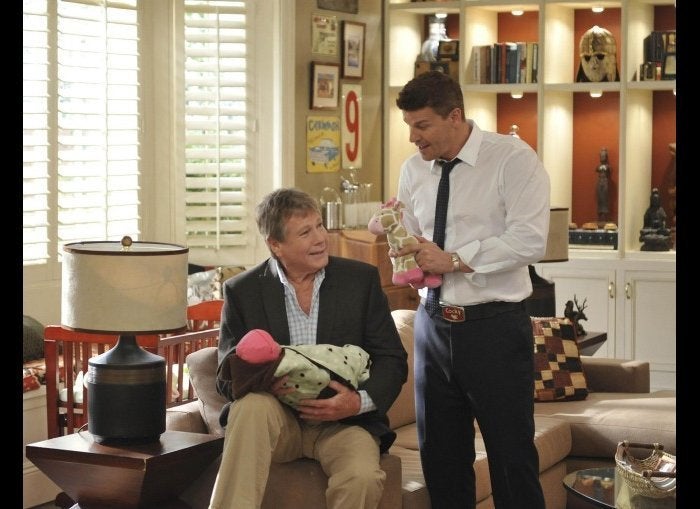 Popular in the Community