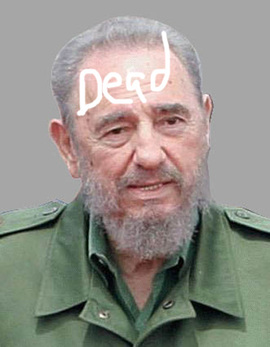 According to an exclusive report from Perez Hilton, Cuban dictator Fidel Castro is dead. Yes, that's right:
Sources reveal exclusively to PerezHilton.com that U.S. officials will be holding a press conference shortly to announce the death of Cuban dictator Fidel Castro.
Apparently Perez (does anyone even call him Mario anymore?) heard rumblings last week that the El Commandante was muerto, and posted to that effect here, in the post immediately following the entry entitled "I'm Not Banging Britney!." So far, no confirmation from reputable news sources have been forthcoming — not that Perez isn't a reputable news source! He only draws little white coke dots on confirmed cokeheads! — but here is what we can confirm: The Castro Death Rumor business has been booming for a while: see here, here, and, er, here. The most recent one was last summer, when we mocked the NRO's Jonah Goldberg for posting the rumor on The Corner, even while admitting that he'd seen no confirmation on the wires, and then leaving it there unverified either way for hours (today it's John Podhoretz who's posted it, offering readers grains of salt but no apparent effort to confirm either way).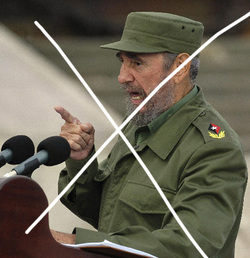 No, when you plug "Fidel Castro" into Google News, the top link is Perez Hilton, plus a few links noting that Cuban Foreign Minister Felipe Perez Roque has averred that Castro is alive and well, plus a funny headline from Wonkette: "Nation of Celeb-Lovin' Retards Reacts To Castro Death Rumors."
So: Is Castro dead? Who knows? Perez may really actually have exclusive sources deep in the Cuban military or whatever. Who are we to judge? But OUR sources say he's NOT dead, even if he does have coke boogers on his nose.
p.s. In addition to the headline, here's a fun excerpt from that National Post item about which all Canadians ought to be vicariously ashamed:
Read our full interview with Mr. Hilton and our followup to the rumour here:

Perez Hilton: Is Fidel Castro Dead?

The Post is currently attempting to contact Mr. Hilton for an update on his Castro Deathwatch-watch. We'll update this post as warranted.

Related
Popular in the Community