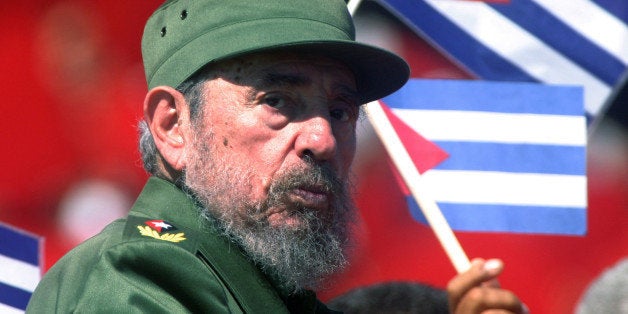 I am sure that many people will start to write all kinds of things about Fidel Castro now that he is gone. Some may have romantic fantasies about who they thought he might have been, but have no clue what it is to have lived under his regime. I have never lived in Cuba ... but my mom did. My grandmother did. Much of my family did. My father went and picked up Cubans during the Mariel boat lift, and my extended relatives were born there.
They all left. They all have terrible stories of great loss and sadness. Most left with only the clothes on their backs or what little they could carry.
Everyone has their personal stories, but one consistent thing that everyone says is the same: "He took everything."

The only people who know the real history of Castro in Cuba are the ones who lived it.


My grandmother repeated her story to me multiple times when I was little. She remembered as they were leaving Cuba -- she was born and raised in Spain, along with my mother, but lived in Cuba for a few years before she came here -- she remembered the government taking inventory of every spool of thread she had (she was a dress maker), and they made sure that she left with none of it. My mother would tell me that her beloved horse "Cheespa" was taken from her "by Castro." I don't know anyone who doesn't shudder who lived under his rule, and like I said, everyone has a story. None are good.
As I watch smiling celebrities, and clips of Castro and his "fierce revolution" or a few posts that I have seen on social media by some very non-Latino people -- most who have probably never even been to Cuba and if they had, it was only as tourists -- "journalists" and foreigners who were fed a carefully crafted image that Castro controlled ... the only people who know the real history, are the ones who lived it.
Even as the "children of" all we have are our repeated stories that were handed down, the pain that never left our families' faces and in some cases a pure palpable hatred we felt when they spoke of him. We will never really know what they knew.
So before I start reading about "revolutionary" or any other romantic fantasy about how charming or smart he was from people who probably don't know any better -- maybe take pause and know that people, to this day, still want out so bad, that they would come over to Miami on home-made strung-up tires as rafts. They would rather take their chances dying, drowning, getting caught and imprisoned, they would rather be eaten by a shark, than stay one minute longer.
I think that alone, says a lot.
Americans love a good "revolution romance" but as I have said before, revolutions aren't a Beatles song and they aren't romantic. They are bloody and people die. And sometimes, instead of democracy, they produce a dictator who stays in power for half a century.
REAL LIFE. REAL NEWS. REAL VOICES.
Help us tell more of the stories that matter from voices that too often remain unheard.