Michaela Watkins stopped by HuffPost Live on Monday to discuss her part in Hulu's hit series "Casual," which just got picked up for a third season. During her visit she also opened up about her role as Ivana Trump in the parody Trump biopic she made with comedy site Funny Or Die. 
"There's not a lot of footage of her,"she told host Caroline Modarressy-Tehrani. "I think Donald Trump keeps his women in a box with a nice lock and then opens it and they pop out and play for an hour. They can get a little of Vitamin D in the sun and then they go back in the box."
In the 50-minute film, Watkins dominates in scenes despite being overshadowed (figuratively and literally) by the egotistical Trump, played by Depp. 
In the clip below, Trump introduces Ivana as "my wife, the Czechoslovakian immigrant, Ivana Trump," before shutting her up to babble on about his casino plans. 
"Obviously, Ivana's jealous because she won't be buried in the Taj Mahal since she's not my third wife," Trump says after Ivana discloses how she broke her clavicle when Donald forced her to dress up as the Taj Mahal. 
"My take on it was that he was very dominant and she was very put upon," said Watkins. 
"She had the mentality of a captive," Ivana's lawyer, Michael Kennedy, had told the reporter. "After a while she couldn't fight her captor anymore, and she began to identify with him. Ivana is deaf, dumb, and blind when it comes to Donald."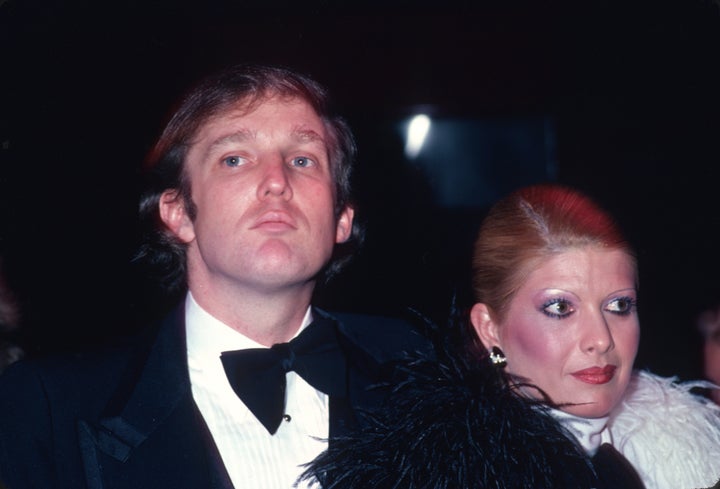 The part of Donald was much easier to play for Depp, given all the sensational speeches and footage available of the presumptive Republican presidential nominee. 
"What's kind of sad and what's crazy is that they're wasn't anything in that   film -- that film was hilarious and anybody watching it would be like, 'What a hilarious character this can't be real.' But it was all real, it wasn't terribly embellished," said Watkins. 
See the entire interview with Watkins here. Catch Watkins in Season 2 of "Casual" on Hulu. 
Calling all HuffPost superfans!
Sign up for membership to become a founding member and help shape HuffPost's next chapter
BEFORE YOU GO
PHOTO GALLERY
HuffPost Live's Celebrity Guests