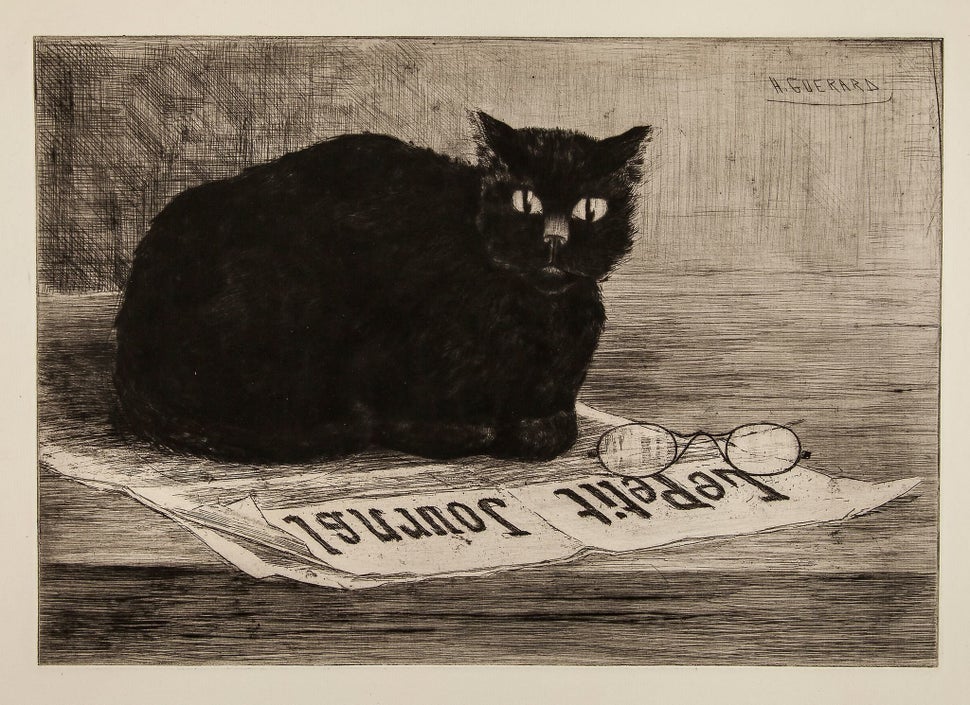 This is a story about Marianne C. Gourary, a German transplant to New York who, during her lifetime, was a bigger cat art fan than you.
It might be hard to believe, but it's true. Gourary, who died last year at the age of 93, spent decades amassing a trove of cat art that spans four centuries and hundreds of artifacts. Around 244 of these artworks are headed to auction this Thursday at Bloomsbury in London, bringing an incredibly impressive array of feline-inspired etchings, book illustrations and paintings to a broader audience.
Described in an obituary in The New York Times as acerbic, astute and a "force of nature," Gourary was a fan of classical music, opera and fine art, filling the Manhattan home she shared with her second husband, Paul Gourary, with a large collection of art and books. Amongst this collection was her cat-themed treasures -- largely book illustrations that span humor, beauty and the purely bizarre.
"She had a strong affection for cats and especially appreciated their company during the later years of her life," the obituary lovingly reads.
"Cats: The Collection of the late Marianne C. Gourary" includes a 19th-century version of Walter Crane's "Puss in Boots," illustrations from cat-inspired writings by the likes of T.S. Eliot and Charles Baudelaire, 40 black-and-white plates from Balthus' "Mitsou" tale, a Meiji Period satirical novel titled I Am a Cat, a print by Camille Pissarro, and works by the "Raphael of Cats" Gottfried Mind. For the intellectual yet cat-obsessed amidst us, it's a veritable heaven.
Thanks to the power of digital archives, we have a preview of Gourary's cat-art collection -- equipped with captions including, "An essential part of any cat library with some of the finest lithographs of cats ever produced." And what better day to celebrate the beauty that is cat art than National Cat Day? Behold:
REAL LIFE. REAL NEWS. REAL VOICES.
Help us tell more of the stories that matter from voices that too often remain unheard.