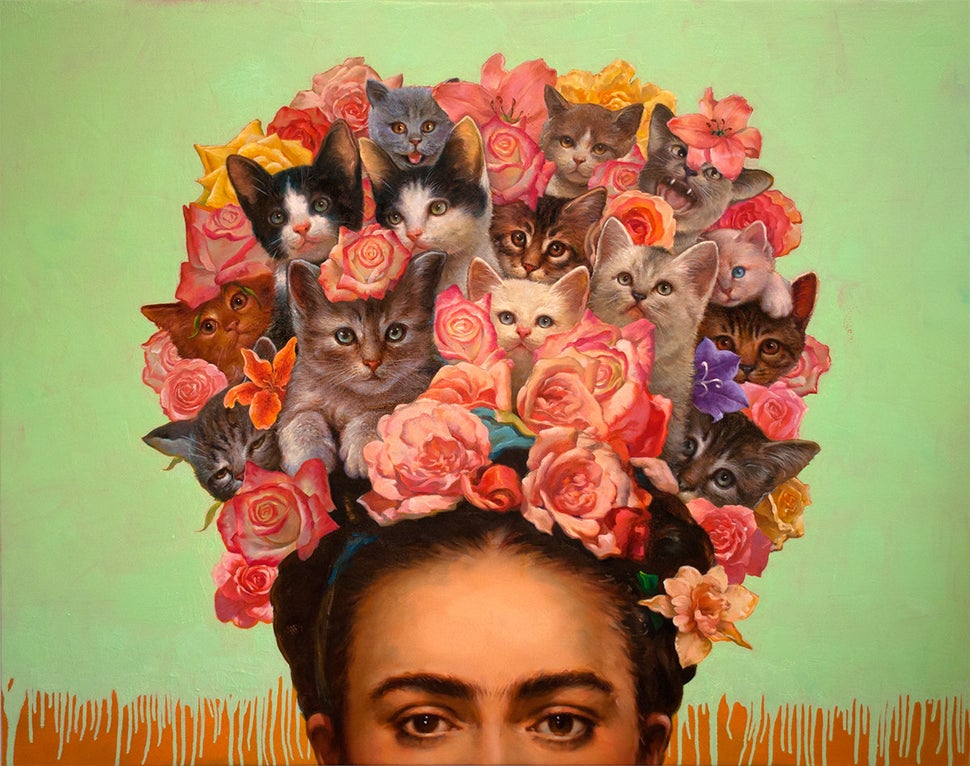 But a few months ago, the Internet was agog with videos of cats freaking the f**k out at the sight of a cucumber.
The headlines followed, from the plain "People Are Scaring Their Cats with Cucumbers" to the incredulous "Why Are Cats So Insanely Afraid Of Cucumbers?" to the chastising "Why You Shouldn't Scare Your Cat With a Cucumber." Weeks after the GIFs of cats jumping feet in the air upon laying eyes on a gourd initially went viral, Redditors are still obsessed. And so, it seems, are artists.
"'The Cucumber Incident' explains exactly nothing and everything in response to the viral YouTube sensation of cats being scared by cucumbers,"Jason Edward Davis explained to The Huffington Post, of his aptly named artwork shown below. "Cats exist simultaneously as both an adorable symbol for domesticity and the spooky embodiment of the dark arts [...] I wanted to explore that intense discomfort you experience when your adorable little purring kitten suddenly stares horrifyingly shocked over your shoulder at the creeping-god-knows-what, because you live alone and you're not sure if the ghost is back."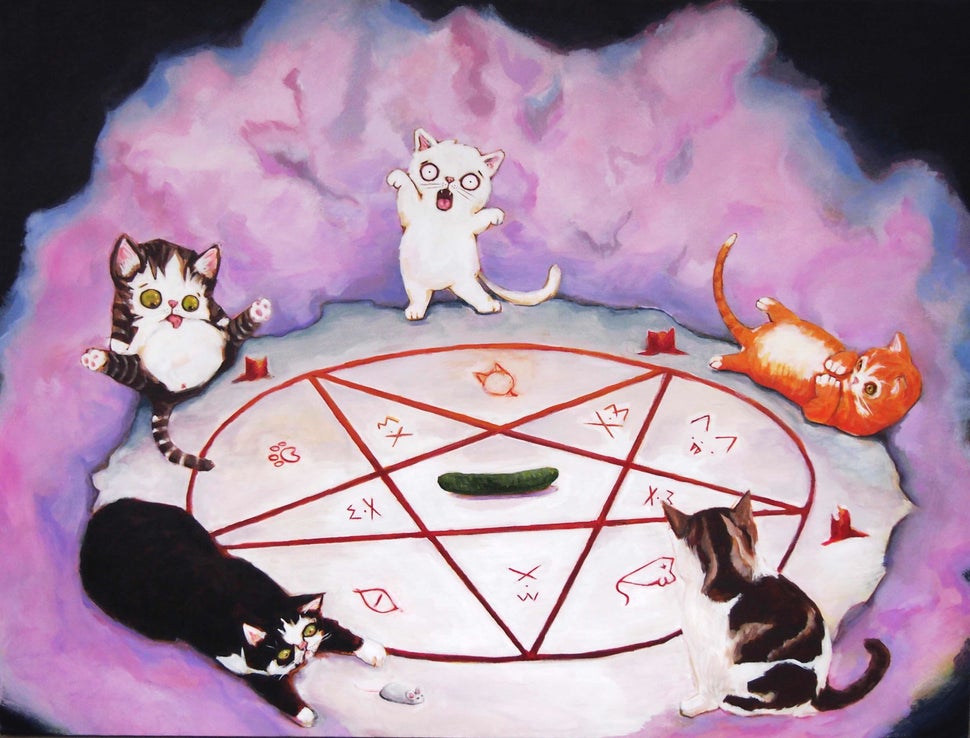 Davis is one of 70 international artists participating in "Cat Art Show LA 2," the sequel to 2013's cat-centric exhibition curated by Susan Michal's in Los Angeles, California. Set for March 24 at Think Tank Gallery, the show will once again focus on the cat -- "our domesticated companion and Internet meme" -- as muse.
"'Cat Art Show LA 2: The Sequel' is a continuation of our inaugural cat art outing which brought together cat lovers and art enthusiasts," Susan Michals, curator of the show, explains online. "We have asked each artist the basic question, what is the true meaning of cat for you -- ally, domestic partner, enemy, frenemy, allergic reaction or guru? From that, each artist's interpretation is unique and honest."
"Cats have been part of our lives for thousands of years," Michals, the mind behind CatConLA, adds. "The Egyptians frequently aligned them with the gods and artists like Picasso created masterpieces centered around cats. Now people post them on Instagram and artists interpret them."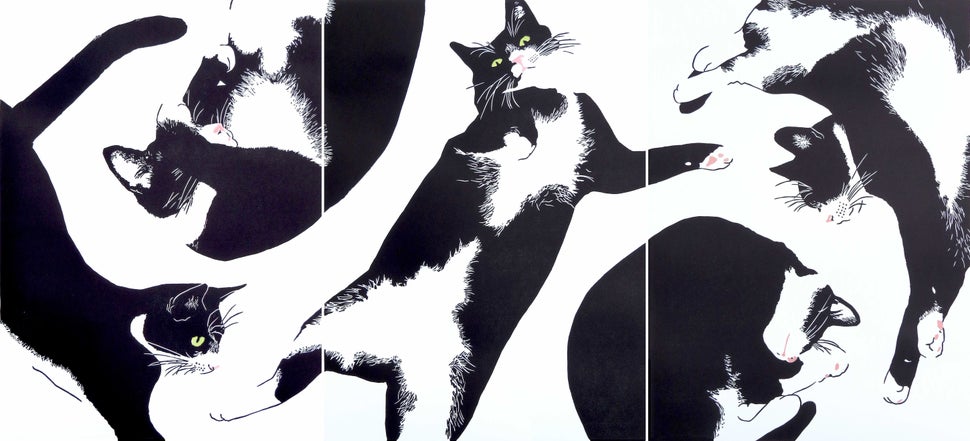 For most of the artists on view, cats represent a cuddly force of nature, at once sweet and sinister, capable not only of entertaining the masses but cleverly maintaining control in the domestic spaces they occupy.
"I think [cats] represent the absolute best and worst of society," artist Davis added. "We love the love we get from them, but we really are in it for their unattainable 'bad boy' attitudes. Besides, we all know the Internet was invented for videos of two things, and with more and more people connected via their phone, there is a 50 percent chance that the person sitting next to you is watching a video with cats. On the other hand, if the video they are watching isn't about cats, you should probably change seats."
All of the artwork from "Cat Art Show LA 2" will be available for sale this month, including both originals and limited editions, and a portion of the proceeds will go to Kitten Rescue Los Angeles. Bonus, if you look through the images here, you'll see a cameo from comedian Ricky Gervais, who, according to artist Rich Hardcastle, loves cats too.
Calling all HuffPost superfans!
Sign up for membership to become a founding member and help shape HuffPost's next chapter
BEFORE YOU GO
PHOTO GALLERY
15 GIFs Of Cats In Boxes