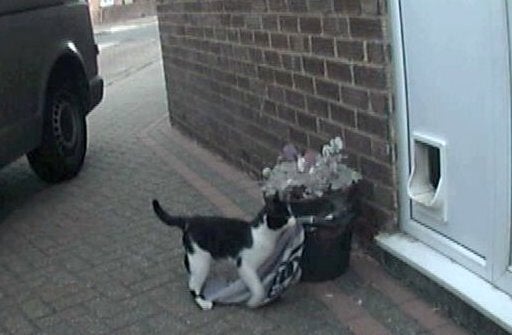 Real life cat burglar, Denis, has pilfered over 100 garments from his unhappy neighbors in England.
The Sun reported that over the course of Denis' 18-month crime spree, he has brought home a bath towel, a thong, a football, five paintbrushes, a pair of slippers, an expensive shirt, a doll and gloves to his embarrassed owner, Lesley Newman.
He has also taken a pair of shoes, a cardigan, a dog chew, dozens of pairs of socks, tea towels, seven car sponges, a Barbie, a cuddly toy, and men's boxers.
Denis has a particular fondness for stealing men's underwear. "He doesn't do briefs -- only boxers," Newman told the BBC.
Playfully nicknamed Denis the Menace by his victimized neighbors, the cat's kleptomania began when he was just a kitten. He stole a sock from a neighbor the first week he was ever let out of the house at just six months old, reported the Daily Mail.
In just a month from that first stealth operation, Denis' sock pile grew to more than five, and soon doubled in size.
On one memorable occasion he took a woman's sandal from a garden on a neighbouring street -- and then returned a week later to pinch the other one.
'I tracked down the lady who lost her sandals and Denis would have had to scale five 6 feet-high fences to get there and back," Newman told the Daily Mail.
Newman keeps the pilfered items -- now numbering over a 100 -- in boxes, just in case anyone arrives at her door to claim ownership.
"I have never tried to stop his behaviour, I would much rather him bring objects into the house than dead animals," Newman told the Sun. "He normally leaves them outside the front door but sometimes he will bring them up to my bed while I am asleep. He obviously thinks all these items are prey."
Videos of Denis in action have helped the cat burglar become a hit on the web, with his own Facebook page, Twitter account and T-shirt line, says the BBC.
Profits from the sale of the T-shirts go to Homeless Cat Rescue Bedfordshire.
Calling all HuffPost superfans!
Sign up for membership to become a founding member and help shape HuffPost's next chapter
BEFORE YOU GO