For eight months now, I've been running my campaign for the U.S. Senate seat in Virginia against George Allen and Tim Kaine. During that time, I have learned a great deal about how campaigns work, and more importantly, why we as a people have become so disgusted with our political process. Just a few short weeks after launching my campaign and gaining national attention, a SuperPAC released a professional, well-funded attack ad against me. Since then, SuperPACs have spent over $16.5 million in Virginia alone, with 99.89 percent of those funds going to negative advertisements. Meanwhile, the campaigns continue to use over half of their funds to attack each other, putting their constituents in the unhealthy position of choosing the lesser of two evils.
In the meantime, my campaign has raised and donated over $15,000 to animal rescue groups throughout the Commonwealth. Thanks to inspiration by Tuxedo Stan and his campaign, I decided to issue an animal rescue pledge challenge to my opponents. The pledge, if they sign it, will have each candidate match my $15,000 I've raised (for them, it equates to just .1 percent of their funding) and donate to animal rescue, plus the promise to support animal welfare legislation as a public official or private citizen.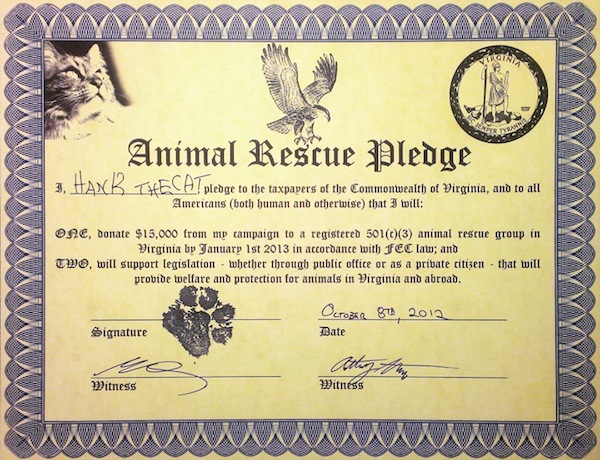 While I'm hoping my opponents will take me up on this pledge, nothing has prepared me for the overwhelming outpouring of support from so many people, cats, and even dogs. My small step in Virginia has created wakes around the world -- Bublik, a small kitten in the Urals running for office, Tuxedo Stan for mayor in Halifax, and countless other dogs and cats considering a political career. American pets -- and their owners -- are sick of politics as usual, and are willing to do whatever is necessary to fix the corruption, lobbying, and corporate control of Congress. Despite this progress across the world, the State Board of Elections in Virginia denied me ballot access, so ours will be the most successful write-in campaign since Strom Thurmond won his in 1954.
My campaign hasn't been all business -- I've met some wonderful people throughout Virginia, this nation, and even the world who have shared with me stories of their children (human or otherwise) and their lives. They've told me about dogs and cats, bunnies and birds, ferrets and guinea pigs -- and yes, even human children -- who have brought them so many laughs and joys. They told me why they believed in me, and of their frustrations with our human politicians.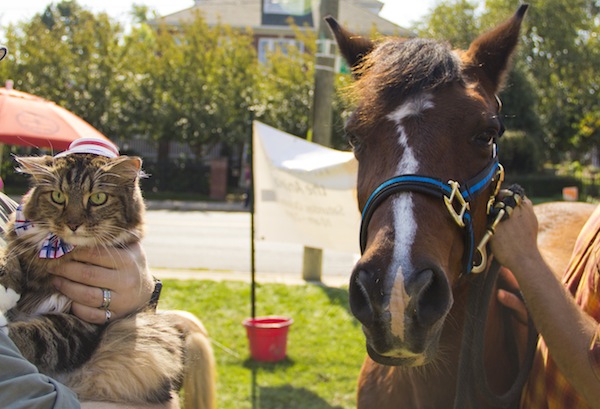 With a constituent
I've met with the son of an elderly lady who gave up voting and lost faith in politics for decades, only to re-register to vote so that she could vote for me. While it's easy for me to continue to focus on my message of animal rescue and fixing our broken political system, it's hearing about the people like her that truly gives me pause (paws?) and makes me feel humbled to know I've re-ignited a spark in someone who was certain there was no one out there willing to represent their beliefs. I've been sent pictures of people's mantles and offices that are filled with Hank for Senate memorabilia, reminding me that when we focus on a cause bigger than ourselves, we see true compassion and love that extends across the divide of party lines. During the campaign, I've been fortunate enough to work with some wonderful artists who have donated works to my campaign -- Svetlana Petrova from Russia, Kyle Mosher, Jacob Stark, and many others. I've also received multiple donations from people who live paycheck-to-paycheck, some of whom have only a cat or dog as their family, willing to give, even in dire times, to make the world a better place for animals and humans they'll never meet or know.
Sadly, I've lost some friends along the way. First Bonnie, a kitty employee at my local pet store who always had a smile on her face and a big heart for her many friends. Then Rustles, a handsome cat and proud supporter of my campaign since the very beginning, a rock of compassion and security to his dad. Both travelled to the rainbow bridge before seeing me through to the end of the campaign, and before sharing with me the joys of victory -- just the same, they will be with me there in spirit and in mind, each and every day for the rest of my life.
Through the laughter and the tears, the stress and the naps, supporters and detractors, I've always remained committed to Virginia and my constituents, and I never once doubted my decision to enter this campaign. While I have always known this deep in my heart, it is wonderful to see that when the rhetoric fades away, when the negative ads disappear, when candidates like myself cut through the wedge issues with easy solutions, we are left with a vast majority -- devoid of party ties or labels -- that desire and deserve a better America for all. In a few weeks, that's exactly what I'll deliver to the state of Virginia via an election victory, with your help. Four years from now, after I've revitalized, reinvented, and reinvigorated the Commonwealth through the Senate, I can perhaps consider helping the rest of the country through a higher office -- but only with your help and support. We all deserve a better breed of politician, and today that breed is a Maine Coon feline.
REAL LIFE. REAL NEWS. REAL VOICES.
Help us tell more of the stories that matter from voices that too often remain unheard.