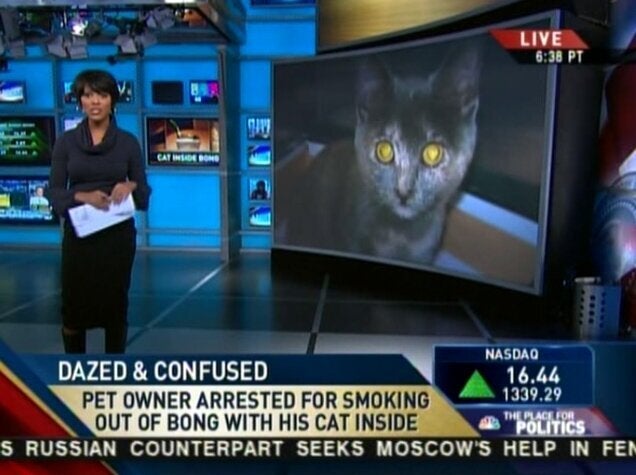 In one of this week's more bizarre stories, a Nebraska man was arrested for smoking marijuana out of a bong that had his cat stuffed inside. The man, who claims he was trying to calm down his hyperactive pet, faces animal cruelty charges but thankfully the cat, who was understandably disoriented, seems to be on the road to a full recovery:
"This cat was just dazed," Sgt. Andy Stebbing said. "She was on the front seat of the cop car, wrapped in a blanket, and never moved all the way to the humane society."

Schomaker told deputies 6-month-old Shadow was hyper and he was trying to calm her down. The contraption she had been stuffed inside was 12 inches by 6 inches. Shadow was timid but in good condition Monday at the Capital Humane Society, executive director Bob Downey said.
MSNBC's Tamron Hall covered the story and was unable to stifle her giggles as she introduced the "sad but true" story. The network evidently felt the story lacked a certain realism because they played the sound of gurgling water over the anchor's report. Anchor Contessa Brewer couldn't quite believe that the cat was stuffed inside the bong, but as Tamron informed her, "I understand you can make a bong out of anything." There were then more giggles all around.
Popular in the Community