The frail cat was taken to the vet for treatment. It was obvious that she had just given birth to kittens, so after her recovery, RSPCA inspector Jon Knight returned with her to the location where she was found with the hope of finding the kittens.
"...It was such a rural area, I had little hope of finding them myself," Knight told the station.
"When she started to get really vocal at first I thought she was calling to the kittens, but then it became clear that she was actually calling to me! I began to follow her and she took me through the rear garden, across a ploughed field and into a farm yard."
Knight found the kittens, still too small to open their eyes, and brought them back to the vet along with Jolie.
Thanks to Jolie's maternal instincts, all four kittens are healthy and being cared for at an RSPCA center with their mother until they are ready for adoption.
PHOTO of the rescued cat and kittens: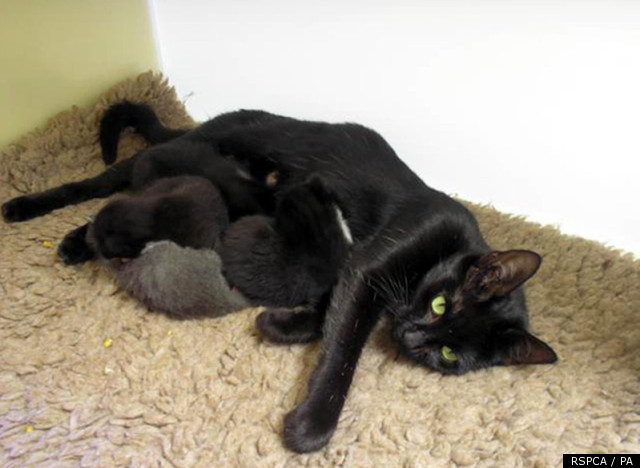 If you suspect animal cruelty in the U.S., visit the American Society for the Prevention of Cruelty to Animal's (ASPCA) searchable database of nearly 5,000 community SPCAs, humane societies and animal control organizations.
Popular in the Community